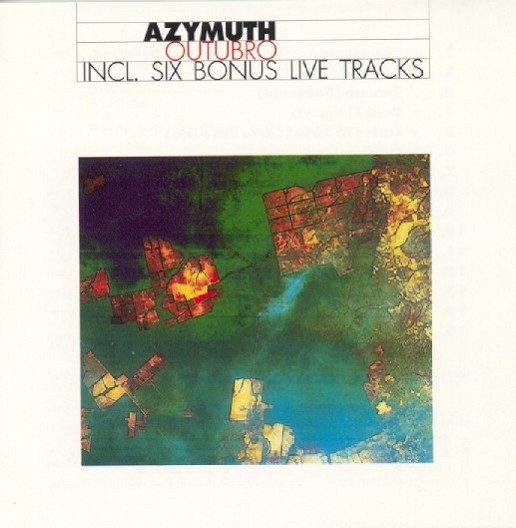 Nuevamente los reyes del jazz funk fusión carioca, ahora con una reedición del 1990 con bonus track en vivo de un disco salido a la luz diez años antes.

Artista: Azymuth
Álbum: Outubro
Año: 1990
Género: World Fusion / Funk / Soul / Latin Jazz
Duración: 72:27
Nacionalidad: Brasil
Lista de Temas:
1. Papasong
2. 500 Miles High
3. Swamp (Pantanal)
4. Dear Limmertz
5. Letter To Airto (Carta Pro Airto)
6. October
7. Maracana
8. A Friend
9. Dear Limmertz (prelude)
10. Light As a Feather
11. Partido Alto
12. This Exists
13. Jazz Carnival
14. Dona Olimpia
15. Fly Over The Horizon

Alineación:
- José Roberto Bertrami / keyboards; percussion; organ; vocoder; electric piano; vocals
- Alex Malheiros / bass, percussion, guitar, acoustic guitar, vocals
- Ivan Conti / drums, percussion, synthesizer


Otro colorido disco de loa brasileros, y me gusta postear estos discos porque no tengo ya mucho para escribir. Nuevamente con ustedes, los legendarios Azymuth para que nunca se olvide la buena música, sea el estilo que sea.


The release of Outubro back in 1980 signified the beginning of a highly productive period for jazz-funk trio Azymuth on the illustrious New York label Milestone Records. Swiftly following on from Light As A Feather, it features seven well-conceived original works in addition to two wonderful covers – including the title track originally penned by MPB singer Milton Nascimento and a reworking of Chick Corea's "500 Miles High". The latter is far darker than the original: a deep and brooding affair contrasting the heavy bassline of Alex Malheiros against Bertrami's mellifluous melodic lines cascading above it.
Indeed, this ability to breath new life into earlier compositions became a trademark of Azymuth's Milestone era having directly referenced Corea on the aforementioned Light as A Feather with a versioning of the classic title tune written by Stanley Clarke, and returning to Nascimento with a cover of "Nothing Will Be As it Was" on 1982's Telecommunication. It therefore seems entirely fitting that their own catalogue is getting the reissue treatment from Far Out Recordings.
Tracks such as "Dear Limmertz" still carry significant weight, and Azymuth's influence on wider musical culture is rightfully acknowledged: this particular track alone has been sampled by left-field beat wizard Daedelus and Slovenian rap artist Gramatik, notwithstanding the countless credits amassed from other recordings sampled by will.i.am, Theo Parrish and Brainfeeder head honcho Flying Lotus.
The music carries further implications, too, if we are to consider the recent reconciliation between hip-hop and jazz – spearheaded by the likes of Kamasi Washington, Christian Scott, and Butcher Brown – which has indicated a strong and ambitious listenership who possess a wider and more fluid musical palate. There's definitely scope, then, for this new generation of listeners to be enthralled and enlivened by the work of this outrageously prolific trio.
Outubro secured Azymuth's legacy and their blend of high-tempo samba, ferocious grooves and exemplary musicianship is captured well across this nine-track exploration: an important and essential release that is definitely worth revisiting.
Alexander De Lacey
Legendary electrified trio Azymuth are currently in the studio recording a brand new album for Brazil-via-London label Far Out Recordings. Following the death of José Roberto Bertrami in 2012, the new line-up finds esteemed pianist Kiko Continentino playing alongside the band's original members.
Ahead of the as-yet-untitled LP – which doesn't have a firm release date either – Far Out is reissuing the band's seminal 1980 album Outubro. This was the album that began Azymuth's run of prolific output for Milestone Records throughout the decade. The three members' consummate craftmanship and perfectionist attitude to sound is maintained across the production on the album, beautifully colouring the expressionist fusion of samba rhythm, jazz progression, funk attitude and psychedelic electronics.
he re-release is mixed and mastered from the original tapes for 180g vinyl. Find the tracklist and artwork below. Following the reissue, Azymuth will embark on a European tour in this Autumn 2016 to support release of their new and unheard album.
The vinyl factory