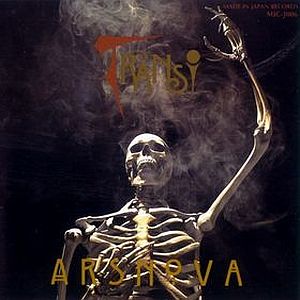 Nuevamente volvemos con las japonesitas ELP en uno de sus discos clásicos, y si quieren saber porque es uno de sus clásicos escuchen el video que acompaña a la entrada; rock sinfónico vertiginoso, potente, complejo, muy al estilo ELP, oscuro y como si fuese una síntessis de numerosas bandas sonoras de películas de terror y con brutales riffs de teclados, donde podrán escuchar a tres niponas haciendo estragos. Muy buen disco, se los recomiendo sobretodo a los fans de ELP.

Artista: Ars Nova
Álbum: Transi
Año: 1994
Género: Rock sinfónico
Nacionalidad: Japón
Lista de Temas:
1. Phantom
2. Chase
3. Transi
4. Dance Macabre
5. Sahara 2301
6. Nova

Alineación:
- Keiko Kumagai / keyboard
- Akiko Takahashi / drums
- Kyoko Kanazawa / bass


Que yo sepa, Japón es el único país cuya escena progresiva ha visto grupos exclusivamente femeninos: no solamente Ars Nova,sino también otra banda llamada Rosalia. Vaya a saber uno si hay más... no solamente en Japón, no recuerdo otra banda de chicas prog.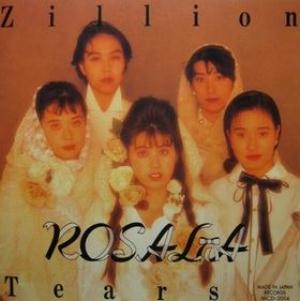 El disco es una mezcolanza maravillosamente diversa de diferentes melodías y sonidos de teclado, dispuestas de manera efectiva en torno a una conducción de su líder al frente de las teclas, que recuerda a los mejores momentos de Tarkus.
Creo que la mayor contra que tienen estas chicas es que terminan cansando un poco, pero no caben duda de que son talentosas al máximo. Teniendo en cuenta el ritmo cambia cada segundo hasta que se pierde el hilo, parece más bien indiferente donde comienza una pieza y donde termina. Eso en realidad no es mucho problema, pero lo que les falta a las chicas es un poco de maestría en la composición como para que no resulte tedioso escucharlas en un disco entero, y creo que en su último disco lo habían logrado, hablo del maravilloso (el menos para mí) "Seventh Hell" del 2009 que hemos compartido en el blog.
El álbum ofrece pequeños momentos de tranquilidad. Pero no es de esperar que eso dure por mucho tiempo.


Trío femenino bastante popular en los circuitos neoprogresivos que data de 1.992. No es muy normal un grupo femenino de rock sinfónico a lo Emerson, Lake and Palmer pero este es el caso. Las Ars Nova poseen una técnica instrumental que para sí querrían muchos otros.
La banda gira en torno a la teclista Keiko Kumagai que potencia una imagen sexual un tanto oscura e inquietante como salida de los cuadros de Dalí o H.R. Giger.
La música prácticamente instrumental roza la exactitud y la épica desmedida entre el inicial rock sinfónico de sus primeros discos con tendencia cada vez más heavy metalera en sus últimas producciones.
Con todo son muy recomendables para los que gusten del brío y la música tecnificada.
Alberto Torró

"Transi" es entretenido, las Amazonas japonesas se lanzan con su flota de teclados en una brutal masacre de notas donde parecen querer conquistar el mundo. construyen impresionantes palacios de sonido que son una verdadera muralla relativamente monótona. Una orgía de ritmos. Una furia musical. Una montaña rusa sin fin en la que nadie encuentra el botón de apagado, sin un comienzo ni final. La reina Keiko en su festín.

Composiciones sincopadas, algunas pausas y atmósferas, cambios incesantes y piezas impresionantes donde los teclados sinfónicos reinan. Desde la perspectiva del oyente, tenemos que admitir que la experiencia sigue siendo un reto, ya que le exige gran concentración para no perderse entre las muchas direcciones que adopta el disco. Convengamos que las chicas no hacen una música muy fácil de escuchar, pero el que le encuentre el gustito, es probable que les vuele el marote. Gran complejidad musical, una interpretación impecable, colores japoneses expansivos para un disco volador...

Pidieron más Ars Nova y no pueden decir que no cumplimos, y miren que esto no termina acá...


It's a good derivative work, characterized by surprising solos at the keyboards, but boring parts regarding instead of the Japanese vocals and their derivative parts in the vein of BALLETTO DI BRONZO, GOBLIN and EMERSON LAKE & PALMER as well... This mood generally characterizes the whole production!! Interesting but not essential work!!
Lorenzo
The second album of this Japanese band is still hesitant.




Some thirty minutes of music from which you can skip the first two numbers which are very short (just over four minutes in total). By far the weakest tracks in here. The album really starts with a pompous but good (after all, their model is "ELP") "Danse Macabre". Very good drumming is one of its major attractive. Its bombastic character being another one.




The global feeling while you listen to this album is of course the one of "déjà vu". If you are a keyboards lover and if you are found of the early "ELP", there are some numbers like "Sahara 2301" which will surely please you. It is not very original, but you' ll be intoxicated with these pleasant and wild keyboards sounds. It is my favourite track from "Transi".




The epic of the album is the closing number. "Nova" is mixing some Arabian and "EMP" influences with brio. This track is for sure a highlight here. Again, drumming is very powerful and some parts are really melodic, well polished and features an excellent musicianship. Some parts are even more Banks than Emerson oriented.




Still, this is just short to make a good album but it deserves more than two stars. I'll upgrade this fully instrumental album to three (but maybe one day, we'll be able to rate with halve stars...).
Daniel
Second this Japanese full-female trio album contains their characteristic keyboards- based symphonic prog. Heavily influenced by ELP, a bit more modern, but at the same time with specific "Japanese" synthetic sound.




Melodies are OK, and musicianship level is not lower than average. Drummer's work is even better that you can expect (and better than in their later works). Keyboards passages spiced with light jazzy sound.




Compositions are different enough to save you from being bored, but not memorable. Too often the sound balances on danger border with instrumental pop-music. Possibly, absence of vocals doesn't help as well.




Generally, average band's album, will be pleasantly listened by ELP and neo-classical keyboards music lovers. Not innovative or serious enough to attract other listeners .
Slava Gliozeris
The same year ''Fear & Anxiety'' was released the Japanese trio participated also in the compilation "Progressives' Battle 1992 ".In 1993 though drummer Yumiko Saito left Ars Nova and was replaced by Akiko Takahashi, member of the New Wave/Avant-Garde bands Nothing Inside and Danball Bat.The following year Ars Nova returned with their second full-length attempt ''Transi'', released again on Made In Japan Records.
The Japanese ladies followed the same formula as with ''Fear & Anxiety'', a 6-track album of bombastic, keyboard-driven Symphonic Rock with a fair dose of melodies and a huge amount of virtuosic themes.Keiko Kumagai uses a variety of analog and digital keyboards, inclusing organs, church organs, Mellotrons and multiple synthesizers to produce the appropriate mood for its case.The style of Ars Nova is still grounded in the E.L.P./RICK WAKEMAN Symphonic Rock category, but this time they colored their sound with darker and more sinister atmospheres akin to DEVIL DOLL or GOBLIN.The performances remain excellent with Kumagai being the central figure.Superb edgy synthesizers and haunting organ sounds supported by huge Mellotron waves and some delicate harsichord in rich arrangements with a very dynamic rhythm section offer modern rock symphonies of nice quality for all lovers of technical listening experiences.The themes are complex and adventurous with a few smoother passages added for good measure, highlighted by the excellent self-titled track and its changes between horror atmospheres and more elegant and Classical-based textures.
Recommended to the audience of both vintage and modern Symphonic Rock, ''Transi'' is certainly a music heaven for all fans of majestic, keyboard-driven soundscapes with tons of virtuosic passages.
apps79
Transi is the second release from this Japanese trio, fronted by talented keyboardist Keiko Kumagai. Writing all the music and commanding an arsenal of analog and digital keys, she leads the group through 40 minutes of dark, intense, and dynamic prog. The music is full of abrupt metrical shifts and changes in feel, never dwelling on one theme for very long. In that sense it is probably most reminiscent of Covenant, though Ars Nova uses dynamics and intensity changes much better. Though there are some digital synths and samplers used, the overall sound is exclusively analog, and Kumagai uses the variety of timbres at her disposal to come up with some creative orchestrations. This, combined with the complexity and mood of the music may also bring to mind the more intense moments of Änglagård, albeit with a much stronger keyboard presence. Bassist Kyoko Kanazawa and drummer/violinist Akiko Takahashi are both solid players, and complement and support Kumagai's impressive keyboard skills well. The only major drawback to this music is that for all its complexity and thoughtful timbral orchestration, there is little in the way of thematic development or unifying musical ideas within a piece. For this reason the longer tracks come off as a bit meandering and aimless, though certainly not boring. All in all this is a very good CD, better than much of the prog released in the 90s, though a step or two below the best of the new Japanese progressive bands.
Rob Walker
This, the second album from the Japanese keyboard-led trio Ars Nova, comes as perhaps the biggest surprise of the year. It would be all too easy to rest that statement on the fact that this is a trio of all female musicians but to do so would only reinforce the strong stereotypes of women in the prog field. The real surprise is how far they have grown between albums, and how wickedly complex and intense keyboardist Keiko Kumagai's writing is. Backing bandswomen Kyoko Kanazawa (Rickenbacker bass) and Akiko Takahashi (drums) work under the keyboards in a very ELP-ish manner, but with plenty of modern fire and flair that ELP has left far behind. The six all-instrumental tracks are stylistically very consistent, with plenty of themes and interwoven ideas, all spurned forth from both digital and analog keys. The whole album, in fact, sounds very 70s but has the glossiness of a 90s production. Keyboard enthusiasts shouldn't miss this rich palette: pipe organ, Hammond XB-2, Solina, Moog and Oberheim-type leads. Comparisons to Dave Gryder's Covenant are plausible, but this has a solid band feel and relentlessness to drive it home with surprising power. If you crave guitar, you won't find any here but Transi holds together very well without it, solely because of the ever-changing keyboard timbres. A very solid effort, highly recommended (despite the hilariously cheesy packaging).
Dan Casey
If this trio of all female musicians were a pop group, I doubt if anyone would think twice, but in the testosterone driven underground of Prog, the idea is practically a novelty (at least for symphonic rock oriented groups). Therefore, Ars Nova, at least on their first album seemed to gain quite a reputation at least for the photos of the ladies. Transi is their second release and the ELP/Italian (Trip/Le Orme/Alluminogeni) styled trio have a new drummer (doubling on violin) to back up Keiko Kumagai's project. One thing is for sure — she's a brilliant keyboard player, armed with a massive menagerie of digital and sampled analog keys. Her favorite sound seems to be the Hammond XB2 which routed through a Leslie makes for a real crunchy near Atomic Rooster type sound. This is an absolutely brilliant album for this style; Kumagai's heavily classical influenced style gives her an arsenal of themes and chops that change as often as her sounds and makes what could be a typically dull album into what may be one of the year's very best — especially for a format that ELP dominated for many years. So do everyone a favor, try to forget that this trio is female (difficult to do with the alluring photography inside the booklet), especially since Ars Nova is head and tails above most of the symphonic anesthesia these days, and try to concentrate that this is probably the best Japanese symphonic album in many years. Highly recommended to fans of dramatic instrumental rock — just save yourself the headache and don't try to figure it out.
Mike McLatchey
This latest offering from this Japanese power keyboard trio is a bold step forward from their 1992 debut Fear and Anxiety. For starters this one is a full length disc; more to the point, though, is the shedding of some of their symphonic prettiness in favor of a sound every bit as powerful, yet more sinister — at times even menacing. This, in addition to an overall more confident compositional approach makes this one of the best new 'symphonic' releases of the year. Once again, keyboardist Keiko Kumagai has penned all of the album's six tracks and drives the music hard with Hammond B-2/Leslie and a full arsenal of synthesizers and devices. Her compositions embrace an angular symphonic approach with complimentary abstractions and some neo-classical underpinnings all set to a hard-driving rock pace, tethered to earth by the powerful bass of Kyoko Kanazawa and new drummer Akiko Takahashi. Akiko also adds violin on a couple of the tracks. To say their music was not influenced by ELP would be untrue, yet being all instrumental with nary a trace of pop or commercialism anywhere to be found, Ars Nova have advanced themselves further into the realm of the truly innovative and exploratory. To be sure, if there is any weakness in this music, it would have to be in it's overall stylistic lack of variety — it is definitely intense and single-minded, yet I have trouble faulting it for that simply because it is so powerful and energized. This is music that takes a few plays to get to know well, but patience will reward. Overall, Kumagai and Co. have produced an outstanding second effort that I'm sure most will enjoy.
Peter Thelen

Y para quienes quieran más japonesitas ELP, ya vamos a seguir trayendo algunas cositas que tenemos... no desesperen.