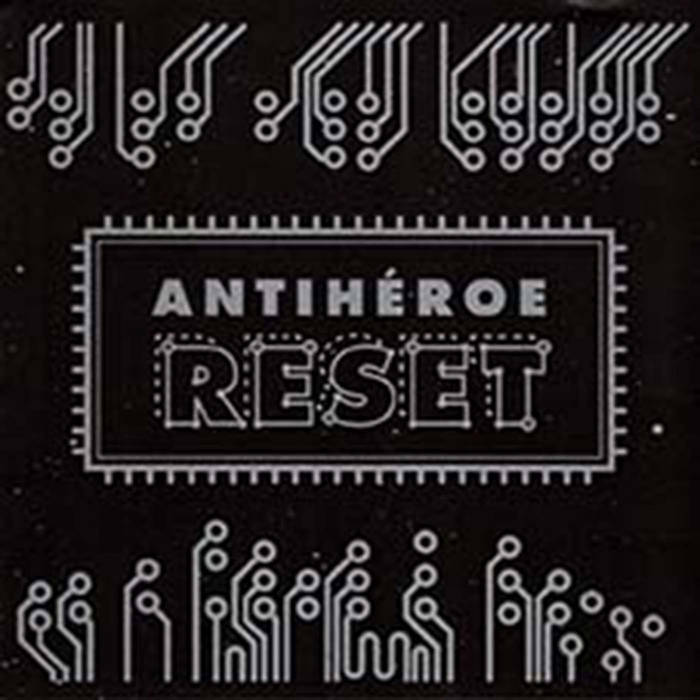 De tantos discos que presentamos y compartimos, a veces tenemos que presentar algún trabajo que va más allá de lo común, algunas veces por lo estrictamente musical, y otras veces porque presentamos algún trabajo de algún músico amigo o conocido. Hoy se dan las dos cosas juntas al traer a colación al último trabajo de Antihéroe, el versatil proyecto del infatigable Darío Iscaro, amigo de la casa, junto con su nueva troupe en la que está otro notable conocido de este blog como lo es el gringo Augusto Urbini (Panza, Resistencia Chaco entre otros proyectos musicales) que junto con Felipe Gonzalez en el bajo le imprimieron una nueva cara esta maleable banda. Aquí, Antihéroe en una nueva faceta que seguramente, sobretodo si ya conocés sus anteriores trabajos, te va a sorprender.

Artista: Antihéroe
Álbum: Reset
Año: 2016
Género: Jazz rock prog / Avant prog
Duración: 44:24
Nacionalidad: Argentina
Lista de Temas:
1. Destapamundos
2. Hipervinculos
3. Mnticora 70
4. Charkas
5. X La Tangente
6. Afterlife (Solo Guitar)
7. 6 Ciclos
8. Rumbles (Solo Drums)
9. Clepshydra
10. Vortice B
11. Tectonics

Alineación:
- Dario Iscaro / guitar
- Felipe Gonzalez / bass
- Augusto Urbini / drums


Darío no para nunca, cuando no es con alguno de sus proyectos en solitario es junto con su banda cordobesa Trío Desatanudos y si está aburrido reforma mil veces a su banda Antihéroe, renacida una y mil veces con nuevas formas. En esta nueva mutación del grupo, queda reducido a un Power Trío conformado por Darío Íscaro (guitarras), Augusto Urbini (batería) y Felipe González (bajo). Con un sonido más potente, transitan dentro del Avant Prog, con matices de fusión y sutilezas de Math Rock.

Si bien el proyecto fue creado por Dario Iscaro en 1996 en la ciudad de Córdoba que alternaba su gusto por el avant garde y al mismo tiempo su afición por el free jazz, y contenía un interesante e innovador concepto sonoro de grupo inter-estilístico donde también de alguna forma estaba presente la música argentina. Antihéroe nace como concepto musical independiente, integre quien lo integre, como si se tratase de un "alter ego" musical del señor Iscaro, presentándose solo o con distintos músicos.
Es así que Antihéroe y Darío se mudan a Busnos Aires y van variando su estilo, con un estilo más inclinado hacia el math rock instrumental sin abandonar la intención de desparpajo interestilístico.
En 2012 graba una suerte de versión unplugged de Antihéroe, este disco ya editado se titula Dario Iscaro -Antihéroe project- "ánima fugitiva", con un perfil mucho más íntimista y con atmósferas de jazz contemporáneo, toques de música indú y música argentina contemporánea. Y esa así que Antihéroe cumple 17 años de existencia.
Y ahora traemos la última aventura musical de estos buenos muchachos que forman el actual ensamble Antihéroe...

Y como reseña del disco, luego de haber escrito bastante y no decir nada, los dejo otra vez con las palabras de nuestro comentarista involuntario de siempre, que últimamente lo estamos haciendo trabajar más de la cuenta:

Hoy nos damos el gusto de presentar el nuevo trabajo de la creativa entidad musical argentina ANTIHÉROE, el mismo que se titula "Reset". Reformulado y fortalecido en sus cánones musicales progresivos de una forma no vista antes, ahora este combo liderado por el genial guitarrista originario de Córdoba Darío Íscaro se enfila hacia la exploración de sonoridades pesadas de inspiración metalera dentro de unos cánones exigentes donde confluyen lo vanguardista, el jazz-rock y el ya bien conocido paradigma del prog-metal. Todo un trayecto de evolución estilística desde sus días iniciales dedicados al fomento de la división jazz-progresiva para luego pasar a un escenario de experimentaciones fusionescas en un curioso híbrido de psicodelia, World Music y chamber-rock en los tiempos de "Ánima Fugitiva", hace ya tres años. ANTIHÉROE ahora resalta el elemento rockero en el concepto de rock ecléctico y experimental. Los compañeros de viaje de Íscaro para este material grabado en un tiempo tan lejano para nosotros como fue el mes de julio del año 2014 son el bajista Felipe González y el baterista Augusto Urbini. Tras un periodo de mezcla y masterización que tuvo lugar entre fines de ese mismo año y febrero del siguiente, hubo otro tiempo de espera hasta que por fin se hizo realidad fáctica a través del sello Viajero Inmóvil Records en el pasado mes de mayo.


El repertorio de "Reset" se inicia con 'Destapamundos', pieza que desde sus instancias iniciales hace gala de una exquisitamente machacona garra: los riffs son sumamente electrizantes y los juegos de síncopas armados por la dupla rítmica permiten la articulación de una complejidad progresiva a través de la compleja pesadez en curso. De todos modos, en algún momento se abre un espacio para bajar un poco el frenesí del ritmo a fin de gestar una variante de texturas psicodélicas al modo de una cruza entre GORDIAN KNOT y el modelo Crimsoniano de fines de los 90s. Seis minutos de irresistible magia belicosa. A continuación sigue 'Hipervínculos', tema que en su espacio de casi 5 ½ minutos sigue adelante con estos despliegues aguerridos, pero esta vez con un acento más pronunciado en el factor jazz-rockero de la ecuación sonora; esto se ha de traducir necesariamente en el empleo de grooves aún más complejos y en la creación de ámbitos momentáneos para lucidos solos de guitarra y bajo. Definitivamente, el oyente empático está más que simplemente seducido con la secuencia de estas dos primeras piezas, y es justo el momento en que emerge 'Mantícora 70' para establecer una remodelación del paradigma de ALAN HODSWORTH a través del filtro de CAB con matices extra del cosmos cerebral-neurótico de KING CRIMSON. La función del cuarto tema, titulado 'Charkas', es la de replantear el elemento jazz-rockero con un fragor más lúdico que el exhibido en los tres temas anteriores... aunque tampoco es que hayan sido muermos en lo absoluto, sino que nos referimos a que la jovialidad de la inocencia festiva en un jardín reemplaza al señorío inocultable del palacio dorado. Eso sí, el garbo y el nervio son los de siempre. Garbo y nervio encontramos también en 'X La Tangente', cómo no, pero también un incremento de luminosidad sónica. Este tema sigue en buena medida el molde de 'Hipervículos' aunque con un aura un poco más ligera que le permite moverse en un swing caracterizado por un dinamismo especialmente llamativo. Como contrapeso a esto, el beneficio es que los contrastes entre los momentos más filudos y los más contenidos permiten al grupo sacar más lustre a su refinamiento esencial.
'Afterlife', con sus casi 4 minutos de duración, difícilmente puede ser designado como miniatura, pero es un tema en el que la visión grupal se abandona por una instancia singular, que es la de la guitarra de Íscaro: trabajando con elegantes armonizaciones de extravagantes retazos psicodélicos, se crea un efectivo paisaje sonoro de arraigo sideral. Mostrando un inteligente despliegue de electricidad y musculatura, '6 Ciclos' encaja perfectamente tanto con los registros de rotunda pesadez rockera del repertorio precedente como con los recursos de sofisticación progresiva de prioritario talante Crimsoniano con los cuales también nos hemos topado. La construcción multitemática que apreciamos aquí rebosa creatividad por doquier en su imparable diversidad mientras el lucimiento de la batería es imposible de esconder. Es éste un cénit decisivo del repertorio, no nos cabe duda alguna sobre ello, y el ítem que le ha de suceder solo puede ser una pieza de batería solitaria: en efecto, 'Rumbles' es un cálido y sólido ejercicio de elaboración de grooves donde la polenta está administrada con vigorosa astucia. Nos vamos acercando al final del disco cuando llega el turno de 'Clepshydra', tema que reitera el fuego predominante a través de un reciclaje más clarividente que antes, empleando una ingeniería sólida y sofisticada para la articulación del vigor jazz-rockero: algunos resabios del KING CRIMSON de "The Power To Believe" se hacen notar aquí. La secuencia de los dos últimos temas ocupa un espacio total de 3 ¾ minutos: 'Vórtice-B' brinda un espacio para el lucimiento del bajista González en la elaboración de un clima sombrío acentuado por un monólogo femenino, mientras que 'Tectonics' establece un idóneo epílogo para el disco a punta de fiereza cerebral expandida en inteligentes juegos rítmicos. ¡Qué epílogo tan enorme nos regala 'Tectonices'!... Realmente se puede hacer mucho en un espacio de 2 ½ minutos.
Todo esto fue "Reset", una labor de auténtico reseteo para la reformateada visión musical de ANTIHÉROE a través de su irrefrenable inquietud por sacar de sí nuevos horizontes para situarlos en el norte hacia el cual debe proyectarse cada nueva travesía musical. Nos ha tomado por sorpresa este disco tan robusto, vaya que sí, y solo podemos tener palabras de enorme agradecimiento melómano para con los Sres. Íscaro, González y Urbini.
César Inca
Ahora con un sonido más contundente, más dinámico y macizo, con otra formación pero con las mismas aspiraciones de siempre, presentamos en el blog cabezón al último Antihéroe. Es notable la vitalidad que le imprime el Gringo Urbini y es así ´como Antihéroe ahora se parece a Resistencia Chaco en un trabajo enorme de la batería, acompañada eficazmente por Felipe Gonzalez en el bajo donde imprime un personal estilo, mientras que desplegando todo el arsenal de estilos que pueblan las cuerdas de su guitarra está Darío Iscaro que al fin y al cabo es el principal generador de toda esta grandiosa incursión y hermosa aventura llamada Antihéroe.

Les recomiendo que escuchen este disco, el nuevo Antihéroe tiene un estilo impresionante y no es posible hacerse el distraído con esto. Señoras, señores, aquí el señor Iscaro y Cía. se zarpan en un trabajo que marca un hito en la prolífica historia de esta agrupación tan particular y talentosa...


In this brand new mutation, the group is now reduced to a Power Trio formed by Darío Iscaro on guitars, Augusto Urbini on drums (formerly with Panza and Resistencia Chaco) and Felipe González on bass guitar. With a more powerful sound than their previous efforts, they effortlessly transit through Avant Prog, albeit with Fusion and Math Rock overtones, nuances, shades, variations, and subtleties.
Nacho
Antihéroe is one of many brainchildren of the prolific guitarist-composer Darío Íscaro (from Córdoba, Argentina). His main interest is jazz music in its avant-garde and fusion incarnations, but even then he is quite friendly with eclectic approaches when it comes to making and recording music. An instrumental quartet, Antihéroe works as the vehicle for his Progressive-oriented conceptions since 1995.




The band's functioning has been on-and-off depending on the state of affairs of the other projects and collaborations that Íscaro has been involved in throughout the years, but the two albums released by Antihéroe - "Antihéroe" (1997) and "Entretejido Cósmico" (2008) - are excellent gems of Jazz-Prog made in Argentina. Both feature influences from King Crimson, Zappa, old-school Jazz-Fusion, as well as the peculiar colors of South American Folk flavors. This ensemble is very concerned about exploiting the sounds of wind instruments within its global sound: besides the rhythm duo and Íscaro himself, a sax/clarinet/flute player completed the line-up for the first album, while a trumpeter was the fourth element in the second one. Actually, "Entretejido Cósmico" bears a slightly rougher sonic approach due to the fact that the tracklist is based on live performances enhanced and/or refurbished with a little amount of overdubs.




Antihéroe in its almost 17 years of existence has been presented in various theaters and concert halls among which stand out, Teatro Real (Córdoba), Teatro Municipal de Valparaíso durante el Festín Jazz 2006 (Festival Internacional de jazz de la ciudad de Valparaíso, Chile), Auditorio del Instituto Goethe in the city of Cordoba, Teatro Griego y Sala de las Américas de la Universidad Nacional of Cordoba, opening the Festival de Teatro el Mercosur 2005 in the Auditorium of Ciudad de las Artes, Cordoba, etc.




Currently Antihéroe, in its porteña stage is composed of Augusto Urbini on drums and arrangements, Marcelo Da Costa on electric bass and arrangements and Dario Iscaro on guitar and compositions. In early 2016 a new album was published titled: "Reset" was recorded in Studio Foot.
overhear1995

Espero que les guste, que compren su disco y que los vayan a ver en sus presentaciones.
El disco se puede conseguir por el espacio de Viajero Inmóvil Records, lo pueden escuchar o comprar en digital, pero también tienen la opción de comprar el CD físico escribiendo a info@viajeroinmovil.com. Y los invito a revisar el catálogo completo de dicho sello porque tiene exquisiteces más que interesantes.


http://www.darioiscaro.com.ar/antiheroe.html
Bandcamp