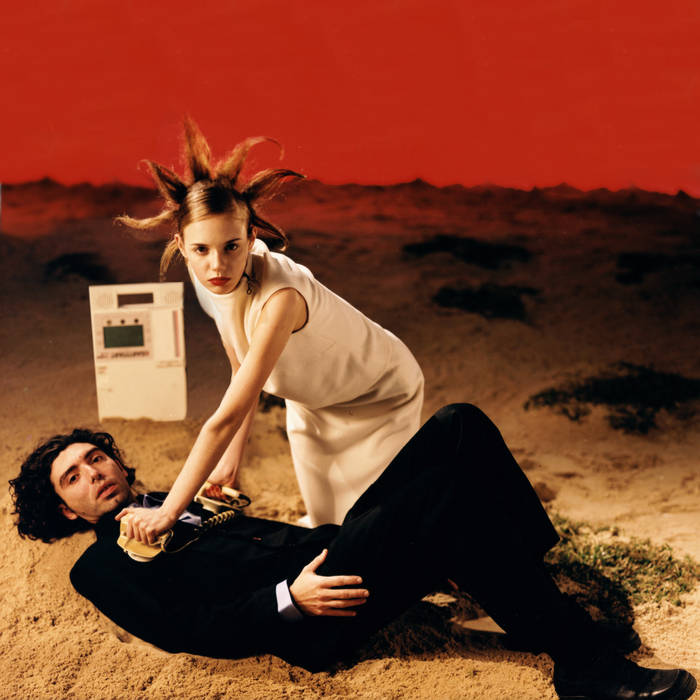 Otro álbum compartido por Pedro Rock, ahora vamos con Christian Basso (otro compositor y multiinstrumentista argentino) luego del show de Fernando Samalea. Un viaje entre la tragedia griega, la electrónica, la música medieval italiana, francesa, el tango y el jazz... y por algo toca en varios de los discos de Samalea. Inclasificable.

Artista: Christian Basso
Álbum: Profania
Año: 2000
Género: Sondtrack / Rock ecléctico / World Music
Nacionalidad: Argentina
Lista de Temas:
01. Criollo
02. The movement
03. Payaso patético
04. Pena lunar
05. Liguria
06. El escondido
07. Lone star ranger
08. Bolería
09. Un reloj vegetal
10. El amuleto
11. Volturno
12. Flesh & blood
13. Tarantella della morte
14. La montaña esmeralda

Alineación:
- Christian Basso / All instruments
- Alejandro Terán / Strings arrangements & conducting

A Christian Basso ya lo presentamos con su disco "La Pentalpha"Música inclasificable, me cuesta elegir los tags que voy a elegir para los discos de éste tipo así como su estilo, tiene un poco de todo...

For tangoistas, fans of meandering female vocals, and that moment when the strings drop Favorite track: Christian BASSO featuring Kal CAHOONE
W. Robbie Scott
Sobre la historia y biografía dedel músico, podemos leer en lo del señor Wikipedia:

Alcanzó renombre en la escena local a lo largo de su carrera en distintos proyectos junto a Charly García (Las Ligas), Richard Coleman, Gustavo Cerati y Fernando Samalea en Fricción, Diego Frenkel y Axel Krygier en Clap y posteriormente en La Portuaria, Daniel Melingo, Javier Malosetti, María Gabriela Epumer, entre otros y principalmente iniciando su carrera como compositor con La Portuaria, banda de la que fue ideólogo y miembro fundador junto a Diego Frenkel. Sus temas, en coautoria con Frenkel «Selva» y «El bar de la calle Rodney», se transformaron en íconos representativos de la banda, con la que se grabaron seis álbumes para EMI y se realizaron ediciones y numerosas giras internacionales.3




Como solista editó los discos Profanía (2001), La pentalpha (2004) y La música cura! (2011); este último, nominado en Argentina a los premios Gardel de 2012, como mejor álbum en la categoría de World Music. Estos proyectos discográficos contaron con la participación de prestigiosos músicos como la soprano Eva Faludi (Coro Polifónico Nacional), la cantante estadounidense Kal Cahoone (Lilium), la cantante china Haien Qiu y el músico y arreglador Alejandro Terán, entre otros.




Compuso numerosos scores para cine. En el año 2007, trabajó junto al prestigioso director coreano Lee Chang Dong en el film Secret Sunshine/Milyang ganadora de la Palma de Oro en Cannes 2007. Para México, los films No eres tú, soy yo (2010) dirigida por Alejandro Springall, Nos vemos Papá (2011) dirigida por Lucía Carreras, Marcelo (2012) dirigida por Omar Yñigo y Tlatelolco (2012) dirigida por Carlos Bolado.




En Argentina, compuso la música para La invención de la carne (2009) de Santiago Loza, Eva y Lola (2010) de Sabrina Farji, La Despedida (2012) dirigida por Chavo D´Emilio y Las Mujeres llegan tarde de Marcela Balza. Además, fueron incluidas canciones de su autoría en films como ¨Star Maps¨ (USA, 1997), ¨Sexo, Pudor y Lágrimas¨ (MEX, 1999), ¨Dot the i¨ (UK, 2003), y recientemente la inclusión de la canción ¨El sueño americano¨ en el film y la serie ¨Carlos¨ (FR, 2011) del prestigioso Olivier Assayas.




Junto a los músicos Axel Krygier, Alejandro Teran, Manuel Schaller y Fernando Samalea forma el grupo Sexteto Irreal con el que editan el disco Jogging a través de Los Años Luz Discos, en 2010. Realizaron numerosas presentaciones en Bs As y el resto del país.




Durante 2010, 2011 y 2012, fue consecutivamente jurado de música del certamen K-Pop Latinoamerica, en donde aspirantes latinoamericanos interpretan canciones de artistas de pop coreano.




En 2013, editó su cuarta placa discográfica titulada Espiritista, cuyo primer corte de difusión, fue la canción «Mejor bailar», que contaría con la participación de Gustavo Cerati. Este tema fue grabado unos meses antes del Accidente cerebro-vascular (ACV), que sufriría Cerati en 2010 en Caracas.
Wikipedia
Otro aportazo de Pedro Rock... y antes de meternos con el disco... una fotito histórica. Andrés Calamaro, el tour manager Fernando Marino, Christian Basso, Charly, Daniel Melingo, el iluminador Quaranta, Richard Coleman y Fernando Samalea...



Escribe Samalea en referencia a ese entonces:
"...la estancia principal de la casona de La Lucila, que oficiaba de "sala de ensayo", tenía una interesante biblioteca con libros en alemán y enciclopedias, Schiller y Goethe, que explorábamos con curiosidad. Los veladores estaban apoyados directamente sobre el piso, llenos de telarañas, e iluminaban la habitación de forma teatral cuando se iba yendo la luz natural.




En ese verano de 1986, a menudo usábamos el término "donchu". Un neologismo inventado por Charly y Pedro Aznar, que definía algo de tinte moderno o misterioso. Devenía de la canción "Don´t You Forget About Me" de Simple Minds, muy popular por entonces, con su video de máscaras y velas, aludiendo a una hipotética pronunciación vulgar y argentinizada del principio de la frase. Como había grabado recientemente ¨Tango¨, García me dejó un casete TDK con sus seis temas, aún inéditos.




—Escuchátelo, las baterías están programadas, quedó muy ¨donchu¨.




¡Qué emoción ponerme el Walkman y caminar hacia el río por las calles de La Lucila, Martínez o San Isidro, descubriendo detalles en "Gramercy Park Hotel", "Culpable eternamente" o "Pasajera en trance"!..."
Ahora sí, vamos al disco... empezamos con éste comentario:


Con sólo escuchar los primeros acordes de Criollo nos podemos hacer una idea general de lo que es el disco Profanía, primer LP de Christian Basso, donde explora una amplia gama de sonidos y "texturas", que trasladan al oyente hacia un mundo paralelo, un limbo donde los sonidos menos explorados se vuelven sustanciales, donde la sensación de familiaridad causa cierta extrañeza debido a la complejidad que representa cada instrumento, y donde la música pasa a formar parte de uno mismo, de los sentidos, que a pesar de generar atmósferas cargadas de melancolía (The Movement), cautivan y logran esa ternura maligna que a la larga se convierte en placer puro, porque debo resaltar que esta música no es alegre, es todo lo contrario, sin embargo reconozco en ella una belleza oscura, indescifrable, indescriptible... y no necesitan letras, porque este disco es en buena parte instrumental, viajando entre la tragedia griega, la música medieval italiana, francesa, el tango y el jazz.




Una joya...
Trent
Para escuchar y comprar el disco: https://christianbasso.bandcamp.com/album/profania