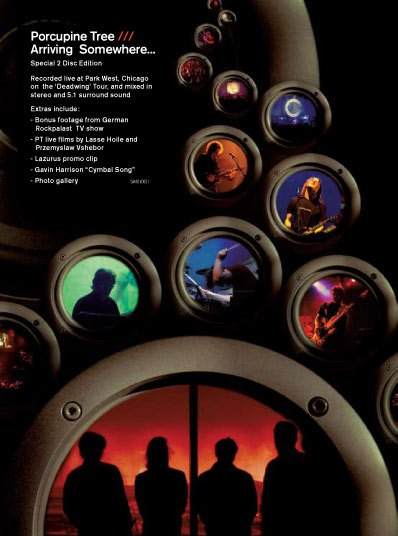 Un trabajo impecable en unos días a mucho Porcupine Tree y Steven Wilson. Aclamado mundialmente, aquí tienen nuevamente a Porcupine Tree en vivo, otra vez gracias a Carlos el Menduco que se viene zarpando de aportes. Imperdible y fabulso, si no me crees lee las críticas de terceros, este DVD que presentamos ahora es fantástico!

Artista: Porcupine Tree
Álbum: Arriving Somewhere
Año: 2006
Género: Rock progresivo
Nacionalidad: Inglaterra
Lista de Temas:
DISC ONE:
1. Revenant
2. Open Car
3. Blackest Eyes
4. Lazarus
5. Hatesong
6. Don't Hate Me
7. Mother and Child Divided
8. Buying New Soul
9. So Called Friend
10. Arriving Somewhere but Not Here
11. Heartattack in a Layby
12. Start of Something Beautiful
13. Halo
14. Sound of Muzak
15. Even Less
16. Trains
17. End Credits (special alternate mix of Mother and Child Divided)
DISC TWO:
1. Rockpalast TV: Futile
2. Rockpalast TV: Radioactive Toy
3. Lazarus - promo clip directed by Lasse Hoile
4. Start of Something Beautiful (live film directed by Przemyslaw Vshebor and Lasse Hoile )
5. Halo (live film directed by Lasse Hoile)
6. Mother and Child Divided (live film directed by Lasse Hoile)
7. Gavin Harrison - Cymbal Song film (in stereo and 5.1 audio)
8. Photo Gallery (with exclusive ambient music by RB+SW)

Alineación:
- Steven Wilson / guitars, lead vocals
- Richard Barbieri / keyboards
- Colin Edwin / bass
- Gavin Harrison / drums
- John Wesley / guitars, vocals


Un DVD que es totalmente alucinante, vaya conciertazo que se marcan estos tipos. "Hatesong" es increíble, y en "Trains" se le rompe la cuerda en la parte que retoma la canción, pero enseguida lo arregla, muy espontáneo todo. Es una grabación muy buena, con una estética muy acorde con el grupo: imágenes muy tratadas al estilo metraje antiguo. Sobre el concierto en sí... impresionante...


Arriving Somewhere es el primer DVD en directo editado por la banda inglesa de rock progresivo Porcupine Tree, que toma su nombre de una canción presente en su disco Deadwing. El disco uno fue completado con canciones de la gira de presentación de Deadwing grabado en Chicago el octubre de 2005, mientras que el segundo disco contiene interpretaciones de la banda en el programa de televisión alemán Rockpalast, un vídeo promocional del single "Lazarus" y una galería de más de cien fotos de la banda.
Wikipedia

Este es uno de los casos en los que no voy a comentar mucho porque no tiene sentido, si quieren les dejo comentarios de tercerlos, pero les aseguro que todos los comentarios dicen que tienen que llevarse éste DVD a su casa porque es magnifíco. Muy simple mi comtario, y aquí van los comentarios de terceros...


A solid DVD with a superb performance and sound quality that is slightly let down by some minor issues. An easy reccomendation for anyone who is fan of the genre or of the band.
Background: For the uninformed, some background. Porcupine Tree are a progressive rock four-piece from Hemel Hempstead, north of London, England. Fronted by vocalist, guitarist and songwriter Steven Wilson, Porcupine Tree have been at the forefront of the modern prog-rock scene since the release of The Sky Moves Sideways in 1995. Wilson has gained prominence not only for his works in Porcupine Tree, but also for his contributions to works by Opeth, Marillion, as well as his other projects No-Man and Blackfield. Within Porcupine Tree are bassist Colin Edwin, keyboardist Richard Barbieri and drummer Gavin Harrison.
DVD Info: For this DVD concert release, titled Arriving Somewhere…, Porcupine Tree's first, the band, together with touring guitarist John Wesley, performed at Park West in Chicago, Il. The band has previously stated that Park West was a favorite venue of theirs, and prime contender for a DVD recording. 15 songs are performed in total, covering songs from the album Stupid Dream, released in 1999, to Deadwing, in 2005 and everything in between. Fans of the bands older, more psychedelic sound may be in for a disappointment, but the selection of songs is a solid representation of the bands more recent sound, blending melodic, almost radio-friendly tunes to some heavier riffs usually only found in the depths of metal.
Packaging: The DVD itself comes as a region free, NTSC 2 disc pack. The case is similar to a Digipak, but with a pull out cover, somewhat like an expensive box of chocolate. Inside the gatefold image of the two guitarists are two discs. Disc one contains the whole concert in 2 channel PCM and 5.1 DTS audio, while disc two is home to various special features such as two songs from a previous concert in Germany, the promo video for the single Lazarus and "Cymbal Song", a song by drummer Gavin Harrison which is made entirely using, you guessed it, cymbals. Overall, the quality of the DVD is superb, with high quality packaging, and a whole DVD of extras. The only thing that's missing is any form of documentary, be it a 'making of' or 'on the road' or what have you. Although the band did announce the lack of a documentary before the release of the DVD due to time constraints, it is still a missed aspect of any live DVD.
First Impressions and Video Quality: After the short, moody intro Revenant, with some of Porcupine Tree's Deadwing-era artwork, courtesy of Lasse Hoile, the band begins with Open Car, one of the heavier tracks from Deadwing. Open Car serves as a hard-hitting opener, with a heavy riff, melodic chorus and headbanging middle section. Those of us who appreciate a very clean, almost 'bootleg' style video style are likely in for a disappointment. The camera angle changes frequently to various band members and many of those angles are overlaid with the noise and filters seen in Porcupine Tree's static artwork. On the positive side, the choice of angles remains relevant and doesn't ruin the experience, and accents the band's stellar performance. The camera work is solid and professional, and the final image quality is superb, if not for a hint of noise that is barely noticeable. Colours are mostly deep purples and greens from the stage lighting, and dark levels are the order of the day, so ensure your TV is configured for the right brightness and contrast levels, especially if you have an LCD TV.
Audio Quality: As expected, Steven Wilson has delivered on audio quality and mixing. Porcupine Tree music is often a choice pick by those reviewing high end audio products due to their high quality, clean production DVD-Audio releases and 5.1 DTS mixes. This DVD is no exception, with 48000 Hz PCM and DTS sound which is exceptionally clear and high quality with just the right amount of warm tone to make the soundtrack feel full, but not quite so much as to kill the live mood. There are a few periods where the music sounds almost prerecorded, but this is mostly due to the tight performance of the musicians and use of keyboards. These periods are hardly worth noting, but when the crowd cheers leave earshot, a sharp ear can sometimes pick them up, rare as they are. Wilson's voice, while not the best in the genre's, holds up well and provides ample emotion along with the higher tones and falsetto of John Wesley (who is a very impressive solo artist in his own right). Every part of the audio feels and sounds like it was thought through and stressed over, and the final product shows that easily.
Conclusion: So in conclusion, thanks to a blend of a great set list, stunning audio and a competent video aspect, Arriving Somewhere… is an excellent DVD concert that will certainly entertain any Porcupine Tree fan, or fan of the prog rock genre. The performance is next to flawless and stage presence is acceptable for a band with a lead singerguitarist. A few shortcomings such as slightly overactive camera effects and the lack of a documentary are all that really stop this DVD from being one of the best released in a long time. That said, these annoyances are nothing to prevent you buying or experiencing firsthand how strong this DVD is. So spend the money, put this in a high quality player with a dedicated AV receiver and see for yourself not only how impressive Porcupine Tree are as a musical ensemble, but also how impressive this DVD looks and sounds. Once on your sofa with the receiver just so and the TV levels calibrated, very few DVDs will come to rival Arriving Somewhere's depth and quality.
djcrazymo
Arriving With A Bang.....
Says the blurb:
Disc one is a full show from the Deadwing tour filmed at Park West, Chicago in Oct 2005, edited by Lasse Hoile, with the soundtrack mixed in stereo and 5.1 surround sound by SW, and mastered by Darcy Proper (who mastered the award winning PT DVDAs). Disc two includes bonus live performances of Futile and Radioactive Toy from German TV show Rockpalast, the Lazarus promo clip, the live films used during the show for Start of Something Beautiful, Halo, and Mother and Child Divided, Gavin Harrison's "Cymbal Song" (also in 5.1 sound), and a photo gallery with well over 100 images.
Having seen the preview of Blackest Eyes on the PT Myspace I was more than a little apprehensive that Lasse Hoile had been allowed to run riot with all kinds of "video effects". Well,fair to say that every track gets this treatment but somehow it works. Porcupine Tree tend to be pretty static in concert, letting the music provide most of the action apart from a small rear-projection screen, so Hoile's artistic effects reallly add to the DVD making the concert almost a unique experience even for seasoned fans. Another interesting quality of this presentation is the keyboard mix which is far higher than either the actual concert or indeed the studio recordings. Richard Barbieri must be ecstatic as his atmospheric keyboards are really prominent and give every song a much deeper, lusher sound.
There are highlights all over this disc: Blackest Eyes,Arriving,The Sound Of Muzak,Even Less,the heavily acoustic Trains and the best of all; Hatesong. This performance of the track really is a tour-de-force and Gavin Harrison really gets to shine particularly in one jaw-dropping moment when he suddenly puts his right drumstick in his left hand, licks his finger and then slides it across his tom-tom making a beautiful acoustic sound.I guess you really have to see it to appreciate it.
The band has really matured and this truly was a great time to capture them at the peak of their form.I have no gripes about this DVD at all,the Special Edition Bonus Disc even has a live recording of the PT evergreen Radioactive Toy from the Rockpalast TV Special.
The recording and mixing are truly magnificent, the DTS surround mix is astonishing clear and accurate.Steve Wilson is a star on either side of the mixing desk proving once again that he is a unique talent amongst today's progressive artists.
Ok so the visual style wont be to everyone's taste but for me it really adds to and even augments some truly wonderful performances. A solid 5 star masterpiece, dont hate me...this is the start of something beautiful.
Tony R.
I will be short. A-MA-ZING !!! The setlist is wonderful (even though we could have used stuff from Signify), the sound is as great as I thought it would be (Wilson got us used to such quality, and he does not dissapoint), the band is in perfect shape and are flawless (except for that broken string in Trains, but fortunately it happened before Wilson even struck a note before the middle section of the song, and he had a replacement guitar at hand) and, contrary to most reviewers, I find Lasse Hoile's editing perfect for two reasons : One - it fits the material and Two - it adds to the replay value, in my humble opinion. Every song is a highlight, and I was blown away by Mother and Child Divided, which has a rythmic phrasing somewhat similar to Rush's YYZ. Hatesong also stands out... Hell, all songs do !
Definitely in my Top Three Live DVD's ever, a fitting documentary of a band caught in it's prime.
An undisputed five stars.
Eric Beaudin
This DVD blew me away at first spin and I spin it again over and over. By now, I have spun it five times already on Disc One only. I got no chance to spin the Disc Two because I really enjoy Disc One already and has no plan to move on with Disc Two until I got complete understanding and comprehension of subtleties produced from the main disc: Disc One. After I got all discs spun then I would do a novel-long review about this amazing DVD that truly satisfies my need. That's my plan . But, I found product defect at Disc One of this DVD package so I need to write this review in advance so all of you who have purchased this DVD might help me whether you guys experience the same. Or it gives alert to those who are about to purchase.
The Show That I would NOT forget .!
The performance was filmed from the band's concert at the Park West, Chicago, USA, 11-12th October 2005. I'm not quite sure on which date this film was truly taken. It could be at the first night because right before the encore "Trains", one of the crowd shout a request "Free Bird!" and Steven Wilson replied "Not Free Bird, okay? That's tomorrow!". Whatever the exact date it was performed it's not important to me. When I ordered this DVD I actually did not expect much about this show because my favorite "Waiting Phase One - Two" was not featured in this concert. But I gave it a try anyway.
My TV screen came out with pictures in dark nuance presenting many shots in blur fashion as part of introduction of the DVD, it's basically "Revenant" (3:04). The show starts wonderfully with guitar riffs that remark the opening of "Open Car" (4:46) from the band's "Deadwing" album. From this first real track I could project that the whole DVD would be an awesome one to watch and listen to. My projection was right - this is an incredible DVD to have in prog music collection! I don't want to review on track by track basis, but let me give my rationale why this is an incredible DVD:
First, the band has successfully made their studio tracks being better performed live in concert. Well, this was actually proven with my first experience with the band music when my friend lent me a "Comma Divine" (live) album. I never heard the band's music before and I fell in love with "Waiting Phase One - Phase Two" track. From this album I moved forward exploring other albums of Porcupine Tree and finally found "Waiting Phase One - Two" original studio album. To my surprise, I'd rather listen to live version than the original studio version. This is also the case with this DVD. I found nothing special with "Open Car" when I listened to "Deadwing" studio album. But at this DVD Porcupine Tree performs it better - it has richer sounds and textures than original studio version. The extreme case is with "Hatesong" (9:14). This track I think is one of the best tracks from this DVD. Well, I don't dare to say that this is "the" only best track because many great tracks from this. Opened with Collin Edwin calm yet firm bass lines this song moves beautifully in crescendo, adventuring into wide variety of styles - from simple to complex with great combination of Steve Wilson guitar, Gavin Harrison's dynamic and attractive drumming, and Richard Barbieri's keyboards / synthesizers. I especially love the stunning guitar solo and effects (at approx minute 24). Steve Wilson is the most dynamic musician on stage - with sometimes does a headbanging while playing his guitar. The second one goes to drummer Gavin Harrison. Collin Edwin does not move his position at all during the concert.
Second, the set list is outstanding. This is not to say that each individual track is excellent but I am more to say that the position of the tracks are well crafted and carefully thought of, I believe. See for example, after two heavy songs with metal components: "Open Car" (Deadwing) and "Blackest Eyes" (the opening track of In Absentia), the band brings it down into a ballad psychedelic song "Lazarus" (Deadwing) - it's a song that my dear friend, Icann of i-Rock!, loves it. Having been entertained with slow moving song the band brings the heat up with wonderfully crafted song "Hatesong". And you know what? After this very dynamic song the band brings it down to a beautiful music of "Don't Hate Me" (one of the tracks that I adore from "Stupid Dream" album which I reviewed couple of months ago at this site). Many of you who have heard the music of Porcupine Tree might think that most of the band's music is simple and easy to digest for most people even with different music background or taste. I remember someone said that "nothing in it" commenting the music of Porcupine Tree. I never said into that extreme. But you should give a try with "Don't Hate Me". Don't look at the simple structure, comprehend the groove it produces! Awesome. And after this cool track the band brings the mood UP again with very dynamic track "Mother And Child Divided". I love the guitar effects produced by S Wilson in the middle of this track. Oh man . it's incredible!!! Well, basically the set list creates ultimate satisfaction for viewing and listening pleasure.
Third, Steven Wilson proves that he is the best sound engineer nowadays! Why? This DVD has the highest quality in sound quality as well as picture. Well, for picture quality there are others with par excellent. But for audio? Don't ever dare to challenge him, my friend! Am currently reading a book called iWOZ (a story about Steve Wozniak of Apple) where I know that he is the best electronic engineer in planet earth that has made a big change in the way people behave - invention of Apple 1, iPod, etc. And Steven Wilson is the one in sound engineering. I wildly imagine if (an only if) Steven Wilson was there already when Pink Floyd's "Dark Side of The Moon" was recorded - he might win the competition against Alan Parsons. This DVD has great sound in 5.1 technology and I'm sure that you will agree with me if you have a chance to enjoy this DVD. Even, I'm now listening to the audio (without TV). It has proven also with my Audio DVD format of "In Absentia" album (which I purchased from Amazon as well). The DTS sound is great! I believe Steven Wilson is the master of DTS recording / mixing. I have no complaint at all. In fact I never expected that my ears would be ultimately satisfied with this sound quality. Thanks a lot Mr Wilson. You are my hero in sound engineering.
Conclusion: Despite the product defect I'm experiencing, this is a masterpiece of prog rock DVD which makes elder proggers (Roger Waters, David Gilmour, Alan Parsons, Peter Gabriel, Robert Fripp, Keith Emerson etc) would be proud of. They might never expected that prog music would evolved into something as beautiful as this band's music - especially this live DVD.
FYI, on last Friday night when i-Rock! (a rock organization in my country where I have been heavily involved) presented the 4th Jam Session night at Front Row Cafe, Jakarta, Indonesia, I played this DVD for one hour just before the program was officiallystarted. Comments from the crowd about this DVD were very positive. For those who never heard Porcupine Tree music planned to explore the band's albums. It was a good thing to introduce before four local bands came on stage (one of the bands was a powerful prog band IN MEMORIAM which would be featured at this site shortly).
Notes on The Product Defect: Sorry I have to put this upfront despite awesome band performance because I don't know how to escalate this problem. Contacting amazon.com (where I purchased this DVD altogether with The Flower Kings "Instant Delivery") is a hazzle. Their site is excellent for ordering but is lousy at giving access to customers who have problems with the orders. One example is that I cannot automatically reply the mails I receive from them because they are automated for sending message only. I browse around the menu in "Contact US" (or something like it) but could not find the friendly menu. I experienced this when my order of PALLAS "Men of Dreams" was coming late. For my problem with Porcupine Tree I'm not gonna contact amazon - it's terrible for feedback.
So what's the problem with my copy of PT "Arriving Somewhere"? At Disc One minute 49:08 when the song So Called Friend I experienced sudden lost of audio sounds for one second just like you have power off but it suddenly returns back to original sound. I thought that was problem with my power supply of my DVD player or government-supplied power. But my other electrical household things had no problem at all. So I repeated the track - the same thing happened. I brought my Disc One up stair to second floor where usually I listen to audio (without TV) and the same problem occur. It's really annoying you know. Especially, I like this track very much. This morning I played it very loud because I love the music riffs but the problem at minute 49:08 still occurred. I'm disappointed because I cannot get full sound of incredible Porcupine Tree's song. FYI, the disc has no physical scratch on it - so I think this is a recording issue and NOT damage during delivery.
Do AMAZON people or SNAPPER or PORCUPINE TREE people read this review? If so, HELP ME OUT man! I want the perfect copy of the disc because this is an incredible performance by the band! And of course the dollars I invested must be justifiable. Why bother purchasing a defective product? (BTW, I'm a Six Sigma Blackbelt so I understand that there is three DPMO - defects per million opportunities - allowed. Unfortunately, I am one of the three. Lucky me.!)
Gatot Widayanto
A great document of Porcupine Tree's last two phases, since Stupid Dream to Deadwing the band made a very solid performance, giving another life to their sound. In fact, in several tracks their effort gave a particular feeling to the music, surpassing the album version. The DVD quality is so great that it would be difficult, if not impossible, to say that it was a live performance if we did not listen to people screaming or clapping at the end of the tracks.
Outstanding are the inevitable Arriving Somewhere but Not Here, one of the greatest tracks ever made, a superb mix of a strange and recondite feeling with modern sonic power. Other magnificent performance is from technically brilliant and heartbreaking "Hatesong", the always vibrating "Blackest Eyes", the ballad "Lazarus" in which Steven Wilson's voice seem to be less shy and even more celestial than studio version, the supreme beauty of "The Start of Something Beautiful", the psychedelic "Even Less" and the captivating "Trains" even though its unexpected incident.
Could be a great start for those who don't know one of the most important bands of nowadays. An impressive and rare sound quality among live performances. Almost impossible not like it, even if they sound even better seen really live.
TRoTZ
Glad that "Arriving Somewhere." has finally arrived !
Finally a live performance DVD by Porcupine Tree! The DVD comes as a 2-disc set. Disc one is a full show from the Deadwing tour filmed at Park West, Chicago in Oct 2005, edited by Lasse Hoile, with the soundtrack mixed in stereo and 5.1 surround sound by SW, and mastered by Darcy Proper (who mastered the award winning PT DVDAs). Disc two includes bonus live performances of Futile and Radioactive Toy from German TV show Rockpalast, the Lazarus promo clip, the live films used during the show for Start of Something Beautiful, Halo, and Mother and Child Divided, Gavin Harrison's "Cymbal Song" (also in 5.1 sound), and a photo gallery with well over 100 images.
This DVD was the DVD that all PT fans had been waiting for! As most bands with a far smaller discography had already released some DVD's, PT just made us waiting. But as always with PT the waiting was really worth it! It must have been easy (or actually could already become very difficult) to come up with a track list for this release. I think they did a great job here. I simply love the track list which is a mix of the "Lightbulb Sun, Stupid Dream" era and their later albums "In Absentia" and "Deadwing".
Somehow PT manages to always play some great tracks live that even weren't released on their studio albums. I am talking about "Revenant" and "Mother and Child Divided" which were only available on the Deadwing DVD-A and "So Called Friend" which was released only on the German/Polish "Lazarus" single. Funny that those supposedly "not quite good enough" DEADWING tracks are still better than some other bands finest!
I noticed quite some reviewers of this DVD didn't like the artistically filming and editing. For this I think one should be more familiar with PT and Lasse Hoile in particular. As all PT fans know Lasse Hoile is PT's "home artwork director". He has done some great work on most of PT's albums already. No wonder PT wanted to give their 1st DVD a similar "feel" to it. As PT fans will also know that their music and especially their live performances are always very cinematic it might not come as a surprise that they hired Lasse Hoile again, but now as the editor of the "movie". Some blurry and grainy shots are the result, sometimes in colour, sometimes in black and white, but always with enough variation to keep things interesting. No problems for me here whatsoever!
What is left is a great performance with superb sound effects and even some funny moments as well. E.g. when one of SW's guitar strings breaks in the encore "Trains" and he says: "we were doing so well." After a new guitar has been given to him he asks the audience where he was standing at the moment this happened, as the could "delete" this occurrence afterwards. Luckily they didn't!
5/5 stars for one of the best live DVD's in my personal collection.
Martijn Martens
Never having seen PT live and not being particularly impressed with Deadwing, I wasn't sure what to expect from this DVD. I'd heard that the band was pretty hot, so I was curious. Well, this one's a winner for sure and makes me regret not going when the Deadwing tour passed through my town. This band is hot indeed, particularly drummer Harrison, who is a monster behind the kit, sometimes too much so, but I was very impressed nonetheless. Harrison and Wilson are the only animated performers in the group, as Barbieri is always hunched over his arrays of keys like a mad scientist and bassist Edwin is basically a mannequin on stage (a very proficient one, though). Steven Wilson is a very impressive performer, dramatic, animated and intense. His live vocals are excellent, and his guitar/vocal interplay with second guitarist Wesley is great. Wilson's soloing is creative, but those expecting metal chops should go somewhere else. Wesley also acquits himself well with some Gilmouresque leads. On the whole, I don't entirely disagree with those who criticize the arty cinematic effects that Lasse Hoile added, like fake scratches, b/w, different colourings, etc., as they can be kind of intrusive, but the band is so static as a whole that the effects add an good distraction to what could have been a boring visual experience, almost in a Floyd/Hawkwindian kind of way. It complements the spaciness of a lot of the band's material and creates a hallucinatory atmosphere. On the whole I found the set to be a good balance between the recent albums, with a good balance also between Barbieri's ambient interludes and the big metallic riffs that underpin many of the songs. There is a nice human touch amongst all the monstrous precision of the band when Wilson breaks a string on Trains and makes light of it to the crowd. I'm pleased he left it in there. Overall, this DVD demonstrates that PT are incredible players and Wilson a fine singer and songwriter. I'll have to go revisit Deadwing now, since I even enjoyed those tracks on this excellent concert DVD.
Allister Thompson
Arriving Chicago - start of something beautiful
GRANDEZZA! A wonderful performance which I haven't expected in that way. This is the first time for me to regret that I'm not able to give 6 stars. The musicians are acting very concentrated in perfect harmony. Almost no emotions and interaction with the audience (excepting the end of the gig).
But this is not really surprising. Also nothing new: Steven Wilson is heading the concert with his vocals and various guitar work from acoustic to psychedelic and metal riffing. Richard Barbieri serves the psychedelic background for the songs with piano and soundscapes. Colin Edwin plays a solid bass part as usual. John Wesley is the wellknown precious fully intergrated second guitarist and vocalist. So at the end there is one musician missing in my enumeration - Gavin Harrison - I was not able to see him live with PT until now. His powerful various drumming is impressing - for example on Hatesong including some wonderful jamming. This is one of my PT long time favourites - and I must say - never have heard this song in a better way! Followed by Don't hate me they probably have to be played together until the end of time!
Another song to point out is Heartattack in a Layby with wonderful vocal harmonies by Wilson and Wesley. I never thought they were able to perform it in this way on the stage. And the title track Arriving somewhere ... plus the other songs from their last studio output 'Deadwing' are working live much better. The video performance is okay for me - maybe for some people it's a little bit restless. Second DVD is not spectacular - filled with a lot of pictures, some videos and live tracks. I can recommend Radioactive Toy from the Rockpalast Concert and - we are coming back to Harrison again - the fascinating Cymbal Song.
I have prefered the 90s phase of PT before I got this production - now I have to think over it!
Uwe Zickel
PT arriving in your living room with a great show.
An outstanding concert document filmed in Chicago in October 2005 this DVD does the job of presenting the band. It manages to capture the obvious excitement in the hall with great camera work, killer sound, and very high quality overall.
They did make the decision to employ the visual effects that many (myself included) find unnecessary: the color to black/white switches, the grainy or flecked images to make it look like dated film stock, etc. For the most part these didn't wreck the show for me as the material itself is good enough to make you forgive the visual tricks. And they avoided the worst sin of the concert video which is the super lightning fast edits that keep your head spinning and never allow you to settle in with one performer for more than two seconds. So my conclusion about the visuals debate is that those who hate that stuff will have to deal with a bit of it but shouldn't allow it to keep them from buying this and enjoying it. All in all it works.
The music is very good and the band is on top of the execution all the way. The opening track will blow you out of your chair if you have the luxury of watching this on a fine audio system. Lots of great guitar solos, beautiful keyboard textures, out of this world drumming will thrill any rock fan. The highlight for me was long and tasty version of "Arriving Somewhere But Not Here" which Wilson squeezes every drop of passion from, but all of the songs have something to offer. The emphasis never strays from the music to other typical concert distractions like "the light show" or camera mugging. Wilson comes across as a down to earth guy and delivers alternately sensitive or passion-filled vocals as required by the track. Backing vocals do a great job of recreating the gorgeous harmonies you find on their studio albums. Other Deadwing tracks like "Halo" and "Lazerus" are also delivered with great conviction by the band. The performance makes clear that PT as a band unit are at the top of their game.
The bonus disc includes several cool things. First, the "gallery" is maybe the best I've ever seen. The photos are outstanding and they scroll themselves so you don't have to keep pushing the remote. Also they are put to space music so the effect is nearly that of a video. The Rockpalast live songs are as good as those in the main show. The "Lazerus" promo as a video could have been great but was ruined by the nasty visuals that Wilson seems willing to let shroud him. It featured these really sweet home movies of a family from the 50s or 60s (Steve's family?) that I really wanted to **see** but unfortunately the whole thing is mucked up by saturated colors and scratch/grain/aged film effect. What a shame. The bonus concert back-drop films are great to set a mood in the concert but presented alone are of little value. The last item is a video for "cymbal song" which is a solo item where the drummer creates an entire song using only his cymbals. It works amazingly well. Nice idea.
Packaging is great with a full color fold-out digipak housing the two discs. (Love the speakers with the photos inside, nice touch!) The menu commands are fast and easy to navigate.
I would recommend this DVD not only to PT fans but to anyone who appreciates a good rock show. My better half is not into watching rock shows to the extent that I am and often times gets bored with them. But she really enjoyed this one and watched the whole thing! Good job guys!
Jim Finnforest
Arriving Somewhere shows PT in their live glory on the Deadwing tour. Unlike a lot of live giants, their show is incredibly simple and they don't run around energetically in a Rush or Who-like manner. Instead, each member essentially stays rooted to his position and ensures that the music is what comes through. And it does so masterfully on this set. My one complaint is that the director uses a host of effects that can distract from the music on the first watch. However, in some bizarre way the use of 70s effects and the general dated feel of the video fits the band's retro style.
The concert opens with Revenant as the band enters the stage. Steve Wilson looks like the clean-shaven, English arty equivalent to Kurt Cobain. Perhaps if people were more receptive to good music, Wilson could have also been hailed as a great writer, but oh well. The entire concert is a highlight, but nods must go to heavier version of Blackest Eyes, the epic Arriving Somewhere But Not Here, the riffy instrumental Mother and Child Divided, the trippy Halo, and the hands-down best song of the concert, Hatesong. The band kicks it into overdrive here, and Gavin in particular shines. They picked all of the best Deadwing songs and left the filler, and the rest of the songs are well chosen as well. The encores are all superb, with The Sound of Muzak and Even Less sounding even better than the studio versions. Before PT launches into the final number, Steve makes the first real audience interaction of the night, as he deals with a Freebird heckler amusingly. Halfway through the closer Trains, one of Steve's strings breaks st the worst possible time, leading to some more quips.
The second disc features some great Rockpalast footage, and Gavin's Cymbal Song is magnificent. Overall, this DVD is a must buy because it shows how talented each member is, with special focus on Steve, Colin, and Gavin, who all prove that they are incredibly skilled. The video effects can be annoying, but it fits in a way, so I'll still highly recommend this. It's worth the price just for Hatesong and Arriving Somewhere.
Grade: A-
Jake Cole
A killer set-list exceptionally performed coupled with this videos AMAZING production values make this one of the best concert DVD's around. Not only does the band look and sound on top of their game their multi-media projections, as well as digitally added effects (making the concert sometimes fit the old time, "grainy" film look of the album's artwork) make watching a real experience.
Wilson's guitar performance is stellar, especially during his extended and altered solos (which are typical), while Gavin Harrison's contribution to the bands energy is immediately apparent.
My only complaint is the limited lack of extras, which consist of a few extra songs from another venue, as well as a groovy "cymbol song" performed by Harrison. Interviews, documentaries, etc. would have been greatly appreciated.
A must for fans who haven't had a chance to see the band live yet, or those who just need to be reminded how awesome they are on stage!
Jeff Morgenroth
Porcupine Tree - 'Arriving Somewhere.'
A superb DVD that has qualities in a few categories like production, presence, setlist and film that makes this a worthy purchase for just about anyone. Since this DVD presents itself after the 'Deadwing' album, you can expect to find that album to be most prominent on the DVD.but not by too much. Regardless, the songs put onto this release from 'Deadwing' were among the best of the album.
The sound is pretty crisp.if you have a decent speaker system. The major flaw on the DVD is for some reason it doesn't work well unless you have surround sound.it was very annoying when I got this for Christmas when all my equipment was at school. I watched it on my old TV and the bass always clipped the volume. So buy at your own discretion regarding the sound.
The show was a great one. The band threw in a bunch of tricks and some lengthy improv, especially on 'Hatesong'. The cameras didn't focus too much on the main man Steven Wilson which is always cool, shedding light on the other members. The songs were the very best of the 4 previous studio albums, although they skipped the first four albums.but this is about moving forward in their career anyway. The performance was incredible and there were no mistakes apparent to these eyes.
I highly recommend this DVD, only flaws are a prerequisite of a decent sound system and a little short for the money. If you are a fan this is an essential addition.
Rob
Simply stunning
If there's one thing that's always been said about Porcupine Tree by critics and appreciators alike is that these guys are great to watch live. Despite being one of the darkest and most brooding people to watch perform, Steve Wilson and his band of merry men put on quite a show whenever they get the chance, and that's exactly what they do here. Recorded shortly after the release of the acclaimed Deadwing this dvd only release features an excellent setlist ranging over the course of the band's career, including songs that didn't make it onto the actual albums (rarities and b-sides, something I think bands should play live more often) and some excellent special features on a second disc. The actual concert itself is shot wonderfully with grainy cameras giving the concert a very distinct look and feel while the excellently recorded sound pounds away at your mind. This is a must have dvd for Porcupine Tree and general prog fans alike.
The mood and the atmosphere of the entire concert is very dark, and that adds a wonderful touch. With everything mentioned before (the camera, the front man, the songs) and with the lighting effects this concert really does get a very Porcupine Tree feel to it which only lends itself to the replay value of the piece on the whole. This is the kind of dvd you can watch over and over again without being bored by it. It's a good length (about an hour and a half) so you won't find yourself needing to take a break in the middle and every song is interesting as hell with Wilson headbanging and jumping around the stage only to calm down at the end to simply say, ''Thank you...'' to the audience. Excellent choices in the setlist including the particularly difficult to find b-side instrumental Mother And Child Divided which has become a favorite with its heavy riffs and powerful delivery as Wilson tries to suck his audience into the black hole of the performance. Other standouts of the performance include the melancholic Arriving Somewhere... but Not Here, the pretty Trains (with an interesting section near the middle) and the brooding Hatesong.
Of course the second disc is quite the addition as well. Including film clips, music videos, bonus performances and the very fun Cymbal Song this disc is a very good watch for people who want more. And believe me, you'll want more. Radioactive Toy is shortened a touch but that doesn't stop it from being the behemoth masterpiece from the band's ''debut'' that it is, and Futile makes a great live appearance as well. The Cymbal is fun to watch (pity the editor of that one...) with Harrison doing some very interesting noodling and the other films make for good entertainment.
All in all an essential dvd from the band. A great place to get started and a great place to see more if you're already familiar with them. Camera affectionatos will also appreciate the shooting of the performance, because let's face it - it's unique and fun. 4.5 mothers and children divided out of 5, but rounded up for good measure. This is about as good as a dvd is ever going to get, so nab this one if you have the chance - you won't be let down.
Patricia O'Bee
Cold but professional.
We can't accuse Wilson of over-acting; he's pretty stoic when it comes to giving a performance. But Porcupine Tree is not Rush nor Arena, so we couldn't ask them to as other could do it. But what a flawless performance, I dare you arguing with me.
Just because they're are what they are does not mean that you won't have a good time. Why not? Most of your favorite songs are there and they're done with such panache and grace. While looking at them playing I thought many times:Man, this looks easy. Look at them! Hey, maybe I could drum like that!' The thing is, we realize fully in this DVD how good the guys are (especially Gavin Harrison). I cannot play like Harrison, but they make it look like a cakewalk on easy street.
Cold? Yes. Moody? Kinda. Darkish? You to judge. Entertaining? Oh yeah.
Jonathan Payeur
Strange that a band with such a prolific discography/live history has only one DVD released, as I would have deeply enjoyed their live album Coma Divine in a video setting! I guess Wilson "the Prog basketball", simply had too little time on his hands to set up more visual documents. This package is clearly from the "Deadwing" phase, which means that the harder edge espoused with In Absentia (in sequence with the Opeth producing experience) is in full evidence. As a few other PA reviewers have commented already, the various spooky/grainy effects added on by editor Lasse Hoile are really unnecessary in the whole scheme of things , perhaps a tad kitsch which may be more in jest (Wilson does have a somewhat impish sense of humor) than any serious attempt at being original. Psycho- psychedelic has been done already! "Open Car" certainly kicks off in rambunctious fashion, alternating crackling swagger with sweeping melodies and bone crunching drums. Wilson actually displays fine voice with various interesting modulations and the Richard Barbieri keyboard colorations are really way more vivid in a live setting than on record (heavy Roxy Music influence in his playing , even all these years after Japan) ! "Blackest Eyes" offers up some more steamroller/rollercoaster rides, meshing pile driver rhythms with one of the sweetest main melodies ever , showing off Gavin Harrison's undeniable talent (the man is a beast live), with bassist Colin Edwin merrily keeping everything stitched tight. "Lazarus" mellows the tone, showing off Wilson the tunesmith, creating an almost pop standard , having everyone "follow me down to the valley below", with pastoral piano and a simply honest guitar solo. This is not about technique or chops but more musical poetry which Wilson certainly knows how to turn. "Hatesong" is this scribe's favorite PT track, so I will drool a tad if I may. A simple bass riff repeated ad nauseam ( somewhat remindful of Roxy Music's "The Bogus Man", check it out -wink), with some exalted keyboard patterns , whirling dervish guitar pirouettes, odd drum fills a la Paul Thompson and Wilson's "yeah, yeah, yeahs" combined with a screeching axe solo that would make Manzanera/Eno proud, treatments (Barbieri again) and all. A manic showstopper, a fantastic track that deserves being seen/heard in a live context. I slurp up the sweat and the saliva 'cause I really hate my ex wife. The rage fits, thank you very much! "Don't Change Me" has become another darling branch of the quill's tree, a moody, broody and sooty sarcastic lament with a melodic hook the size of Holland (the Dutch fans will get this one), Wilson proving again that he can sing with passion and despair, the 2 words that best characterize Porcupine Tree, BTW. Here again, Barbieri gets to add his special touch, giving off more dreamlike sequences on his various Rolands, combining with Wesley and Wilson's dual guitar attack with sinuous dexterity and spatial eloquence. Another masterpiece! "Mother and Child Divided" proposes more eccentric tonal architectures, altering the whoosh with the brawn, almost Crimsonesque in stature with Harrison pounding relentlessly and the axes grinding ferociously, extended noisy interludes vying with spooky synthesizer sweeps, a whamming, jamming affair. "Buying New Soul" again showcases the keyboardist flair in expressing complex simplicity with Wilson's acoustic guitar grabbing the torch, another pop ditty much like Lazarus or Trains, a simple song with sad lyrics and terse arrangements (symphy keys). Wesley gets to solo electric. "So Called Friend" returns back to the edge and the falsetto voices are amusing in context of the thinly veiled sarcasm, draped in a sea of atmospherics and propulsive melodrama but this tune does not venture into new territories. The title track provides Eno-like soundscapes, again with a strong early Roxy vibe, with superb video backdrops to accentuate the groove, sweet expressions of desperation perfectly evoked with a limpid Wilson green guitar foray, Harrison pummeling along in subtle simplicity, a second more raging solo from the leader with a raunchy section and a peaceful outro. It arrives somewhere, I assure you. Mushrooming blue skies and all. Another high point, very nice, indeed. Fire flames on the screens, more hints of Roxy's "In Every Dream home" early on, very moody and labored, with stunning chorale vocals, the massively gorgeous "Heartattack in a Layby". "The Start of Something Beautiful" is led by Edwin's bopping bass and a funkier groove than ever, evolving gloriously into a raging anthem, still careening on the four string track, steam rising from the synths, Wesley "wah"-ing his fretboard, masses of atmospherics and Wilson plaintively expressing some kind of hope both with his voice and green guitar. "Halo" is another groove sizzler, Edwin and Harrison laying down a funky beat, suddenly morphing into a Lennon-ish rant about God, cell phones, freedom, truth, power, fame and of course, pain. Sounds like this tune is dedicated to those bushleaguers who want to lead the world into the abyss. No need to stand up! This is where the concert, as such ends and the encores begin. Get to see a few hot babes in the crowd. "The Sound of Muzak" is a big fan choice, so it's no surprise that the return attack begins with this marvelous tune, a main chorus that just sticks to your brain, a simmering lament that has everyone singing in unison with Wilson and crew. A tortuous, curvy, rapacious solo captures the attention of each and all. One of the wonders of the world, no one cares..."Even Less" is another big moment, possibly even the tops, a typical incursion into the groovy world of spiny psychedelia, with Wilson's rifferama guitar plowing mercilessly, Harrison bashing confidently and a magnificent chorus sung masterfully by the castaway, possibly PTree's finest moment ever , as both lyrics, music, intent, passion and despair combine into a crescendo of pure genius. By this time, the Chicago crowd is spellbound and near delirium, or is it shock? "Trains" ends the show and I am not ashamed to say that it isn't and never was a big deal for me, yes its pretty and cute and even mildly amusing when Wilson pops his strings and has to ad-lib a return (very coolly pro BTW) and I guess this DVD will get me to really like this song too . I am dying of love, too. Great job Steven, and the Montreal show was a memorable blast. If any had doubts about P Tree's raison d'être, then get this DVD and you will arrive somewhere in the higher reaches of Progland. 5/5 Fedexed basketballs.
Thomas Szirmay
Porcupine Tree - Arriving Somewhere... DVD
Porcupine Tree, the band at the forefront of modern prog, are one of the best bands going around. This DVD stands as a testament to that, showing that a band which is brilliant in studio truly can be better live. This is the band's first (and currently only) DVD release, and this remains in the top 3 live videos I've ever been given the privilege and honour to see.
The band is captured live in CHICAGO, 2005, on the DEADWING tour on this DVD. This is sonically in the top 0.5% of live recordings I've ever heard, both visually and aurally. Perfect live performances, sound, camera angles and directing style round out this perfect set into one of the best prog DVD's ever.
The band play an all-star set here, choosing to focus on tracks from the latter half of their career. Opening with a great live energy and perfect performance on OPEN CAR, the band choose to play a great selection of B-Sides, smash hits and crowd pleasers to build up a perfect live set. The band performs every one of these tracks perfectly live (other than a minor hiccup in TRAINS) and never ceases to amaze, especially during HATESONG, SO CALLED FRIEND and MOTHER AND CHILD DIVIDED.
Every band member was on fire the night this was recorded - Steven Wilson sung and played guitar like never before, Colin Edwin grooved along quietly all night, Richard Barbieri mixed the live set whilst playing brilliant ambient synth and hair-raising piano, Gavin Harisson played the best drum sections you will ever see, and John Wesley (only a Porcupine Tree member during live performances) contributed great rhythmic guitar, vocals and the occasional solo.
The highlights of this DVD include the live version of HATESONG, which has around three more minutes before it closes, full of masterful soloing by Steven Wilson and the best drum section I've ever seen live by Gavin Harrison. I have absolutley no complaints about the quality of this DVD, and am thrilled that it introduced me to this band's live prowess and many of their tracks I hadn't previously heard.
A perfect live DVD, and well worth every penny.
Until next time, -Joel
Joel G
For a band like Porcupine Tree, it's quite a suprise actually that the band has only released one DVD thus far in their career. Being a Porcupine Tree concert, my expectations are obviously raised from square one. While there were things about it that I found a bit lacking overall, I enjoyed the DVD quite a bit, and every Porcupine Tree fan should check this out.
The main issue I had with the DVD was actually the song choice. There was an over- abundance of b-sides, especially being their only live DVD. Some of the songs that really could have had a beautiful presence onstage (such as 'Russia On Ice') were overlooked. The b-sides themselves weren't bad, but there are only a handful of performances on here I really love.
Also, for a band that used to actually be primarily psychedelic, there are very few visuals; very little visual effect. There are the occasional 'sepia' or 'black and white' tones (courtesy of visionary Lasse Hoile) but I would really prefer a longer visual segment. For people looking for a bare-bones concert DVD experience, it shouldn't bother them, but at least for Porcupine Tree, I was expecting something a little more 'trippy,' to put it gracefully.
Good performance, amazing sound and good production however, makes for an enjoyable concert DVD. 8/10
Conor Fynes
I would say that this is one of the best recorded live performances I have seen thus far. The stage presence of Wilson and crew is just dynamic, and something I really enjoyed (but I've known others to find pointless and distracting) is the fact that the audience is shown so often. I loved being able to see just how intense and in-the-moment the PT live audience is, and also just how varied the audience members are in age. It really shows how this band's music truly transcends all boundaries that tend to separate the generations, especially with music. It's like with Porcupine Tree, the music IS the only thing that matters, culture and age be damned.
The editing choice I'm NOT as keen on however is the heavy use of fake film grain, the in-and-out B&W grade that shows up in the most random, pointless places, and things like that. Not really sure what they thought it would achieve, and I guess if you're a fan of that 'vintage' look, you'll like it, but I personally thought the fake video effects detracted from the 'live' feel a bit. If an old concert record on film has that look, it's natural and real, but when you fake it just to achieve a certain look, I'm not sure if that does much to add any appeal. Luckily those moments aren't frequent enough to really ruin it, and it IS only a minor complaint, and my only one. Just be warned, though; that overlaying of post-production video effects makes you very much aware that you are watching a video rather than an in-person live performance.
The set list is very good as well, including some songs that may be more obscure to more recent fans of the post-Lightbulb Sun PT material. One song in particular, ''Mother and Child Divided'', is a lesser-known B-side full of rhythmic fury and energy that mirrors some of the work of the more technical Prog Metal acts. Perhaps some people will wish more early PT songs had been played, as the majority of the numbers do indeed come from the band's then-newly released album, Deadwing, but that isn't much of an issue for me,. The songs that ARE featured, more recent or not, are very good choices and wonderfully played.
The highlights for me would include the performance of ''Arriving Somewhere But Not Here'', a moment of humorous banter between Wilson and an audience member before the final number, and the final number itself, which is a live variation of ''Trains'' featuring a very funny 'incident' that Wilson successfully handles and carries on with the song even stronger. Another highlight for me is a bit of an odd one; Gavin Harrison's ''Cymbal Song'' on the second disc. It's something I can't really describe, but I absolutely love it. Creative and inventive all the way.
It's just a great video. That's the truth. One minor complaint that is more of a personal pet peeve, and the rest of my comments are all positive. This may not be the wildest, most over-the-top stage performance ever, and the guys in this band aren't much interested in running around the stage like chickens without heads; rather, they are simply putting on an intimate show where they can connect with their dedicated audience via this complex, modern music that they play so well. If you consider yourself a Porcupine Tree fan at all, you owe it to yourself to pick this one up if you haven't already.
Very happy viewing.
J. Locke

Y me cansé de copiar reseñas, una cosa es clara, este trabajo convence a propios y extraños, amantes y detractores de Porcupine Tree. No se lo pierdan, está en la Biblioteca Sonora Cabezona! Imagino que ya saben cómo llegar a ella...