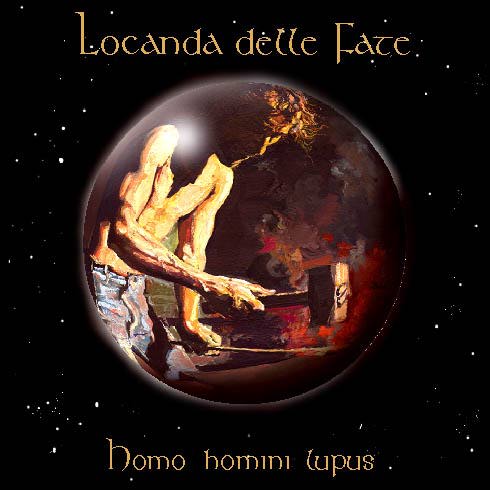 Artista: Locanda Delle Fate
Álbum: Homo Homini Lupus
Año: 1999
Género: Rock progresivo italiano / Neo progresivo
Duración: 55:22
Nacionalidad: Italia
Lista de Temas:
1. Homo homini lupus
2. Il lato sporco di noi
3. Giro tondo
4. Bandando
5. Plovi barko
6. Stanotte Dio cosa fa?
7. La fine
8. Certe cose
9. Ojkitawe
10. I giardini di Hiroshima
11. Fumo

Alineación:
- Giorgio Gardino / drums, vibraphone
- Luciano Boero / bass, Hammond
- Ezio Vevy / 12 String, acoustic, electric guitars, voice, flute
- Alberto Gaviglio / acoustic & electric guitars, 12-string electric guitars, voice
- Michele Conta / pianos, Moog, clavinet, synths
- Oscar Mazzoglio / Hammond, piano Moog, synths


Un disco de Wan, en otra muestra de trabajo colaborativo. Un trabajo discreto, producto de la reunión de los LDF luego de... 22 años largos, mucha agua ha pasado cerca de ése lejano principio con "Forse le Lucciole non si Amano Più", álbum relativamente dentro de los finales del desarrollo del rock progresivo italiano, pero "Locanda delle Fate" decide a reunirse otra vez en 1999 con el disco "Homo Homini Lupus".
La formación sigue estanbdo substancialmente sin cambios desde su primer trabajo, a excepción de Leonardo Sasso, el cantante solista del "Forse le Lucciole non si Amano Più".
No obstante "Locanda delle Fate" tiene éxito de nuevo para producir líneas vocales óptimas, siendo basado en grandes estribillos del sinfonico. La mayor parte de los críticos no ha apreciado profundamente este "homo Homini Lupus", un trabajo intermedio entre el último sonido 70s y las nuevas variaciones progresivas contemporáneas: el grupo ha tenido siempre dificultad para encontrar éxito, para una serie del problema, es que ha pasado los últimos 20 años sin lanzar nuevos discos. El "homo Homini Lupus" no está obviamente hasta la altura de la primera obra maestra, sino que es un disco que sabe transmitir emociones a través del sonido moderno, una rock progresivo dirigida hacia sonoridades modernas y más fáciles de digerir.
La lista de las temas del "homo Homini Lupus" se parece algo enigmática. En lugar, la canción de la abertura es una de las mas interesantes, quizá porque está la mas conectada con el estilo del "Forse Le Lucciole non si Amano Più", y tambien el sucesivo "New York", muy experimental.
El cantado "en latín" asombra para la coralidad exhibida: los pasos instrumentales largos de su primer disco se omiten totalmente, para valorar el sistema vocal y la atmósfera del fondo, muy onírica y relajante.
Más atada al Neo Prog inglés es la segunda sección, "Il Lato Sporco di Noi" (el lado sucio de nosotros), enriquecido de una melodía penetrante, digna de los grandes cantautores italianos como Fabrizio De Andrè y Francesco Guccini. Las guitarras acústicas de fondo constituyen un alternativa con respecto a la línea melódica central, más similar a las composiciones de Pallas y Marillion.
La parte ritmica inicial en "Giro Tondo" carece de originalidad, mientras que el desarrollo resulta ser no tan fiable, pero el registro instrumental ofrece muchas soluciones inesperadas.
El resto de las canciones son correctas, más alguna canción musicalmente fuera de consonancia con el contexto, pero en general el resultado es homogéneo aunque no del todo superador.
"La Fine" es el track más acertado, con su atmósfera triste es la canción más brillante de este trabajo, siendo él el más cercano a los tonos del viejo estilo.
También el triste "Certe Cose" (algunas cosas) sigue el halo del anterior.
Luego vendrá una sucesión de temas cercanos a l neo prgresivo energico pero mediocres. Llega así "Ojkitawe", también atado al NeoProg, y "I Giardini di Hiroshima" (los jardines de Hiroshima) con sonidos típicamente japoneses. "Fumo" (humo) mezcla folk, fusión y arreglos españoles, un tema inesperado, imprevisto pero que calza bien en un trabajo rico de ideas como es el "homo Homini Lupus".
"Locanda delle Fate" no ha perdido totalmente la fascinación de la edad anterior, pero los intervalos en el cual aparecen no aseguran un bueno resultado final.
"Homo Homini Lupus" es un álbum discreto, recomendado principalmente para los amantes de la banda y los fanáticos incondicionales.

Vamos ahora a algunos comentarios en inglés:


So most of you are asking is this as good as their debut album released back in 1977? Well let me say that it must be measured on different terms and conditions. This may shock many of you out there but I really like this album. "Homo Homini Lupus" could perhaps be best described as somewhere between classic LDF and modern prog acts with a modern flare. If you are like me then their first album is a treasured classic and I would end the discussion there and open a new chapter for LDF. I have read far too many reviews suggesting this new album is inferior that I could puke. In contrast LDF's new album is full of life and loads of symphonic influences and at times I hear the old classic band and album seaping through in drips and drabs. I should mention that most of the original members are back with the exception of lead singer Leonardo Sasso. Vocals are still very well done and hang together with great ease. "Homo Homini Lupus" explores a wide range of themes and ideas from the African bongos to the Mellotron. "HHL" has a very modern prog sound which is full and dynamic and does something for me... I guess that is why opinions are great I hear something in this recording I think many are missing... should be a great debate... but I groove this recording and think it is just grand these lads are back at it.
James Unger
« Le trip est fini, chu loin de chez moi, comme Jim Morrison à Paris, si vous pouvez comprendre... » (The trip is over, I am far away from homme, like Jim Morrison in Paris, if you can understand...) This is what used to say Lucien Francoeur of Aut'Chose (a semi-proggish urban violent poetry-inspired 70s Quebec band). Well, this is how I felt after nearly camping in front of my progressive music store to get that album when it was released. What a disappointment! But what was I really hoping? That a band that was so brillant and released one of my top-ten album of all- time more than 20 years ago would then come back at 45-50 years old in the 90s with an other masterpiece?




Let's be honest: this album is not bad. You can put it in your CD player without having the intense desire to bang your head on the wall in pain. You can actually enjoy this music: the sound is good, the arrangements too; one can see there was work done on that album. But guess what? I prefer the sloppy technique and pitiful sound of the "Live" album to this one. PASSION is what is missing. Or maybe creativity. Or both. Those guys went to musical college and they know how to play. They are maestro of their art. But sometimes, the trip is over, you are far from home, and even if you are the best in the world at any art you just don't have anything left to say with your technique.




Overall, I feel guilty actually blaming those guys: I admire them so much. What they did was so great, so new, so inspiring. Even this album is not bad... But I can't be honest and say this is a good album in comparison to what they did before. It is a correct album, which any Locanda delle Fate collector should have in his collection. But if you are new to this band, PLEASE do not start with this one! 2.4/5.0
Belz
This album is the fruit of a reunion in 1999. Almost all the original members of the band are involved in someway in this project (precisely all but the singer Leonardo Sasso). Nevertheless the result is quite disappointing. The prog vein seem to be gone an this album is just a pop rock one with some good moments, but nothing more.
"Lucifer quotidie parat bella usto capillo / Quam ferus qui primus protulit horrendo enses / Nos ad mala nostra corde vertemus micante / Atqui homo fieri potuit homini lupus." The opener title track is sung in Latin, but don't worry. In the booklet you can find all the lyrics with the translation in English. "Lucifer has singed hair and prepares wars every day / How cruel was the one who first invented the ferocious swords / Our throbbing hearts cause our own misfortunes / Yet mankind has chosen to be a wolf against its fellow men.". "Homo homini lupus" is a quite interesting song with amazing backing vocals, mellotron, Hammond B3. Anyway the rest of the album is not so good and after the first track the music turns to melodic pop. To save only "Giro tondo" with a nice use of accordion and harmonica and with a happy rhythm, "La fine" with some nice harmony vocals and the final "Fumo" with a nice acoustic guitar part.
In the whole nothing special, just an album for collectors and melodic pop lovers.
Andrea Parentin
I have known of very few bands that made a come-back after twenty-two years of silence. On top of this, "Locanda..." only released one studio album (but what a great one !). I wouldn't name these few bands (prog or not) who have tried this chalenge but I can't think of a single great result (even not VDDG).
So, it is with curiosity that I discovered this album and I have to say that the deception was enourmous. There is nothing left from the grandeur, complexity and wonderful harmonies available on their masterpiece.
The musicianship is still great of course, but in terms of compositions there is hardly any good song featured here. Average rock music with an Italian flavour. Nothing to do with "Forse Le Lucciole...".
Even some awful songs, would you believe... "Giro Tondo", the short "Bandando" of course, but the palm definitely goes to "Plovi Barko" which sounds as an African tribal song. This is too much for me. It is almost with relief that the listener reaches the next song : "Stanotte Dio Che Cosa Fa". Nothing great, of course. A mix of prog and rock. Just average. As the syrupous ballad "Certe Cose".
Same awful African "choirs" during the pityful "Ojkitawe". What happened ??? The poor funky "Fumo" is not helping this album of course...A poor closing song.
My opinion is that this band should never have released this record. They would have remained as a brilliant band even if short-lived (one wonder band, really). Two stars. Do not even approach this.
Daniel
It's hard to find any prog music elements down here with this album. This Italian prog band actually has excellent virtuosity in composing good music. Look at this album. I believe you all agree with me that in terms of melody, almost all song presented here are catchy and they comprise notes with catchy melody. The way the singers sing also indicate how emotive the compositions are. Musically, they also generate good harmonies resulted from each instrument played by the musician. In terms of structural integrity of each song is quite good and solid. But as far as my personal taste the music sounds too boring for me because it's much more pop than prog or rock. So, I get bored very quickly. Yes, I do enjoy the Italian lyrics even though I don't understand. But that is not the only thing if the overall attractiveness is not here. All music sounds too simple here with this album. One thing is excellent for sure is the sonic quality of the record.
Overall, I leave it up to you on how you view this album.
Gatot Widayanto

Recuerden, los links no están aquí, para ello está la lista de correo cabezona.