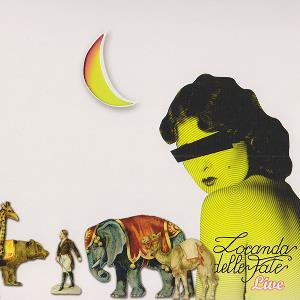 ¡Y miren (sobretodo escuchen) los que les tremos!!! No recuerdo quién nos había pedido todos los discos que podamos traer de los tanos de Locanda Delle Fate, así que cumplimos, y engalanamos al blog cabezón con puro rock progresivo italiano, uno de los géneros que más tenemos publicado, y no es casualidad.

Artista: Locanda Delle Fate
Álbum: Bloom Live!
Año: 2013
Género: Progresivo italiano
Duración: 62:49
Nacionalidad: Italia
Lista de Temas:
1. A Volte Un Istante Di Quiete
2. Forse Le Lucciole Non Si Amano Più
3. Profumo Di Colla Bianca
4. Sogno Di Estunno
5. Sequenza Circolare / La Giostra
6. Cercando Un Nuovo Confine
7. Vendesi Saggezza

Alineación:
- Leonardo Sasso / vocals
- Massimo Brignolo / guitar
- Maurizio Muha / keyboards
- Oscar Mazzoglio / keyboards
- Luciano Boero / bass
- Giorgio Gardino / drums


Este disco lo tenía desde hace tiempo, tratando de hacer un buen review y nunca tenía el tiempo necesario. No recuerdo si el link original es de Wan, que me trajo varios discos de ésta banda que seguiremos compartiendo. Ni recuerdo quién es el que pidió los discos de la banda por el chat cabezón.
Un registro grabado durante la reunión que se dió a partir del 2010, y donde los viejitos demuestran lo que saben, el lanzamiento oficial viene también con un DVD aunque nosotros solamente traemos el disco.
Una actuación memorable de Locanda delle Fate. La calidad del sonido es excelente, y el rodaje se llevó a cabo de manera profesional con 4 cámaras diferentes.

En pocas palabras, un importante documento que muestra cómo el rock progresivo italiano goza de buena salud hoy en día y se puede disfrutar tanto como ayer, y además como estos maestros ofrecen a las nuevas generaciones toda su experiencia en el género.


The reunion concert of Locanda Delle Fate (this time featuring singer Leonardo Sasso who was not present on the 1999 album) is a real treat to fans of their 1977 classic, even though the principal composers Vevy, Conta and Gaviglio did not join in. But pianist Maurizio Muha and guitarist Massimo Brignolo surely do an excellent job at delivering the missing bits.




Unlike on the vinyl, this set features the full concert in both CD as well as DVD format. The audio quality is great and so is the overall performance. Sasso's voice is rich and intriguing, the guitar is mostly subtle but very well placed in the music, Giardino's drumming is on-point and never showy but as the very end of "A volte un istante di quiete" makes clear, he is still capable of some very fast drum fills. Maurizio Muha seems very relaxed while playing and adds details to the music, which show his great skills (perhaps a bit at the expense of Mazzoglio who seems less dominant but still great at what he is doing) and his short solo "Sequenza Circolare" fits in perfectly with the music. The tracklist is a great selection of almost the entire original album and one newer composition and there are so many details in the music that it simply does not become boring even if you listen to it multiple times in a row.




The DVD is an excellent addition to the live recording and makes this release a must-have for all fans of the original album. I think it is simply delightful to see how much fun the gentlemen are having playing their old music. There is not much of a show and no gimmicks, they simply play their music as a unit (perhaps similar to Camel), which is very sympathetic. The video quality is not amazing but definitely fine and the editing is very calm, which makes it an enjoyable watch. The packaging is a regular Mini-LP-papersleeve as usual from AMS, always nice to look at and to hold. So if you are a fan of the original album, I can only recommend this great reunion concert, whose only weakness is that it is not very long.
Nick

Si no se enojan, traeremos más de Locanda Delle Fate dentro de poco. ¿Se enojan?