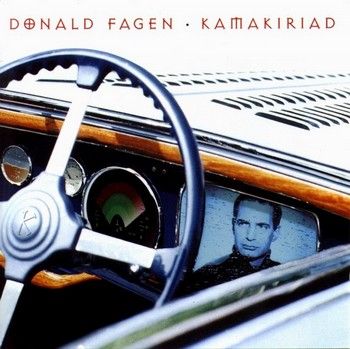 Y en este viernes vamos con otro aporte de Marcelo B., ahora con uno de los discos solistas del ex Steely Dan; Donald Fagen. Y como sé que hay varios cabezones que gustan de Steely Dan, creo que no será un disco mal recibido.

Artista: Donald Fagen
Álbum: Kamakiriad
Año: 1993
Género: Jazz rock / Soul pop
Duración: 50:27
Nacionalidad: EEUU
Lista de Temas:
01. Trans-Island Skyway
02. Countermoon
03. Springtime
04. Snowbound
05. Tomorrow's Girls
06. Florida Room
07. On the Dunes
08. Teahouse on the Tracks

Alineación:
- Donald Fagen / vocals, keyboards
- George Wadenius / guitar
- Lou Marini / alto saxophone, flute
- Cornelius Bumpus / tenor saxophone
- Illinois Elohainu / tenor saxophone
- Lawrence Feldman / tenor saxophone, flute
- Dave Tofani / tenor saxophone, flute
- Ronnie Cuber / baritone saxophone
- Roger Rosenberg / baritone saxophone
- Alan Rubin / trumpet, flugelhorn
- Jim Pugh / trombone
- Birch Johnson / trombone
- Paul Griffin / Hammond B-3 organ
- Walter Becker / bass, guitar
- Leroy Clouden / drums, percussion
- Christopher Parker / drums
- Dennis McDermott / drums
- Bashiri Johnson / percussion

Otro aporte de Marcelo B.: un disco en solitario del señor Fagen que tras formar parte intrínseca de Steely Dan junto a Walter Becker durante los años 70, inició su carrera en solitario a principios de los 80. Este disco marcó un antes y un después en la música que fusiona jazz y soul con su toque pop, que no será de mi estilo pero hay varios cabezones que gustan de esto.



Y seguiremos con la misma tónica, los links no estarán en el blog, así que vayan acostumbrándose, y súmense a la lista de correo.
A continuación, algunos comentarios en inglés.


Donald Fagen's second solo album is a song cycle of sorts, following the adventures of an imaginary protagonist as he travels the world in his car, a brand-new Kamakiri. It is an odd concept, and one that is not obvious to the listener, but reflection upon Fagen's liner notes while listening to the album does tend to evoke a vision of a non-apocalyptic near future, where swingers sip cocktails and fresh vegetable juices as they groove to synthesized jazz-rock. Evocative or not, this is not Fagen's best effort. The songs on Kamakiriad are mainly static one-chord vamps, with little of the interesting off-beat hits or chord changes that characterized most of Steely Dan's corpus (although, it must be said, Two Against Nature isn't too far conceptually from what Fagen is doing here). There is a slightly antiseptic feeling to Kamakiriad. Although the drum tracks are not synthesized, they sure sound that way, and even the horns sound electronic at times, a far cry from the lush arrangements of Aja. Another shortcoming of this record is the fact that the verse melodies don't sound very developed. The choruses are as catchy and cryptic as you would expect from Donald Fagen, but the verses are less than memorable. Walter Becker, who produced the record, as well as contributing bass and guitar, also co-wrote "Snowbound." Perhaps not surprisingly, it does the best job at evoking classic Steely Dan. Kamakiriad is pleasant as background music, but in the end it doesn't provide enough interesting moments to rank as a must-have. The static grooves, coupled with the long song lengths, and general lack of dynamic movement makes this record one of the least essential of Fagen's recorded output. However, Steely Dan completists will certainly find enough here to keep them happy.
Daniel Gioffre
This was a disappointment to me. I expected this to be, at least, about .5 below "The Nightfly". Instead, you get an album that, while having some good moments, does not match expectations.
The first song is "Trans-Island Skyway", which is my 2nd most favorite song on the album. The lyrics are okay, but the melody rules. The vibe reminds me of the album Steely Dan released seven years later, "Two Against Nature". However, this album is better then that one. Now, following that is the dull "Countermoon". It has a good feel, but I don't care much for it. The melody is okay. "Springtime" has a sort of boring start, but I LOVE it. Easily the best song on the album. The vocals stand out. After that is another great song, "Snowbound". It is very good, and has an excellent chorus. After that is "Tomorrow's Girls", which is boring. The blame of that is the length, which, as said, does nothing to help to song. The groove is actually good on the song though. "Florida Room" bores me to death. Even the melody is not very exciting! After that is "On The Dunes", which has a great melody. The instruments are cool, but there is one problem: The melody fades away after the first 5 minutes. It gets boring around that point. "Teahouse On The Tracks" is only a bit better then "Florida Room". The chorus is fine, but the verses are better.
I am not impressed by "Kamakiriad". However, it is still a worthwhile album if you like Steely Dan or Donald Fagen.
CW553
After a lengthy silence fagen came back with "kamakiriad" a concept album about some super futuristic automobile which totally escaped me. Becker was back on board as producer too, paving the way for their reunion tours and new steely dan material.
What's to say ? I havent heard "nightfly" for ages but this feels less interesting somehow. The brass arrangements are frequently stunning and the trademark jazz-pop is as expected - played as smooth as a babys bottom.
I just didn't find the songs very exciting or interesting although it makes for some very classy background music.
Garfieldacres
The music is jazz and blues oriented, Fagen's voice is unmistakable, and partner Walter Becker produced the record, co-wrote one song, and contributed instrumentation. The overall concept is a bit thin, but it is intriguing and I believe that it would make an interesting motion picture. If you're a Dan fan, I'd pick this one up.
willyboy2
I admit that I don't "get" the record - a slick concept album about futuristic automobiles and the world around them? Something like that? Of course that's just an excuse for Fagen's jazz-pop lite, which pretty much progresses as expected. But what I've always loved about Dan and Fagen solo is the way that the music contrasts with the lyrics; stuff that's hard, mean, and grimy is always just underneath the gleaming surfaces. Here, it's like the entire story, such as it is, exists in the imagined world of "I.G.Y.," all Trans-Atlantic railroads and Spandex suits and girls from the sun and self-contained environments within cars. But the grit is missing - even when Fagen is happy, as on much of The Nightfly, he's got an edge to the writing. Here I'm not feeling it and it proves fatal. I can enjoy this at the surface level, and in 1993 it was nice to see Becker and Fagen creep out into the sun from wherever they'd been hiding, but I find this less rewarding on further investigation than just about anything else he's released with the possible exception of Gaucho.
nervenet
What can I do? I simply love it. I know every note. I love to hear it at sunday mornings. It's easy, smooth, gracious - and what's more important, the songs are great. "Snowbound", such a beautiful ballad... The album goes on blessfully, until it reaches a peak with the gorgeous "Florida Room". Then it drags a little with "On the Dunes" and "Teahouse on the Tracks" (that's why I cut off half a star), but everything that comes before is top notch.
To me, this is the best thing among the whole "second wave" of Fagen, Becker and Dan. And yes, I like it better than "The Nightfly". Sorry.
aledittrich
Check out the similarities in Fagen's melodies and the cadence in which he sings them on "Trans-Island Skyway" and "Countermoon" and "Springtime." Not exactly a lot of serpentine melodic development . . . . . to these ears, there's almost a ghost of late 50's doo-wop in there. Curious.
That aside, this is easily one of the best efforts from the resurrected Steely Danners of the 1990s and 2000s. It's a painstakingly written, played and produced album, with the excellent sound engineering and layers of harmonic sophistication that we've come to expect from Becker and Fagen.
The thing that puzzles me is, why wasn't "Florida Room" released as a single? It is an extraordinarily infectious tune, it could have easily been edited down for airplay (wouldn't want to burden the listening public with anything over 3:15, now would we?), and the horn section chart in the middle eight only increases the song's appeal.
Reginod