Otro aportazo de Marcelo B. Una rareza que difícilmente consigan en otro lado y que no necesita mucha presentación, uno de los grandes discos solistas del maestro Howe.

Artista: Steve Howe
Álbum: Natural timbre
Año: 2001
Género: Crossover Prog / Sinfónico
Duración: 65:09
Nacionalidad: Inglaterra
Lista de Temas:
1. Distant Seas
2. Provence
3. Intersection Blues
4. Family Tree
5. J's Theme
6. In the Course of the Day
7. Dream River
8. Golden Years
9. The Little Galliard
10. Up Above Somewhere
11. Curls and Swirls
12. Pyramidology
13. Lost for Words
14. Winter (Vivladi)
15. Solar Winds
16. Your Move
17. Disillusion
18. To Be Over

Alineación:
- Steve Howe / guitar (acoustic), banjo, bass, dobro, guitar, mandolin, percussion, autoharp, guitar (bass), guitar (12 String), koto, mandola, mandocello, Hawaiian Lap Steel guitar
- Andrew Jackman / piano, Glockenspiel
- Anna Palm / violin
- Dylan Howe - drums


Un álbum instrumental de Steve Howe no necesita que lo presenten demasiado, así que no voy a perder tiempo, porque Marcelo me había pasado este link ya hace tiempo y no tenía en el inmenso listado de discos que no publico porque me hace falta más tiempo para reseñar. Howe sólo usó guitarras acústicas (incluyendo mandolin, banjo, etc). Si bien en algunos track solo se utilizan guitarras, otros tienen a su hijo en batería y a Anna Palm en violín. Los últimos tres temas son versiones instrumentales de Yes.


Natural Timbre is an instrumental album released by Steve Howe in 2001. Steve uses only acoustic guitars (including mandolin, banjo, etc.). While some tracks feature only guitars, others have his son Dylan Howe on drums and Anna Palm on violin. The last three tracks are instrumental versions of songs from Yes.
Wikipedia

Ya que no quiero extenderme más en compartir el disco, no haré más introducción de la mínima, les toca a ustedes disfrutar.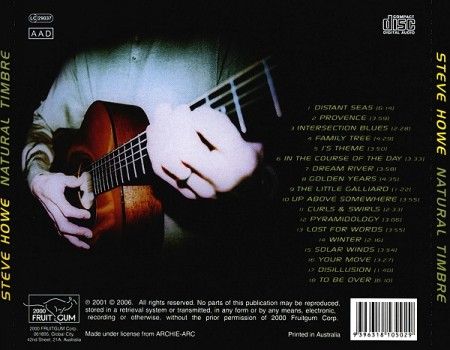 El próximo video no tiene nada que ver con éste disco, pero a la hora de hablar de Howe no podemos olvidar todos los momentos de notable destreza y sensibilidad que este extraterrestre nos brindó a lo largo de nuestras vidas, como por ejemplo, al endulzar nuestros oídos con estos sonidos:

Y ya que estamos, no podemos olvidar esta belleza que recreó, las "Bachianas Brasileiras No.5" del genial Heitor Villa-Lobos:

Ahora vamos con algunos comentarios en inglés de este disco:


The YES guitarist Steve HOWE's new album "Natural Timbre" is quite far from the music he have recorded with YES and ASIA through the years. The album contains eighteen all- acoustic instrumental songs witch moves within many different genres. And they're performed in an emotional, relaxed, and for being Steve HOWE, different way.




I saw Steve performing together with MARILLION on MTV a couple of years ago, and I remember that I was thinking that the man had grown old and his guitar playing wasn't as good as before, but this album shows the opposite. The music is complex, vital and more refreshing then Steve have been in many years.




But there are actually some YES connections on this album after all, as Steve has included three new versions of some old YES-songs, selected by his fans: "Your Move", "Disillusion" and "To Be Over".




With this album Steve proves that he's still one of the world's finest guitarists.
Greger Rönnqvist
I'm shocked to see that this excellent album has only four reviews. I can understand that many people may have felt burned by some of the releases from earlier in Steve's career, but this one is very nice indeed. It will be quite a departure for people who are only familiar with Steve's most well-known stuff, as most of this album is made up of laid-back, jazzy instrumentals (with a strong country influence on some songs as well.) Steve is still mesmerized by the sounds of his various guitars, and brings them to us in a some delightful works that showcase their sounds and characteristics as much as they showcase his talent.
That's right, I said instrumentals. We can all breathe a sigh of relief. Steve doesn't sing.
Anyhow, this is the best of Howe's albums that I have heard and it is well worth having. If you gave up on Steve's solo career in the last millenium, try this one out. It's different and better than those old albums you bought in the '70's.
Four / Five stars. Steve may have released things that required more impressive chops in the past, but this is the right mix of skill and taste.
Phillip
Well, I have to be honest that the chief reason to have this album for me personally was the facts that there were three Yes tracks included here in this Steve Howe record. I just wanted to have another style of those three tracks played buy Steve Howe himself. My reaction was mixed as I was not quite impressed with Your Move as it has made the music not that proggy compared to the original studio version and live version with Yes ...and of course this version is no vocal. But I like To Be Over as I do with the original version.
Natural Timbre captures varied musical styles: straight pop, classical music, country, blues...,which all of them lumped together sounds like a music at the lounge a five star hotel; nothing is quite complex right her ....everything goes smoothly. Of course each track has special meaning for Mr Howe, depicting the memory of his journey of guitar playing. For example on Distant Seas had something to do with his memory when he was in Japan in 1973 when he bought a handmade classical guitar by Kohno and later in London, he bought a Koto (a long, curved, Japanese instrument with strings stretched across) and began recording it with groups and solo work. But he also, like in Winter, playing an arrangement of the 2nd movement from Winter, part of Vivaldi´s Four Seasons which originally from violin.
Overall, it's a good record and you should not expect something prog as you find in any album of Yes. It's a simple and straight forward music that any music lovers might enjoy it.
Gatot Widayanto
Acoustic guitar masterfully executed.
Needless to infer that Mr. Howe has a unique style, his name is indelibly stamped on the annals of progressive symphonic rock. The reality is that his solo work have received negative reviews generally. Most of them are uneven and mixed a lot of rhythms, sometimes not very suitable. Also, his voice and manner of singing is not his greatest asset. Still, his accomplishments of the 70 contain some classics, especially The Steve Howe Album. And more recent ones are not entirely mediocre as they have been described, especially instrumental sections are optimal.
Here his acoustic guitar in the lead. The songwriting is right, better than in other productions. Besides the covers: The Little Galliard, Winter and the last three are of Yes, with an excellent performance of To Be Over. It is entirely instrumental, with several tracks performed by Howe solo, or with violin support. In other sounds like a full band, as in Distant Seas, Family Tree, Golden Years and To Be Over,...
Ariel
Guitarist Steve Howe keeps himself busier than ever in middle age with both recording and touring. In addition to his main job in Yes, he works occasionally with Asia and regularly releases solo albums. 2001's Natural Timbre is his first entirely acoustic studio project, and it's a rewarding blend of styles and influences. Over the course of 18 songs, Howe plays a variety of guitars, mandolins, basses, and other stringed instruments, and is joined on some tracks by violinist Anna Palm, multi-instrumentalist Andrew Jackman, or his son, drummer Dylan Howe. The progressive rock foundation of Natural Timbre is obvious, but new age, country, blues, jazz, and classical angles abound too. "Distant Seas" is a swaying, jazzy song for which Howe utilizes a Japanese koto in addition to guitars. A country-ish, Renaissance flavor is displayed on the perky "Provence." Distinctive, multiple guitar parts highlight the impressive "Family Tree." "Dream River" is a self-duet with Howe playing two main smooth, fingerpicked jazz guitar melodies. "Up Above Somewhere" is a soft solo acoustic guitar piece. A tight melody and a tense rhythmic feel propel "Lost for Words." "Winter" is the second movement of this portion of Vivaldi's "Four Seasons"; Howe arranged it for 12-string acoustic guitar and mandolin. Natural Timbre ends with three Yes songs, the best of which is an excellent reinterpretation of "Your Move" (part of "I've Seen All Good People" from The Yes Album); the other two are "Disillusion" (a segment of "Starship Trooper," also from The Yes Album) and "To Be Over" from Relayer. Guitar fanatics will love the liner notes, which include Howe's comments about each song and a detailed chart pinpointing the instruments he played on each one.
Bret Adams
Natural Timbre is Steve Howe's all acoustic follow-up to the previous all electric Quantum Guitar and I see the two as twin albums where he explores his respective interests and influences. In fact, it is his first all acoustic album ever. As usual, he plays a cornucopia of different instruments and styles. Since Howe is a guitarist's guitarist, he always tells us what instrument is used on what track. In this case, that comprises 22 different guitars and other acoustic instruments including koto, autoharp, mandolin, mandocello, mandolo, bass, 12-strings, six-strings, and classical guitars including an 1836 or 1834 model (there is conflicting information). This is the kind of information that guitarists such as myself salivate over (and dream about). Accompanying him on some of the tracks is his son Dylan on drums, Anna Palm on violin, and Andrew Jackman on recorder, piano, and glockenspiel, but most of the tracks are just Steve, and many are solo pieces.
If you like such tunes as Mood for a Day, Surface Tension, or his acoustic segment on The Ancient (three of y favorites) and want to hear more of that, this is the place to come to. Howe's playing is lyrical and impeccable. This being an all acoustic album, there is little grandstanding with rapid runs and fierce chords. That is not to say all the music is slow, because that is not the case. It is the case, however, that the music overall is pretty mellow. This is an all acoustic offering, you know. It does get dynamic on occasion. Each piece has its own characteristic, yet in the long run, it is difficult to remember one from the other. Only careful listening and noting of titles, along with what is being played, can one distinguish each song. Personally, I find the album absolutely wonderful. The Yes fan will instantly recognize the last three songs, which are adaptations of Your Move, Disillusion, and To Be Over. The production on these songs is a step above the rest of the album, so when Your Move begins it is bright and lively, rich in tone, especially after the distinctly soft preceding piece. Steve even explains a little how he re-arranged these songs for guitar. The careful listener will recognize an uncredited guest playing mandolin on Your Move. Fortunately, he is partially identified as Chris. Now who might that be? To Be Over is a song designed to end an album with. It worked perfectly on Relayer and it works perfectly here. The delicate melody, the rising dynamism, the increasing complexity, and the lyrical cap are all included here, yet it is entirely instrumental. For those who dislike Howe's voice, and there are many of us, the fact this is all instrumental is a blessing. Steve speaks his vision best through his fingers and strings.
Steve Howe's solo work is a mixed bag when taken all together, but I consider Natural Timbre one of his best releases. I always thought of him more as an acoustic guitarist anyway, and he even says he writes most of his music acoustically. If you enjoy the softer side of Prog, or even if you merely enjoy acoustic guitars, I highly recommend you check this one out.
Robert Fox
Here´s another fantastic Howe album... All the songs are acoustic, but he can make them very different one from each other, using Mandolin, Banjo, several acoustic guitars, violin(played by Anna Palm). The whole album is very calm, perfect for reading, and he makes blues(Intersection Blues, IMO the best track), Jazz(Dream River), and ambient music ( Distant Seas)... The disc has songs for all my moods. The Yes songs, IMO are all excelent: Your Move´s extremely beautiful melody is made better, and the recorders are amazingly calm and soft; Disillusin(From Starship Trooper) is outstanding, very emotive; To Be Over is a masterpiece, IMO, with amazing Glockenspiel, and a totally different atmosphere from the original. They are all as good as the originals, or perhaps better... I´d give it 4,5 stars, but I can´t, so it´s4. If you admire Steve Howe, and/or like acoustic guitar, buy it now.
Evandro Martini
This is one of my favourite Steve Howe solo albums. It's completely acoustic and that's great! (Mood for a Day and The Clap are also acoustic, as we all know. By the way, Intersection Blues is a new rendition of The Clap here). Every song is so full of feeling and brilliant playing. But that's not an easy listening music, no! Some tunes are rather complex and it will take you some time to understand them. The best tracks are Provence, In the Course of the Day, Curls and Swirls, Pyramidology, and Winter (Vivladi), imo. The only disappointment for me was that the versions of Yes songs the most seemed rather uninteresting here... In general, it's a highly recommened album for all who like Steve Howe's music and acoustic guitar playing.
Yurkspb2

Para terminar, y como homenaje, otro video del gran Howe en acción...