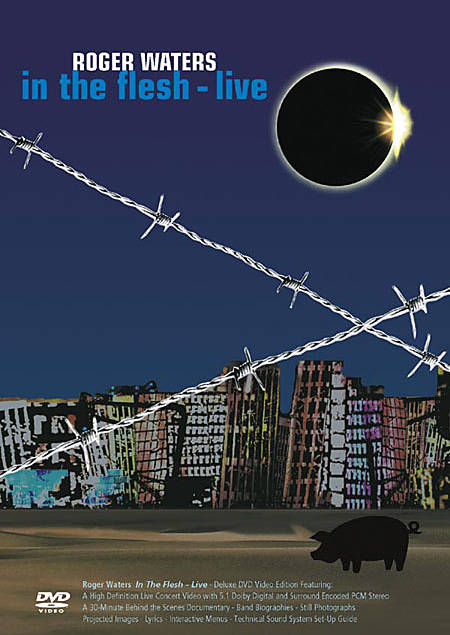 El primero aporte de Gustavo, que entra al blog cabezón pateando el tablero y se manda con este DVD de un concierto en Oregon. Díganme ¿Aún no aman al blog cabezón??

Artista: Roger Waters
Álbum: In the flesh Live - Dvd
Año: ---
Género: ---
Duración: 146:34
Nacionalidad: Inglaterra
Lista de Temas:
1 In The Flesh
2 The Happiest Days Of Our Lives
3 Another Brick In The Wall Part 2
4 Mother
5 Get Your Filthy Hands Off My Desert
6 Southampton Dock
7 Pigs On The Wing, Part 1
8 Dogs
9 Welcome To The Machine
10 Wish You Were Here
11 Shine On You Crazy Diamond (Parts 1-8)
12 Set The Controls For The Heart Of The Sun
13 Breathe (In The Air)
14 Time
15 Money
16 The Pros And Cons Of Hitch Hiking Part 11 (AKA 5:06 A.M. - Every Stranger's Eyes)
17 Perfect Sense (Parts I And II)
18 The Bravery Of Being Out Of Range
19 It's A Miracle
20 Amused To Death
21 Brain Damage
22 Eclipse
23 Comfortably Numb
24 Each Small Candle

Alineación:
- Roger Waters / vocals, guitar & bass
- Doyle Bramhall II / guitar, vocals
- Graham Broad / drums
- Jon Carin / keyboards, Lap Steel, programming, guitar, vocals
- Andy Fairweather Low / guitar and vocals
- Katie Kissoon / vocals
- Susannah Melvoin / vocals
- P. P. Arnold / vocals
- Andy Wallace / Hammond, keyboards
- Snowy White / guitar


Acá vamos con el primer aporte de Gustavo, y promete mucho más... así que bienvenido Gustavo al staff blog cabezón (quedó asombrado de lo rápido que aquí se suben peldaños, je)...
Este trabajo no tendrá links de descarga, serán suplantados por el método Relayer, sabemos que esto traería problemas y mejor evistarlos, una cosa es que busquemos que nos cierren el blog (lo estaríamos pidiendo a gritos si publicamos esto) y otra cosa diferente ss si nos dfenuncian los Macri boys que andan molestando (sorpresivamente no lo han hecho, imagino que porque no quieren quedarse sin música los mismos que putean luego andan pidiendo discos).. Así que ya saben, no hay links de descargas aquí.



Vamos con el comentario del propio Gustavo que es lo que vale.


El 27 de junio del año 2000, Roger Waters brindó uno de sus conciertos más impactantes en el Rose Garden Arena (Portland, Oregon), In the flesh (En la carne). A su vez, In the flesh es la primera canción que abre el, ya mítico, álbum The Wall. Como vemos, Waters mantiene una continuidad con su pasado pero agrega a sus letras, siempre tan marcadas por su impronta política, la fuerza y estética de sus nuevas canciones.




El concierto refleja el largo camino transitado por el artista a lo largo de su carrera, y las marcas que el paso del tiempo dejó en su carne. Un excelso recital donde Waters interpretó desde las canciones de los discos fundamentales de Pink Floyd, hasta las más recientes de su faena como músico solista. En efecto, In the flesh encuentra a este músico en un momento de madurez pero con la energía necesaria para brindar a su público un gran show de más de dos horas de duración.




Para los nostálgicos de Pink Floyd y para los todavía fans de Waters como solista, este es un material ineludible. Una gran puesta en escena que desarrolla poco a poco las creaciones más significativas del artista. Ojalá, como amantes de la música, cuando Roger Waters pregunte Is there anybody out there? Podamos decir sin dudar acá estamos todavía.
Gustavo

Y para completar, algunos comentarios en inglés...


When I purchased Roger Waters' The Wall Live in Berlin laser disc couple years ago, I thought it was my best experience seeing Roger Waters live. It was NOT when later I watched "In The Flesh" DVD. Both are excellent, but I prefer "In The Flesh" as it's performed better even though not as spectacular as The Wall. I still remember vividly the first time I spun In the Flesh DVD at the first time I was stunned and hooked on the couch seeing him and his band played great songs of Pink Floyd and his solo wonderfully. Whenever I needed to take off the couch for some "liquidity break" (getting water in or out from my body) I always press "Pause" from my DVD player as I did not want to miss any second watching and listening to their gig! It's an awesome show with great songs.
All songs performed in this DVD are excellent. They represent the creative works of ROGER WATERS during his tenure with Pink Floyd and after he left the band. I come to a conclusion that with ROGER WATERS, Pink Floyd had reached their peak performance. This has been proven that after WATERS leaving the band the musical quality of Floyd has deteriorated a bit. Even though they're not bad at all. But, I'd rather listen to Floyd with Waters than without him. Even the underrated "The Final Cut" album which was considered as WATERS personal album, I still find it much better than any other Floyd without Waters albums. IMHO. Sorry, actually I have tried to make an objective opinion but it ends up with an ego-distorted view. I understand if you disagree with my view.
My most favorite track of this live DVD is of course "Dogs". I like this song even in the original studio album "Animals". But when it is performed live, it is much better. It's really wonderful performance. This song is performed similar to studio track but it has more "soul" and more dynamic. I am amazed with the performance of John Carin as lead vocals and acoustic guitar at the beginning. The solo guitar by "Doyle Bramhall II" is wonderful! I never knew him before but I'm amazed with his left-handed guitar playing. He looks like Jimi Hendrix but he plays like David Gilmour. "And when you lose control. You reap the harvest you have sown ." wow!!! Such a wonderful song performed excellently by the band here!!! Oh my God .. what a great performance!
I also like other tracks like "Southampton Dock" (uuughh .. I love it!), "Welcome To The Machine" (even though I don't like the drum beat played here; it ruins the musical nuance of its original album. And also the female backing vocals. It should be "deleted". It bothers the song, "Wish You Were Here", "Shine On You Crazy Diamond (Parts 1- 8)", "Set The Controls For The Heart Of The Sun".
When the band performs "It's A Miracle" from "Amused to a Death" solo album, I was totally tuned in with the nuance. So beautiful nuance that the band has created for this track. "Each Small Candle" - the new song by Roger Waters is also an excellent one. I turn my amplifier volume louder with this track being played on screen.
This DVD is worth owning. Highly recommended. Rating: 5- out of 5 (some flaws with backing vocals). I also own the CD version of this show. I never regret to purchase this CD even though I have the DVD format. Enjoying a live CD gives me a sense of much appreciation on the music as I have to imagine who's playing what during the passage of the performance. My detail observation about the music is better when I don't see the screen. When my curiosity reaches the top, then I play the DVD to check it out. For me, having this DVD and CD is similar to having Peter Gabriel's "Secret World Tour": even though I have the LD/DVD, I still enjoy listening the CD. Decision is yours. If you are Pink Floyd fans, you must GET THE DVD!
Gatot Widayanto
I have always felt conflicting feelings about Roger Waters. He send Syd Barrett away, I hated him for that but later it turned out to be a brave and unevitable decision. He wrote and arranged the splendid The Wall story but his complains about non-communication and psychopatic behaviour seemed projection because in those days he acted almost like a frustrated dictator! When Roger Waters left Pink Floyd and the post-Waters Pink Floyd reached an acclaimed status Roger Waters made a fool out of himself by demanding that Pink Floyd had to call it a day because there should not be a Pink Floyd without Roger Waters. Fortunately Roger Waters went to a shrink and a few years of psycho-therapy did him very well. One of the results is this excellent DVD, featuring a relaxed, inspired and crafty Roger Waters, supported by wonderful musicians, from the Syd Barrett-lookalike Doyle Bramhall II and the versatile Andy Fairweather Low to the great guitarplayer Snowy White and the gorguous singer Katie Kissoon! The best momenbts on this captivating and compelling DVD are "Dogs" (impressive key-role from multi-instrumentalist Jon Carin), "Set The Controls For The Heart Of The Sun" (mindblowing distorted guitarsolo by Snowy White and great psychedelic projections) and "Comfortably Numb" (moving build-up from the duo- guitar-solo by Snowy White and Doyle Bramhall II on a kind of catwalk, goose bumps!!). If you want to enjoy the best from Pink Floyd and Roger Waters solo, this DVD is yours! MORE THAN ESSENTIAL!!!!
Erik Neuteboom
Roger Waters with his In the Flesh Tour.
I had the luck to see him ( with his band of course ) in his visit to Mexico, as a part of this tour, and i was amazed, it was one of the best concerts i have ever seen, and when i see this DVD, i immediately remember that concert, is not exactly the track list, but is quite similar, also the images and performances, so since the first time is watched it, i fell in love, in fact i have both, this DVD and the CD.
Here we can watch some of their most known solo songs, and some greeat Floyd`s songs, so if you are not so familiarized with his solo works, keep your head up, and enjoy his Floyd`s performances , and dig some of his efforts. The musicians are friends of him, and also from Floyd, Jon Carin was a Pink Floyd constant member in their tours when Waters left the band, here Carin is in my opinion after Waters the musician in who i put my attention, keyboardist, guitarist, and singer in Dogs, great! Also, Snowy White who has collaborated with Ricahrd Wright among others, and a strange left handed guitarist Doyle Bramhall II, makes their own style and sound in this DVD.
Im not gonna do a song by song review, because there are over 20 , so my review would be big, but im going to mention some of them, and im going to talk about "4 parts of the concert" The first part of the concert is totally reminiscent to "The Wall" - "Final Cut" period, with 7 songs, the opening track of course is "In the Flesh", all the songs with emotion , nice guitar solos (Another Brick in the Wall), so fans of later "complete Floyd" can be happy with this first part, but the best part (IMO) is coming.
The second part starts with Pigs on the Wing, so you can imagine that flying pig as a background, the audience was crazy, after this , the best performance for me, "Dogs" it is really great, John Carin singing the first part and Doyle Bramhall the second and Roger the third part, it is a magnific performance, in the middle of the song, when you listen to dogs barking and there are no vocals, some of the members left their instrumments, and sit comfortably to take a card game, curious dont?, musically is great, Floyd fans could be please with songs like this. Songs from "Wish You Were Here" arranged different ( ala Waters) make their appereance after Dogs, another nice and pleasure moment.
The third part is exciting, a heart beating, so you can imagine, and yes, Breath in the Air, Great! at last some Darkside, this is one of the most special moments, (you can see the audience), Time and Money were also played, after this Darkside break, Roger back with some of his solo efforts, starting with Pros and Cons Of Hitch Hiking, and some of his best solo album "Amused to Death", all of them with his particular sound and lyrics, very emotional, some a bit deppressive but great, i love "Perfect Sense", when we can watch the great work of the female singers, it is one of my favorite songs.
The Fourth part starts again with Darkside tunes, this time reminding of Syd Barrett with "Brain Damage" and "Eclipse", and after these couple of songs, the crazy and marvelous "Comfortably Numb" with his thousands of guitar solos, all well done, if you got bored, with this you will wake up immediately, and the final song was then another Waters solo song, i think in that momebt was a new song, another great song with his particular sound "Each Small Candle", great!, is also great when the audience light on their lighters.
(Things that i dont like so much "Set the Controls" and "Welcome to the Machine")
This is the concert, about 2 and a half hours of great music. In this DVD you can also watch members short biographies, a 30 minute docummentary and the lyrics at the moment of the concert. So i think it is a very nice and complete DVD, highly recommended to all of you. Not sure if it deserves 5 stars, i dont think so, but 4 is perfect because it could be a great addition to any prog fan.
Guillermo H. Urdapilleta
This is a great DVD for the collection. When Pink Floyd were from a perception point of view still " BIG BAND" material without Waters, the man himself went out and delivered an ' In The Flesh' tour which exposed his new found ease with live shows, live engagements and a rekindling on the soul of his music. Roger Waters was now vulnerable to his fans, and we loved it. Welcome back Pink! He is backed by an exceptional line up, the irreplaceable Andy Fairweather-Low, Doyle Bramhall II and the ubiquitous Snowy White. The music is just awesome especially ' Dogs', and ' It's A Miracle' from the excellent ATD album. Not many DVD's get the maximum vote but this one deserves it.Five stars is not even negotiable.
Chris S.
Waters' best performance captured is a visual and aural feast.
"In The Flesh Live" is an album I stumbled across some months ago in a bargain bin and I enjoyed the Roger Waters version of Pink Floyd songs after hearing Gilmour's versions for so many years. It was a delight to discover the album was available on DVD so I watched this knowing all the songs well but being able to experience them all over again in a visual format. The DVD is very well edited, it doesn't flash onto scenes but lingers on the band so you can enjoy the performances, concentrating on all members of the band as well as Waters. He doesn't come across as a megalomaniac but rather a generous performer giving each member a chance to shine.
It begins with Waters on acoustic practicing in the green room prior to his stage entrance. The first song generates instant 'The Wall' atmosphere with the wall scene and Gerald Scarfe's illustrations beamed onto a massive curtain and chilling red lighting. We see Waters raise the hammer fists up and the audience copies the action. He takes on the persona of the deranged Pink decked out all in black and his entourage of performers fill the stage particularly noteable are the 3 beautiful women in black dresses. Water's voice is raspy and cold but he sounds great, the classic Pink Floyd sound is heard once again.
"Thank you, good evening, welcome", he addresses the crowd after the infamous Another Brick in the Wall Pt 2. Immediately he launches into acoustic classic Mother. The crowd roars when he sings, "Mother, do you think they'll like the song?" The crowd are really hanging onto every phrase cheering when he asks "should I trust the government", among others. The women that chime in on the chorus lifts the atmosphere considerably. The lead break is excellent, it is not Gilmour but still rings out well in the packed auditorium. The set, by the way, has a table and lamps, television, radios with other props, like Pink's apartment.
The next song is a rarely heard live treatment of Get Your Filthy Hands Off My Desert. A minimalist set piece with just Waters on acoustic and some mid white lighting. It is followed promptly by Southampton Dock.
When the Animals cover projects on the wall the roar of the crowd is heard, and the atmosphere darkens when we hear Dogs, a classic PF track. Waters doesn't need to sing the high verses as he leaves that to the guitarist, Jon Carin. The much celebrated lead break is well executed by the left handed, hippy looking young guy playing a bright red axe, Doyle Bramhall II, dressed in black with psychedelic patterns on the legs, and a weird looking toothy necklace. The keyboardist, Andy Wallace, is excellent too, I will add, on this track. The back projection is the moon and the city as seen on the front cover of the album and DVD. The twin lead break is fantastic, as good as I have heard it live. The band members sit down after a while, and enjoy a drink, acting out a scene from Animals it appears. They begin to play cards, Poker, I believe, as a weird phased keyboard solo is heard. Soon they stand again as the acoustic section begins to complete the lengthy 16 minute epic. Waters sings, "I'm a little bit confused, sometimes it seems like I am just being used", and we believe him. Even the dog barking effects are there, on this definitive highlight.
The crowd give a standing ovation and then Welcome to the Machine begins to pulse out its stark rhythms. Waters sounds great on this and the atmosphere is dark and foreboding, helped by effects, ethereal female vocals, and keyboard swells. On the back projection curtain is the image of a robotic machine icon in a circle, reminding one of PF's patented circular visual screen. I simply adore the keyboards on this classic. The way the band members stand rock solid as they play this lends it considerable power, especially the 3 ladies in black dresses. At the end the ladies wave tambourines to add to the music.
The intro is heard that all fans know and then we have the enigmatic Wish You Were Here, and I couldn't help but miss Gilmour on this, but it was still a nice addition to the set list. Waters sounds fine, with his more pained version of the classic. The stage fills with dry ice mist and a blue light washes over all. The lead solo by Doyle is different to what we may be used to but it's a good interpretation, with true variations especially the ending.
Another epic follows with Shine On You Crazy Diamond pts 1-8 clocking about 15 minutes. The set list is incredible at this point in the show. As soon as the 4 note guitar echoing strum starts, the crowd are in raptures. The ambient keyboards signify that they are about to hear a quintessential PF classic. We see lots of crowd shots as the stage is darkened with psychedelic blobs, akin to the Syd Barrett era. The lead guitar solos on this are varied and Doyle really gives it everything, it is ear candy for certain. We see projected images of Syd which is a potent and reverent touch. The twin lead guitars soar on this, and there is a true majesty with the female vocalists raising their hands high as they belt out the signature tune, "Shine on you crazy diamond". The keyboards are excellent, extremely ambient passages wash over the music. The slide lap Steel guitar is played virtuoso style by Carin, in fact all musicians contribute to one of the all time best performances of this legendary song.
After a standing ovation the band set course for early PF psych prog with Set The Controls for the Heart of the Sun, another rarely heard live track these days. The weird song is accompanied by early Floyd era images. The camera lingers on the whole stage and we notice the 3 ladies are in prayer mode during the track. This song really brings an ominous darker atmosphere, helped by Syd's flamboyant acts on the back projection slides, especially the scarecrow shot in the corn fields. The sax playing is phenomenal on this song, and Snowy White lifts the roof with his guitar solo; a masterpiece, perhaps the best version of this song.
A heartbeat is heard and everyone alive knows that the DSOTM set list is about to begin. From the penultimate album comes Breathe, Time, Money, and then later there is Brain Damage and Eclipse, though I missed The Great Gig in the Sky. During Breathe there are many harmonies from the band members, sounding decidedly different, though delightfully so. The performances of these well known classics are mesmerising. Time features the wonderful intro bass solo as the prism appears on the wall with rainbow effects, generating a decent cheer from the crowd. The iconic images look amazing looming over the band. The drum solo is very well executed. Waters sounds pretty good on the verses. The choruses are surprisingly close to Gilmour's style. The lead solo is sensational too, so no complaints from me.
Money, the crowd pleaser, follows and I was looking forward to seeing this after hearing the incredible version on CD. The song is sung well by Doyle and there is a lengthy instrumental with many varied guitarists all sounding fabulous. The sax solo is up to par with the best of them, and overall this is a definitive highlight of the set.
The concert falls down for me when Waters indulges in material from his solo career. I had avoided his solo albums as a strategic move. If these tracks are anything to go by I think that was a good decision. Occasionally the solo stuff reaches some resonance as a good song, but it's all so poppy, although I am a bit of a fan of 'The Pros and Cons of Hitchhiking Part II' which was in reality rather a bland album, apart from the eye candy saucy cover.
The band do good versions of these solo album tracks, especially those from "Amused to Death". We see the truck on the screen and some other weird images to add to the atmosphere. The "2001" sound bites of Hal's chilling death speech on Perfect Sense pts 1 and 2 are lovely, working well with the music. The female vocalists are soulful and powerful on this track. The crowd join in on the chorus "It all makes perfect sense", and it is an uplifting moment in the concert. Waters revels in the atmosphere as the crowd scream out in adoration. What a moment in the concert! This one gives me the chills.
The Bravery of being Out of Range follows, another one I am unfamiliar with but it sounds great here. Waters dons electric guitar on this, he is joined vocally by the powerful voices of the ladies in black. It's A Miracle and Amused To Death follow, both highlights of the solo career albums. For a moment in the intro of It's a Miracle it sounds like the creepy careful With that Axe Eugene, but it soon settles into a piano driven ambient piece. It is rather beautiful piano at that, and Water's has a charged emotional timbre in the voice, bringing the mood down admirably. There are even voice overs and a man running around with a torch.
These are slow songs and even the ladies take a seat during these, waiting patiently for their cue. Amused To Death is Waters and the ladies singing emotional verses about life and it's painful experiences. It is an important song from the album of the same name, though very sleepy, drifting music, and Waters obviously sees it as an essential part of the concert. It is kind of a breakaway for me though from the heart pounding moments of the early set list.
I can endure these songs as I have rarely heard them but it was nice to get back to the Pink Floyd material to close the show with DSOTM finale, so well received here, and Comfortably Numb. The latter track is always a show stopper due to the incredible melodies and the amazing lead soloing. In this case the lead solos are as good as I have heard. Snowy White and Doyle practically duel each other with their axes, and there are no winners really, as both are incredible. Waters sounds great, closer to the original version that more recent PF concerts. The arrogance of the guitarist, Doyle, shines through but they are both amazing musicians and this is one of the best performances of this song without Gilmour.
Each Small Candle ends it on a mini epic, a strange choice, (my wife thought they were seriously singing "eat small cattle"). The crowd raise their lighters right on cue, creating their own special effect, a dazzling, sparkling atmosphere. Waters enjoys it and when the band bow they know this has been one hell of an experience, never to be repeated.
Overall this is an outstanding concert primarily because of the terrific set list, the visuals are appropriate and not overbearing, and the camera work lingers on the band enough to enjoy the concert rather than flashing all over the place to try and create manufactured excitement. The DVD is something that all Pink Floyd fans should really enjoy, perhaps the best DVD of Roger Waters thus far. I am just so glad it was captured on film as it really is an incredible concert experience.
Special features are band bios, a feel good documentary and lyrics, plus a photo gallery, bringing the running time to almost 3 hours. It is definitely worth 4 stars for the sheer excellence of the material and the production value is A1 quality.
Scott Tuffnell
It's true that some Pink Floyd's song are not the same without Gilmour's guitar: thinking to a different guitarist and a different solo on Comfortably Numb, for example, is very hard for me, but the lineup of this DVD is incredibly good and also Comfortably Numb is played well enough.
The guitarists are two: a young rock man named Doyle Bramhall II who is a real surprise for me and and old chap like the bluesman Snowy White, already in the live show of The Wall as counter figure of Gilmour and already guitarist on Richard Wright's Wet Dream.
Unexpectedly there's also Jon Carin at the keyboards. He played in the "other side of Pink Floyd" since A Momentary Leapse of Reason and in the following tours.
Waters is in a great shape. His performance is energetic and even the most theatrical parts are lighter than usual. At a certain moment he and three other instrumentists are sitting at a table playing cards and drinking wine like old pensioned men while the rest of the band is playing an instrumental part.
What about the songs...regardless if you like Waters' stuff since The Final Cut or not, the material is reinterpreted and is effectively a flashback in the story of this controversial artist.
We start with the A side of The Wall followed by a short excerpt from The Final Cut, then we are deeply in the story of Pink Floyd.
One of the best versions ever of Dogs, the whole Shine On You Crazy Diamond on which the two guitarists are able to let us forget Sir David, then songs from Pros and Cons of Hith- Hiking, Radio KAOS and Amused to Death with the insertion of songs from Dark Side of the Moon here and there.
In total, excluding the extra contents, we are speaking of about 2 hours and half of great music and a performance that's globally above the average.
Any Pink Floyd fan, even those who hate Waters must have this DVD. It can help the detractors to look at Roger Waters with a different eye. 4.5 stars rounded to 5 for the very good quality of recording and filming.
Luca
This DVD has already gained some warm reviews, but I'll add to it by saying that this is one of my favourite concert DVD's ever. It's percentually much more about the classic PINK FLOYD music than WATERS solo stuff which should please any Floyd fan. However I appreciate also the solo compositions featured here. Mostly they are from the great album Amused to Death (1992) which is usually considered the best Floyd-related solo album. The best tracks of it have a wonderful atmosphere and also visually they are deeply moving here, for example the starry night backing 'It's a Miracle', or the searchlight shooting in the dark at the start of 'Amused to Death', or video clip of the war veteran (whose voice is heard on the albums's beginning and ending).
The camera focuses on the band most of the time, occasionally the concert is coloured by some drama. The wide background wall is being used effectively even though videos are not as gorgeous as with the other camp... As for Roger himself, I have a growing sympathy towards him as the "real" "Pink" - that is, it's him that captures the emotional impact of Pink Floyd music most effectively. Gilmour's Floyd may have fancier backing videos, (not always so great, e.g. the world leaders on 'Brain Damage' - which detail I had to correct here as I thought it was here instead of P.U.L.S.E.) but they are notably more clinical as performers. And Roger only gets more charming while growing older. Well, the Barrett-lookalike guitarist is chewing gum continuosly and he looks a bit nervous, but the playing of the whole band is fine.
The playing list is very balanced and delicious, not too much of The Wall for example. And yes, 'Dogs' really is the ultimate highlight. Hats off to Jon Carin doing the lion's share on that track. 'Mother' is nicely intimate. See Roger's face at the line "mother should I trust the government?"! 'Set the Control for the Heart of the Sun' is a jewel from the 60's. Final Cut (1982) may not be among the best Pink Floyd albums (more like a Waters solo work actually), but still it's nicer to hear songs from it than Gilmour-led Floyd's Momentary Lapse of Reason, (1987) which is another reason I hold this DVD dearer than P.U.L.S.E.
Matti P.
A masterpiece of Progressive DVD The sound quality and picture quality are top level. The Gutarists are fantastic. Snowy White is certainly one of the most tastefull guitarists and Doyle Bramhall II is very strong.
Adolfo Gasparoli
An absolute blast. When I borrowed this DVD from my uncle the first time, I wasn't expecting much. I don't know why. All the great songs are here. Yet as soon as the concert started I was blown away, and I was blown away for the whole 2 and a half hours. Every song in this concert is amazing, even the ones from Waters' less loved solo albums sounds absolutely amazing. The sound quality and picture quality are top-notch, I've never seen a better looking concert DVD. If you're a Floyd fan, or even just a fan of music, pick this one up, you don't regret it.
David Guenette

Y como decíamos... al blog cabezón lo hacemos entre todos! ¿te cabe alguna duda?