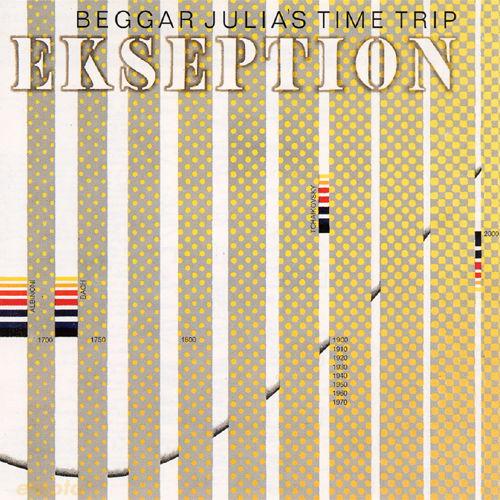 Artista: Ekseption
Álbum: Beggar Julias Time Trip
Año: 1970
Género: Rock sinfónico
Duración: 34:38
Nacionalidad: Holanda
Lista de Temas:
1. "The 5th" (Ludwig van Beethoven)
2. "Dharma For One" (I. Anderson, C. Bunker)
3. "Little x plus" (Ekseption)
4. "Sabre dance" (Aram Khachaturian)
5. "Air" (J.S. Bach)
6. "Ritual firedance" (Manuel de Falla)
7. "Rhapsody in blue" (George Gershwin)
8. "This here" (Bobby Timmons, Jon Hendricks)
9. "Dance macabre opus 40" (Camille Saint-Saëns)
10. "Canvas" (Brian Bennett)
11. "Ouverture" (R. van der Linden)
12. "Prologue" (R. van der Linden, L. van Dijck)
13. "Julia" (R. van der Linden, M. van Dijk)
14. "Flying power" (R. van der Linden)
15. "Adagio" (Tomaso Albinoni, Remo Giazotto)
16. "Space I" (J.S. Bach)
17. "Italian concerto" (J.S. Bach)
18. "Concerto" (Pyotr Ilyich Tchaikovsky)
19. "Space II" (R. van der Linden)
20. "Pop giant" (R. van der Linden, M. van Dijk)
21. "Space III" (R. van der Linden)
22. "Feelings" (R. van der Linden)
23. "Epilogue" (R. van der Linden, L. van Dijck)
24. "Finale (a) Music for mind (b) Theme Julia" (R. van der Linden, M. van Dijk)

Alineación:
- Michel van Dijk / vocals, percussion
- Dennis Whitbread / drums, kettledrums
- Rick van der Linden / piano, spinet, xylophone, (pipe) organ, mellotron
- Rein van den Broek / trumpet, flugelhorn, pocket trumpet
- Cor Dekker / bass guitar
- Dick Remelink / saxes, flute
Guests:
Tony Vos / saxes, tonytone, electronic effects
Linda van Dijck / voice on "Prologue" & "Epilogue"
Eric van Lier / trombone, tuba


Viajamos a Holanda para traeles a una leyenda de aquel país, unos tipos que mixturaron el rock con lo clásico de una manera muy personal, pero no me adelanto que tenemos el comentario del Mago Alberto, que es quien trae este disquito y además se pone a escribir para dar clátedra con su sapiencia musical.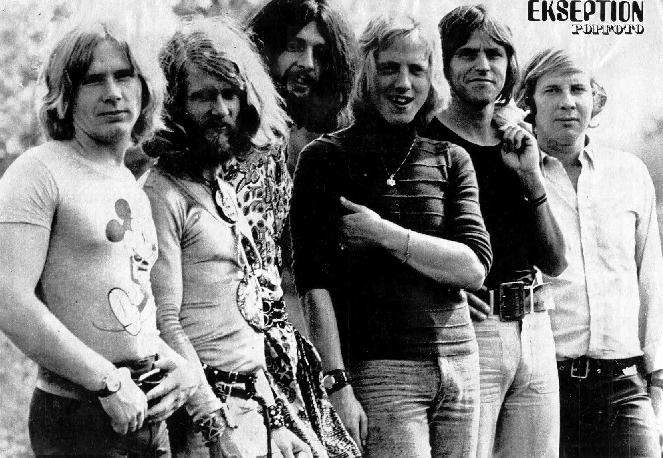 Y en el listado de temas pueden ver lo ecléctico de los tracks, donde podemos encontrar tanto al Beto (Beethoven), como a Gershwin, De la Falla, Bach, Tchaikovsky, como composiciones propias, principalmente de van der Linden, cabeza de toda esta movida.
He aquí el comentario del Mago:


Con ustedes Ekseption, banda holandesa que se encargó de reversionar piezas clásicas y del jazz, y fueron pioneros en este género. Aún cuando el progresivo y el clásico siempre fueron como primos muy cercanos, incluso hay infinidad de proyectos en grupo y en solista de rockeros que mixturaron ambos estilos para dar épicos discos que hemos disfrutado en todas las épocas: Rick Wakeman, ELP, Jon Lord, etc., pero estos muchachos le dan a cada pieza toda su impronta rockera lo que nos sumerge en el asombro al escuchar piezas muy pero muy clásicas con toda la parafernalia eléctrica y ecléctica de los holandeses.
Sus primeros discos son de fines de los años 60s, cosa que los ubica como verdaderos fundadores de la mencionada mixtura, ahora bien, cuando acá en Argentina recién despegaba nuestro rock argentino, estos pelilargos ya transitaban estos caminos como experimentados, y luego de muchísimos años aún continúan asombrando por estos repertorios.
El presente disco es un recopilatorio de sus dos primeros discos, donde podemos escuchar la 5ta de Beethoven como Rhapsody in Blue, aunque prefiero la version de la 5ta realizada por Sky, tiene muchísima más polenta. El resto es un deambular por piezas muy reconocidas de todas las épocas.
Otro disco que muestra como se funden dos géneros importantísimos y ninguno queda a mitad de camino del otro, así que los cabezones tienen para divertirse.
Alberto

Luego del comentario de Alberto, revisamos en la biografía del grupo holandés que nos atañe en este momento:


El tecladista holandés Rick van der Linden, impresionado por las actuaciones de Keith Emerson con The Nice, formó este grupo en 1968 para interpretar temas clásicos con arreglos rockeros. La base de Ekseption fueron tres experimentados músicos, Rein van den Broek (trompeta), Huib van Kampen (guitarra solista, saxo tenor) y Rob Kruisman (saxo alto, soprano y tenor; flauta; guitarra; vocalista), que habían empezado a tocar juntos en el grupo The Jokers en 1958 y habían pasado por otras agrupaciones de jazz, rock y rhythm & blues. Para completar Ekseption, van der Linden -pianista y organista de formación clásica que se había volcado al jazz- convocó a Cor Dekker (bajo), que había pasado por The Hottletts, y a Peter de Leeuwe (batería, vocalista), de la banda Cuby & The Blizzards.
Esta formación original grabó el primer LP, "Ekseption", que resultó una excelente mezcla de elementos jazzísticos, rockeros y sinfónicos. El simple con "The 5th" (la Quinta Sinfonía de Beethoven) y "Sabre Dance" (La Danza del Sable) se transformó en gran éxito. "The 5th" se convirtió en el símbolo de Ekseption y apareció en diferentes versiones en la mayoría de los LP del grupo.
El LP incluyó arreglos de temas clásicos y una composición del grupo ("Little x Plus"). Además, "Dharma For One", "This Here" y "Canvas", donde se destacan especialmente los solos del baterista Peter de Leeuwe.
Lamentablemente la formación inicial de Ekseption no tuvo continuidad, y el para mí extraordinario primer album no se repitió. Para el segundo LP, "Beggar Julia's Time Trip" ("El Viaje de Julia a Través del Tiempo"), de 1970, se produjeron los primeros cambios: Dennis Whitbreb sustituyó a Peter de Leeuwe en batería y no participaron Huib van Kampen y Rob Kruisman, desapareciendo la guitarra de los arreglos e ingresando Dick Remelink (saxo tenor y soprano, flauta) y Michel Van Dijk (vocalista, percusión). Como invitados intervinieron Linda Van Dyck (voz en el prólogo y el epílogo, Eric Van Lier (trombón, tuba) y Tony Vos (saxo alto y soprano). El disco estuvo conformado exclusivamente por arreglos de temas clásicos y composiciones de Rick van der Linden, algunos en colaboración con Linda Van Dyck o Michel Van Dijk. Los teclados tienen un protagonismo mucho más marcado que en el primer disco, dando al álbum características más "clásicas" y menos rockeras.
A partir de 1970 los cambios fueron constantes, con períodos en los que el grupo se disolvió y volvió a reunirse ocasionalmente. Pasaron por la formación Steve Allet (vocalista, percusión), Hans Jansen (teclados), Pieter Voogt (batería), John Vennik (saxos, flauta), Hans Hollestelle (guitarra).
Aparecieron desde entonces: "3" (1970), " 00.04" (1971), " Fifth"(1972), " Ekseptional Classics" y " Trinity" (1973), " Bingo" y " From Ekseption With Love" (1974), " Greatest Hits" y " Mind Mirror" (1975), " Back to the Classics" (1977), "Ekseption" (1978), "Dance Macabre" (1981), "Ekseption '89" (1989), "The Reunion" (1995).
Para "Dance Macabre" (1981), los músicos fueron Rick van der Linden, Rein van der Broek, Dick Remmelink, Max Werner (batería y percusión) y Johan Slager (bajo y guitarra). La mayoría del álbum fue una reelaboración de arreglos de temas ya grabados anteriormente con otras formaciones.
Rockola Free

Y ahora sí, vamos con algunos comentarios en inglés.



REALLY: 4,53 / 5.
"Beggar Julias Time Trip" is another masterpiece. If "Adagio", "Italian Concerto" and "Concerto" are classic music, is necessary to say that the insert of "Space" is pure psychedelic music. I do not know you, but I do not succeed to do less to excite myself every time that the listening.
Federico Barbarossa
The success of debut album had made Rick van der Linden became the band's official leader. On the band's second album "Beggar Julia's Time Trip" he was the main writer, composer and arranger of the band. While on first album was pure instrumental piece, starting from this second album (followed later with the third) the band had included singer Michel van Dijk. It's actually obvious that Ekseption is by definition is an instrumental band because the characteristic of their music sounds better with no vocal.
It was quite interesting to me that this album was basically a concept album about a beggar named Julia who traveled through the passage of time from hundred years ago until recent days. It's quite interesting also with the narration throughout the album by Linda van Dijk. "Overture" opens the album with flute-work followed nicely by van der Linden's organ sounds. Through "Adagio" and "Italian concerto" Rick van der Linded demonstrates excellent organ work. "Concerto" is also another excellent track with excellent guitar work.
Overall, this is not something masterpiece but it's very good especially with the fact that this was an attempt to a concept album which I thought that it was first started with Genesis "The Lamb Lies Down on Broadway".
Gatot Widayanto
Born out of the ashes of a band named ''Incrowd'', EKSEPTION were fronted by gifted musician Rick Van Der Linden and won the first prize at the Loosdrecht Jazz Festival to lead them to an eponymous debut filled with interpretetions of classical pieces in 1969.''Beggar Julia's time trip'' followed in 1970 with original material and a concept around a beggar,who travels through time.An essential approach to classical and jazz music,the album is characterized by the trully amazing and sensintive playing of Van Der Linden on piano,xylophone and mellotron,close to the likes of classical composers.On the other hand the classical approach is accompanied by brass instruments like trumpet,trombone and saxes to fill the album with an intense jazzy feeling.One of the few EKSEPTION albums featuring a (quite good) vocalist,''Beggar Julia's time trip'' is a very good example of classical early-70's prog rock with strong jazz doses.
app79
For this, their second album, the band had some changes in the line-up: both Rob Kruisman (saxophones, flute, guitar, vocals) and Huib van Kampen (guitar, Tenor saxophone) left the band, being replaced by Dick Remelink ( saxes, flute). Drummer Peter de Leeuwe also left the band (but returned for their next album), being replaced by Dennis Whitbread. Also the band had a lead singer called Michel van Dijk, plus some guest appearances from Tony Vos (saxes, tonytone, electronic effects, and also the main producer of some of their albums), Linda van Dyck ( voice on "Prologue" & "Epilogue"), and Eric van Lier (trombone, tuba), who also was going to participate in their '00.04' album from 1971.
This album is really a concept album about a beggar named Julia who does a time trip through several centuries (more or less as I understood the concept). The main composer in the original musical pieces in this album is keyboard player Rick van der Linden, with some collaborations with lyrics from singer Michel van Dijk, who really only sings in two songs ('Juila' and 'Pop Giant'), and from Linda van Dyck who does some narration. There are some sections in the album which really are done with electronic sound effects and their function is more to work as links to other musical pieces. These electronic sound effects make this album sound a bit influenced by psychedelia, and they really sound like 'experiments' maybe done with Moogs or with other electronic devices.
As in every album by the band, there are several arrangements done to Classical Music pieces (Albinoni`s 'Adagio', J.S. Bach`s 'Italian Concerto', and Tchaikovsky`s 'Concerto'). The appearance of an electric guitar solo in 'Concerto' and its previous appearance as the B-side of the 'Air' single in 1969 makes me think that 'Concerto' was really recorded for their first album, but was finally released in their second album. Of these Classical Music pieces I prefer more 'Adagio' and 'Concerto'. There are also some brief appearances from other uncredited Classical Music pieces in some parts of the album, like some bars from Rachmaninoff`s First Piano Concerto and a bit from J.S Bach`s 'Sicilano in G', a musical piece which the band was going to record in a full arrangement for their 'Ekseption 5' album from 1972.
This is maybe their first attempt for a full Prog album, having a conceptual story, and with each musical piece being linked one after the other without interruptions (other to the natural end of the Side One in the old LP version). The Jazz, Rock, Classical and Pop influences are very present, and maybe in this second album the band sounds more 'mature', more 'serious', and with maybe having less inclinations to appear in the radio, even if they still released some singles.
Guillermo Vázquez Malagamba
The second album of this band is a concept album. Overture, prologue, spoken narrations and music. Concept album, in short.
Ekseption was a band with a huge affection for Johan Sebastian Bach. Even on this album, their have their noses firmly stucked up in the back of him. I don't think it is that original and creative to copy over his music and then release it under the name Ekseption. That's muzak; not progressive music. But Ekseption has created something here which is pretty creative. It can also pass as progressive music. The organ music here is everywhere and it is supplemented with drums, bass and some woodwinds.
The quality of the music here is pretty good overall. The storyline is good too, whatever the story is all about. The musical concept is a good one. This is the only Ekseption album I have heard so far which has some balls and some creativity. So a good three / five stars is in order.
toroddfuglesteg
Ekseption is best known for their, at times quirky, reworkings of the classics. What most people forget is that the also wrote great jazz influenced prog and that they made at least two good albums. This album is one of them. On this album, their second, they were joined by singer Michiel van Dijk, who later would be the frontman of Alquin. Having vocals on this album adds an extra attraction to the music of Ekseption.
This album covers the story of a female Beggar named Julia, who travels through time, starting in the year 900 and ending in our time. The story is narrated by actress Linda van Dijk. All the tracks are blended together, often linked with smaller spacey pieces. On this album you can find four songs from the classic, the rest are originals by Rick van der Linden. The album has of course the typical Ekseption sound with the great keyboard playing of van der Linden (especially on the organ) and ever present brass section. At times it sounds like Procul Harum (like parts from Pop Giant) or even Pink Floyd (in Music For Mind). Julia is a beautiful, melodic track with intense vocals by Van Dijk. Feelings is a track that starts poppy but ends jazzy.
If you ever were to try out the music of Ekseption, I can recommend this album.
Agemo
Although Ekseption was essentially an instrumental band, this album as well as the third album features a singer, even though a lot of the compositions are instrumental. Beggar Julia's Timetrip is based on a story of a man who travels through time in a spaceship and observes the great composers at work. Thus, the story is of course a perfect setting for introducing some rock/jazz versions of Albinoni's Adagio, Bach's Italian Concerto and Tchaikovsky's piano concerto garnished with some Beethoven. Much more than on their first album this one features music written by Rick, who offers some very explosive Hammond on Pop Giant, experiments with synthesizers, and uses the church organ to conclude the album. Featured on this album are also the trumpet of Rein van den Broek and the sax of Dick Remelinck. This really is a must have album.
birdcorps

Y se nor termina el lunes, le ponemos un poquito de onda y se pasa lo peor de la semana...