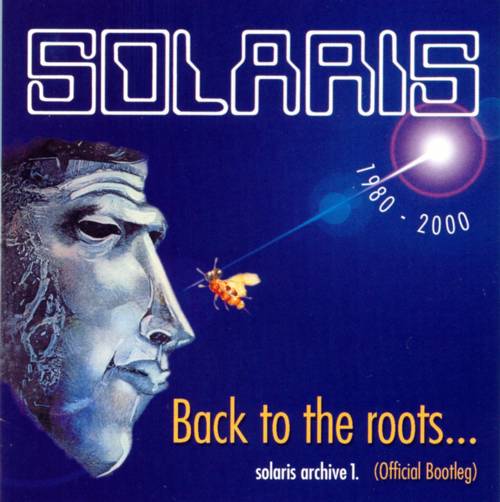 Artista: Solaris
Álbum: Back to the Roots (Official bootleg)
Año: 2000
Género: Rock sinfónico
Duración: 48:01
Nacionalidad: Hungría
Lista de Temas:
1. Revival
2. Counterpoint - original version
3. Solaris Suite parts:
a) Ancient Viking
b) Solaris
c) Waves of the Dune
4. Distant Fire
5. Undefeatable - 1980

Alineación:
- István Cziglán / guitars
- Róbert Erdész / keyboards
- Attila Kollár / flute
- Attila Seres / bass
- Vilmos Tóth / drums


Miren qué material nos trae Alejandro!!!!
Un bootleg que en realidad se llama "Az elsö idök - Solaris Archív 1", correspondiente a la primera parte de una trilogía que recopila grabaciones inéditas de la banda húngara. Este volumen recoge los primeros tanteos de la banda entre el 20 de Febrero del 80 y el 28 de Septiembre del mismo año. Ya hacían gala aquí de la viveza melódica y del dinamismo que les caracteriza y, aunque es una versión a trazo grueso de lo que pocos años después se convertiría en una banda imprescindible, merece tu atención. Y la historia dice que con el fin de celebrar su 20º aniversario la banda decidió lanzar un material inédito de éste período, y así vinieron los tres CDs de los que hablamos, del cual éste es el primero. Con un sonido decente (recuerden que está compuesto de demos) no deja de ser un emocionante registro para percibir el inicio de Solaris y que luego se convertiría en una de las bandas progresivas que sorprendieron espetacularmente al mundillo de los aficinados a la música exquisita.
Esto es lo que nos comenta Alejandro sobre estos tres bootlegs.


Los dos cds son los primeros de una serie de 3, editados en el 2000, por Periferic Record, quizás leas que "Noab" es del 2005, no es así... el tercero que yo tenga entendido no se editó y tampoco te sabría decir porqué... se hubiese llamado "Los Angeles 2026 (Official bootleg)"...

Una mixtura exquisita entre el jazz, la música clásica y el rock, dando su impronta progresiva más bella. Esto solamente lo conseguirán aquí, así que no se lo pierdan!!!

Aquí, las palabras del mismo Alejandro ilustrando este gran disco:


Solaris es uno de los grupos húngaros que más han llamado la atención del público progresivo mundial en los últimos 15 años. Después de su magna obra "Nostradamus" no ha habido material nuevo de la banda, pero sí han salido al mercado algunos ítems fonográficos que documentan la prehistoria de Solaris (léase, sus grabaciones de demos y actuaciones en vivo antes de su primer LP "Marsbéli Krónikák". "Back to the Roots…" es uno de ellos. Este bootleg recoge temas grabados en varias actuaciones del año 1980, entre los meses de febrero y
septiembre - la calidad de la producción de sonido no es óptima, pero sí resalta eficazmente a los instrumentos solistas de turno y a la dupla rítmica. Las partes de guitarra generalmente opacan a las intervenciones del teclista.
El primer tema comienza con un preludio etéreo de flauta que parcamente flota sobre capas suaves de sintetizador y golpes ceremoniosos de tambor: una vez asentado el ensamble entero, el grupo se mueve sobre un compás a medio tiempo cuyas cadencias se ensalzan en los momentos en los que la guitarra solista sale
al frente. Tras una sección lenta breve emerge otra más frenética donde confluyen esquemas melódicos exóticos al estilo arábigo con sonoridades hard jazzeadas… !como si fuera Mezquita del "Recuerdo de Mi Tierra"! Hay que ver qué
coincidencias y confluencias tan inauditas halla uno mientras indaga más y más en el género progresivo. Este excelente tema deja paso a 'Counterpoint', pieza que luego habrá de aparecer en "1990", si mal no recuerdo. La tercera pieza es uno de los tesoros absolutos del conocedor de Solaris: la 'Solaris Suite' nos muestra el concepto general original dentro del cual se encuadraba el tema 'Solaris' incluido en el disco "Marsbéli Krónikák". El carácter ceremonioso que
se explaya a lo largo de la suite a través de sus diversos motivos se mete de lleno en el aspecto épico del progresivo sinfónico, y cuando no lo hace, coquetea con su periferia a través de un uso estilizado de bases rítmicas rápidas y contundentes guitarreos. 'Distant Fire' tienen una magia muy atractiva, siendo así que el flautista asume (como casi siempre) el liderazgo carismático en el rollo instrumental. Este bootleg termina con la original versión larga de 'Undefeatable'. La versión conocida de menos de 3 minutos que nos muestra a un Solaris haciendo una reconstrucción ironmaidenesca de las danzas húngaras estuvo antecedida por una versión un poco menos incidente en lo
metalero y más centrado en el frenesí con aires de festival. Claro está, la pieza sigue siendo una muestra contundente de buen rock progresivo con énfasis en el rock, pero esta vez el desarrollo temático es más variado y el lugar del órgano no se siente tan oprimido por la guitarra. Hay una breve sección percusiva armada entre la batería real y una programada que muestra ese elemento étnico que nunca falta en una obra de Solaris. La verdad, a mí no me hubiera molestado tener en un mismo disco de estudio a las versiones larga y corta de 'Undefeatable': la primera tiene una prestancia progresiva efectiva para los estándares del género, mientras que la segunda tiene un punche inapelable y electrizante.
En fin, "Back to the Roots…" supone un punto de referencia interesante para el investigador progresivo genuinamente amante de la oferta de Solaris. La oferta musical de este grupo tiene delineamientos no muy abstrusos, fáciles de captar,
con esquemas melódicos moderadamente versátiles, pero el grupo cuenta con suficiente ingenio para extraer numerosas composiciones a partir de tales delineamientos. Tal como muestra este bootleg, esto era verdad desde el mismo punto de partida.
Alejandro

Vamos con algunos comentarios en inglés (no encontré en castellano) y no damos más vueltas. Esto es digno de conocer, otro plato exquisito y supero difícil de conseguir, disponible en el blog cabezón...


In order to celebrate their 20th anniversary Solaris decided to release material from the period between 1980-2000, this CD is the first in a serie of releases. The sound is decent and it's exciting to notice how quick Solaris changed from a band that was looking for a direction into a dynamic and spectacular group.
The first composition "Revival" has an unpolished sound featuring lots of flute and raw guitar work and hardly keyboards. The final part contains a great build-up with sensational play on flute and guitar, the climate has a Morish undertone. The second track "Counterpoint" is the original version from their first single, it's typical Solaris: a swirling progressive mix of jazz, classic and rock. Then the "Solaris suite" (almost 20 minutes) that is loaded with strong breaks and soli, the keyboards are more present. Next is the previously unreleased "Distant fire", is has fine work on flute and guitar but this early composition sounds a bit unmature, the band is still searching for their formula. The final track is the exciting, very propulsive "Undefeatable" in a 10 minute version featuring sensational interplay between guitar, flute and keyboards and amazing soli, this is Solaris their trademark, SPLENDID!
This CD is a good addition to their previous albums but you have to look at it as a bonus for the fans.
Erik Neuteboom
This is an excellent addition to the Solaris discography. I only give it 3 stars though as the sound is often little better than bootleg quality. It also contains a few poor but definately live and unedited passages of playing. Nonetheless, all the trade marks that make Solaris music great are contained within it. The highlight is the Solaris suite at 13 minutes .This earlier version of Solaris has much less emphasis on the keyboards of Robert Erdesz and in this live performance the guitar and flute interplay are often dominant. Looking forward to the forthcoming archive release of NOAB by this great band.
Platform

Y por favor, agradezcan a Alejandro por acordarse de ustedes y traerles este festín de Solaris.
A disfrutar!!!!!