Artista: Hugo Fattoruso
Álbum: Oriental
Año: 1990
Género: Candombe fusión
Duración: 40:10
Nacionalidad: Uruguay
Lista de Temas:
01. Sambinha
02. la del cheche
03. A Tabare Aguirre
04. La papa
05. Estrella distante
06. tuyo
07. kepel
08. Azul y Blanco
09. Feria de Tristan Narvaja
10. Llegan las lluvias
11. Lonjas del Cuareim

Alineación:
- Hugo Fattoruso / Keyboards,Piano,Voice,Percussion,Acousti­c Guitar
José San Martin / Drums
Mauro Senise / Flute,Saxphone Soprano
Zeca Assumpção / Cello
Sizão Machado / Electric Bass
Ulisses Rocha / Guitar,Tambores Candombe
Dário Bracco / Tambor Piano
Fernando Banega / Tambor Chico
Jorge Luiz Gomes / Tambor Repique
Juan Angel Silva / Tambor Piano
Juan Silva Ribero / Tambor Chico
Fernando Lobo Nuñez / Tambor Piano
Manuel Silva / Tambor Chico
Ruben Rada / Voz, Tambor Piano
Washington Ciruja Martirena / TamborRepique
Wilson Martirena / Tambor Repique


Un disco compartido por todos ustedes por Carlos Alberto, y reseñado en un magistral comentario (aunque le dije que yo no haría menciones sobre el valor de las reseñas de otros, pero me ha gustado mucho) de nuestro colaborador Carlos M.
He aquí al gran uruguayo, que si bien hay varios grandes uruguayos éste parece ser el más grande de todos, aunque las comparaciones siempre son odiosas. Dejemoslo en uno de los grandes entre los grandes.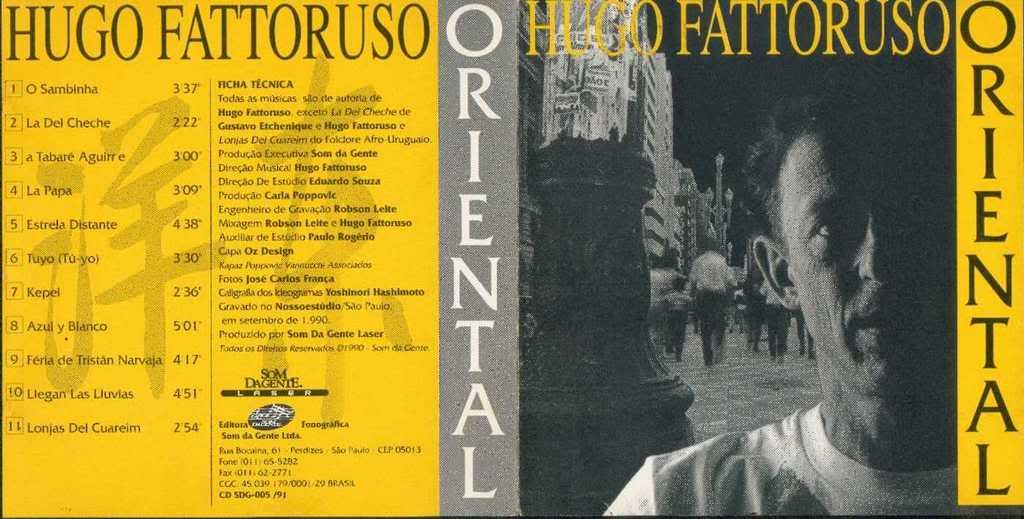 He aquí la crítica del disco por Carlos M. en otra entrada compuesta por trabajos en conjunto para el disfrute de todos los cabezones.


A estas alturas muchos ya conocen la trayectoria de el uruguayo Hugo Fattoruso pues hay varios discos (Aquí en CDM) de sus diferentes etapas musicales así como de su creación y participación en grupos como Los shaker, Opa o Rey Tambor, en esta ocasión comentaremos sobre el disco "Oriental", éste disco fue grabado en Brasil en 1990 con diversos músicos (ver los créditos), entre ellos Ruben Rada con el que tiene una relación muy estrecha en su hacer musical, algo que no deja de sorprenderme es la capacidad creativa y musical de este músico, pues cuando lo escucho no dejo de pensar en algo que en algún momento comentaba, a mi muy personal punto de vista, un músico cuando es inevitable su necesidad de expresarse en la música no le importa el género, de hecho alguien en algún momento decía que no existen los géneros, son solo cajones que los críticos, los productores o alguna gente se inventa para poder inventariarlos o poderlos poner en un anaquel en alguna tienda de música, pero a un músico que solo intenta decir algo a su manera y con sus posibilidades, y que por supuesto tiene la influencia de su cultura, terminara haciendo! ¡MUSICA! y en este caso tenemos a un músico con una cultura muy amplia, pues al revisar su trabajo lo podemos escuchar a principio de los 60's tocando swing y dixieland en The Hot Blowers y ya para el 67 tocando desde rocanrol hasta algo muy similar a la música de los Beatles y a la canción pop, y que en el disco de la Conferencia secreta de Toto's bar ya se puede escuchar lo que será la estructura medular de su música, la fusión, en la canción Candombe. Y estamos hablando de 1968, él será junto con su hermano Osvaldo, de los primeros en combinar el rock con la música folclórica de su país. Después formó, estando en Nueva York, el grupo Opa que a la postre seria una gran influencia para muchos músicos uruguayos, en el que ya es clara la relación que comienza a tener con el jazz y sus técnica sobre el uso de la armonía, la sincopa y la improvisación. Pero también escuchamos la influencia que tiene en él la música brasileña y por supuesto el rock lo cual da una fusión interesantísima, pero no solo eso, en la canción de brooklynville el tema comienza con el sonido de la calle... por supuesto es Brooklyn (el uso de sonidos ambientales) para después desembocar en un bosa-funky-sicodélico.
Los siguientes años Hugo tocaría con músicos de jazz y músicos brasileños y eso lo escuchamos en el disco Oriental, que comienza con una Samba muy jazzeada, me hace pensar en Lew Tabaquin y Chick Corea tocando juntos, me gustaría hacer notar que con Hugo sucede lo que con algunas obras artísticas y debería ser una premisa para el arte, el de tener diversos planos de lectura, lo cual le dará permanencia e historia, uno escucha su música y de primera oída, no es música muy compleja y en algunos casos parece sencilla, pero cada vez que uno lo vuelve a escuchar encuentra cosas nuevas, lo cual nos da múltiples planos de lectura, a mí por lo menos después de escucharlo muchas veces, descubro una gran complejidad armónica, rítmica y sonora.
Y para muestra basta un Rolon, Feria de Tristán Navaja, escuchamos un sintetizador muy a la manera de Emerson Lake and Palmer, base rítmica batería y bajo muy firme que nos va llevando a la llegada de las lluvias, la confluencia del Brasil, Uruguay y que a mí no deja de sonarme algo de cumbia cubano-brasileña, que nos lleva a la última rola, Lonjas del Cuareim, al ¡CANDOMBE!.
Carlos M.

y Que dice...

Spinetta escribe sobre Fattoruso

Ante todo, no quisiera que la admiración que siento cambie las palabras que hay que decir aquí, pero creo que será una dura batalla...
Uno va creciendo y aprendiendo, supuestamente... bien.
Pero hay algunos, quizás algunos pocos, que son capaces de evolucionar y crear hasta límites inimaginables, mutando y avanzando hacia la directa perfección, la cual parece salirse del mundo...
Es un manantial (como le dije una noche a Salinas), es una manera casi sobrehumana de tocar música.
Es la constante de la sorpresa, y a la vez, el arte de fluir.
Y es esa poesía la que nos ha mantenido atentos, porque es una nave que sólo va para arriba, cada vez abarcando más y mejor música.
Como ejemplo, desde una deliciosa canción de Los Shakers, "Aleluya", o "El pino y la rosa", o "Candombe" (varios años adelantado en todo), o "Más largo que el Ciruela", pasando por los increíbles discos de Opa, un show en vivo en Obras que me deslumbró, precediendo a Milton Nascimento, o los trabajos como Home Works, hasta la evolución del Trío, con hermano e hijo (ambos también máquinas sublimes de producir música), este duende ha sido capaz de marcar, antes que nadie, el camino hacia la fusión de la tonada beat con el jazz, la bossa, el candombe,en una progresión interminable hacia las esferas.
Es tanto lo que le debemos, que al escribir esto, honestamente, no sé cómo continuar...
Aquí, en la Argentina, el bendito país que nos cubre y enferma a la vez, el país en el que suele darse la quintaesencia del olvido, tenemos la posibilidad de escucharlo, o seguir ignorándolo, y perdernos la resonancia que tiene con el cielo.
Y no importan los lugares, en este sentido, importa la magia de una música que aborda todo tipo de mundo impecable y osadamente.
Hoy, mientras uno sigue intentando una nueva "tonada beatle", este talento se ha desarrollado hasta lo fabuloso, llegando a un nivel inalcanzable para cualquier especie de artista nacido del pop, asomando tranquilamente al mundo de Hancock, o de Corea, y brillando siempre para más.
"Espero que les guste 042" . (Cerca de 1967)
Entre todos los discos de la era Beatle, entre los mejores de todos todos, para mí figura un título.
Es un tema de Los Shakers, es un título sorprendente: "Espero que les guste 042".
Recuerdo que lo fui a escuchar a una cabina de la casa Frávega, en Cabildo y Mendoza, a la salida del colegio.
Era un disco de vinilo simple, un single.
Yo lo escuché entero, cuando terminó empecé a temblar, me puse rojo de la emoción, los auriculares se quedaron pegados a mi cabeza.
Me solté la corbata, salí abruptamente de la cabina, devolví el disco que, obviamente, no podía comprar, y me fui casi corriendo hasta Arribeños.
La conmoción de haber sentido todo eso, de tener la mínima conciencia de lo que significaba, era saber, casi en secreto, que había escuchado la música perfecta, algo mejor y más moderno que los Beatles.
Ese hecho marcó mi vida para siempre.
Es el legado de la imaginación.
Mis recuerdos son muy patentes.
Esa misma noche estaba enfermizamente intentando componer algo nuevo con mi criolla, aún aturdido por las visiones de todas esas posibilidades, guiado por el instinto y la "cercanía" de un hermano, un genio uruguayo: Hugo Fattoruso
Flaco Spinetta

Y una en ingles.


Tough latin fusion from Uruguay via Brazil.This one ranges from the candombe rhythms of "Lonjas Del Cuareim" to the samba fusion bangers "Estrela Distante","O Sambinha" & "La Papa" to a post prog rock work out on "Feria de Tristan Narvaja".
Here's a potted bio of Fattoruso from bigworldmusic.com
Hugo Fattoruso, born in Montevideo, Uruguay, began his musical career as a prodigious and somewhat reluctant piano student at the age of four. By the time he was nine his father Antonio formed El Trio Fattoruso by drafting Hugo's younger brother Jorge on drums, with Hugo on accordion and Antonio on "inverted bucket bass" (using a broom as the neck, and a cord as the instrument's single string). This trio performed in street festivals, covering the variety of styles used in Uruguay's carnivals (boleros, murgas, tangos, etc.), giving Hugo an education in the rich harmonic stuff of disparate musical styles.
At the age of 16 Hugo moved to the upright bass and began his tenure as the under-aged member of The Hot Blowers, a swing band that toured throughout Latin America in the late 1950s. This period could be seen as a second important milestone in Hugo's harmonic education, hammering home the concepts of improvisation and musical interplay.
By the early 1960s, rock'n'roll began to shake the world's foundation, and Hugo set out to express himself in that medium by forming Los Shakers, where he and his brother shared song writing, singing and guitar responsibilities. Los Shakers, Hugo Fattoruso (guitar, voice), Osvaldo Fattoruso (guitar, voice), Roberto "Pelin" Capobianco (bass, voice), Carlos "Caio" Vila (drums, voice), were a huge success throughout Latin America, as they were able to mold the complexities of bossa's harmonies, Uruguay's urban song style, candombe rhythms and the backbeat of rock into a new and contagious form.
By the late 1960s the influence of jazz, and of the Afro-Uruguayan rhythm of candombe, took Hugo to New York City, where he formed the group Opa. In Opa Hugo played keyboards and sang, while his brother played drums, and childhood friend Ringo Thielmann played bass. Opa's mixture of jazz, rock, Brazilian harmonies and rhythms, and Uruguay's African-flavored music (candombe) gave this band a distinctive voice, and garnered them recognition among musicians in the then growing "Latin jazz" scene. Opa released two albums on their own, 'Goldenwings' and 'Magic Time'. Opa's music served to influence the next generation of Uruguayan musicians, continuing the Fattoruso's impact on Uruguayan musical culture.
From that point on Hugo travelled the U.S. and worked with a variety of artists, ranging from Hermeto Pascoal to Ron Carter to The Dixie Dregs. After working in the U.S. with Milton Nascimento, Hugo spent several years living in Rio de Janeiro, where he worked with several prominent Brazilian artists including Djavan, Geraldo Azevedo, Chico Buarque de Holanda, Nana Vasconcelos and Toninho Horta. He has recorded extensively with Milton Nascimento, on the records "Milton", "Journey To Dawn", "Planeta Blue Na Estrada Do Sol", "Angelus", and "Nascimento", winner of the 1997 World Music Grammy Award. In addition to his piano and accordion playing, the compositions on the release "Nascimento" were co-arranged by Milton and Hugo.

Aquí, entre todas las maravillas que venimos dejando, dejamos el disco de un genio, y les comento que no será el único, y tenemos varios que esperan ser reseñados y otros que comparto mañana...
Espero que lo disfruten.