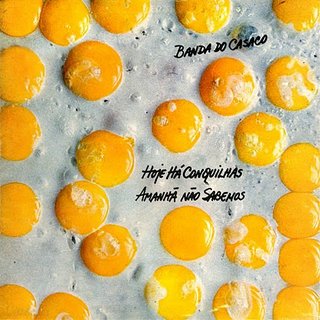 Artista: Banda do Casaco
Álbum: Hoje Há Conquilhas, Amanhã Não Sabemos
Año: 1977
Género: Prog Folk
Duración: 36:18
Nacionalidad: Portugal
Lista de Temas:
1. Acalanto (5:11)
2. Despique (3:15)
3. País: Portugal (3:20)
4. Alvorada, Tio Lérias! (4:54)
5. Geringonça (6:00)
6. Dez-Onze-Doze (5:51)
7. Ont'à Noite (4:50)
8. Água de Rosas

Alineación:
- Nuno Rodrigues / guitars, stylofone, percussion
- Armindo Neves / guitar
- Mena Amaro / violin, vocals, bells
- Celso de Carvalho / double bass, cello, stylofone
- António Pinho / vocals, percussion
- António Pinheiro da Silva / guitar, flute
- Miguel Coelho / violin, pennywhistle
- Jorge Paganini / violin
- Carlos Amaro / bass guiter, double bass, percussion, harmonica
Guest musicians:
Necas / drums
Helena Rodrigues / vocals
Gabriela Schaff / vocals, clapping
Rão Kyao / tenor saxophone, clapping
Judi Brennan / vocals


Pedro de Portugal nos trae más folk prog portugués, y por favor escuchen el video que hay al final del post para que puedan apreciar lo que presentamos aquí. Es el disco de los huevos fritos, pero les adelanto que es un discazo extremadamente disfrutable. Otra banda que demuestra las múltiples conexiones que hay en en el rock progresivo y la música popular, no, no son solamente los Jethro Tull, lo que pasa es que cada uno lo hace a su estilo, a su tiempo y a su forma. Esto tiene mucha influencia de música celta además de la música tradicional portuguesa, donde participan gran cantidad de instrumentos: violines, violas, flautas, guitarras acústicas, saxofones, y una serie de instrumentos de percusión que le dan ese toque de estar saltando junto a gente vestida con piel de lobo en el círculo donde se armó del baile en una noche alegre. Obviamente hay algunos sonidos que nos evocan esas canciones del bosque que nos cantaran los Jethro Tull.
Un disco cautivador y mágico, un verdadero club de intercambio musical donde el romance entre el hombre y el instrumento cambia todo el tiempo. Un disco que les recomiendo sin dudarlo, un gustoq ue nos regalan nuestros amigos cabezones de todas partes del mundo.



Vamos a ver qué es lo que dice otra gente, para ello traigo los comentarios en inglés que encontré aquí y allá:


To the bold arrangements of their Psych Folk debut album, and the more traditional Portuguese Folk melodies of the 2nd LP, BdoC here added electronic instruments &effects plus electric bass and drums which translates in a Prog Rock component; But these are not the type of guys who fall on clichés; So all the early used acoustic instruments are also featured here – violins, cellos, flutes, recorders, acoustic guitars and an assorted array of more or less traditional percussions – making this a very eclectic & diverse album where no two songs display the same line-up or instruments;
The core nucleus of composers, multiinstrumentalists and singers Antonio Pinho/Nuno Rodrigues and Celso de Carvalho (cellos) only brought Mena Amaro (violin, vocals) from the former line-up; scattered through the album , some more often than others, are also Miguel Coelho(violin, recorder), Jorge Gonçalves (violin),Carlos Barreto(bass, double bass, flexitone(!), harmonica, percussions),Tó Pinheiro da Silva(Electric guitars, flute) Necas (drums) Rão Kyao (Tenor sax),José Castro(mellotron),Antonio Serafim(oboe) and Gabriela Schaff(vocals).
With Folk melodies and aura as a major inspiration the band carries us through 8 thrilling tracks (3 of them instrumentals) filled with imaginative, inspired and intelligent arrangements and moods and tempo changes, bringing in FolkRock, Jazz, Gipsy, Classic, Prog Rock and Psychedelic elements thus building a tasteful and unpretentious work that will rate high in the preferences of anyone with a good pair of ears on both sides of his head (!)
Flute and bells over a cello drone, and sweet Cistro chords and licks as the cello slowly brings in a discreet pulsating rhythm over electric guitar arpeggios; than sad Male choirs as the tension gently mounts; rhythm shift to double tempo as Female voices add to a now joyful Trad.Folk choir that alternates with the violin over recorder and acoustic guitars strumming; Silence…Drums and bass on the same up tempo groove as two violins fight friendly and the cello rejoins the fray …everyone fades briskly and the recorders remain on their own, and when they slowly fade out they are replaced by a slowly fading in e-guitar arpeggio, pizzicato violin and again the sad voices thus ending the track;
…Mediocre written descriptions(above) of just one track, which I nevertheless hope will open your appetite for this truly original, Portuguese masterpiece!
comusduke
Acalanto é provavelmente a melhor canção na discografia do colectivo, mas o resto do álbum fica a dever bastante à sua faixa de abertura. Hoje Há Conquilhas, Amanhã Não Sabemos vai buscar quase tudo o que eu não aprecio na música progressiva (incluindo aquelas malditas flautas) e funde-o com um revivalismo tradicional. Naturalmente, não gosto.
Amstad
How, nice to have this in CD...at last!! Despite the sometimes-bad transfer to digital (the master tapes were lost), a bold record (at the time fighting against corruption and tirany - where I've heard this? - in a poor country named Portugal!).
antonbildern
Hoje Há Conquilhas, Amanhã Não Sabemos is an extremely difficult album for me to review properly. It deserves a thorough analysis by someone clearly more competent to judge than me - still, I will try to do my best. To begin with, it's difficult to review because there is so much to analyse: vocals, instruments, song structure, History, similarities with other bands, originality, etc, and my own knowledge (whether of music theory or just music in general) is simply not enough to do it justice. So I will adopt my usual approach to reviews by trying to describe in the simplest, most honest way what I'm hearing. But boy, it won't be easy.
Like in previous albums, the band took 800 years of Portuguese folk and refurbished them in modern sounds, courtesy of electricity, while at the same time maintaining the use of archaic and traditional instruments. On Hoje Há Conquilhas, Amanhã Não Sabemos, their experimentalism took a step further, following the footsteps of their debut instead of their more conventional second album. There is still room in this album for some of the melancholic folk of Coisas do Arco da Velha, but it offers so much more, in fewer songs than previous efforts. Acalanto opens the album with the typical eerieness of the band. A delicate flute is heard, accompanied by dissonant strings, before the dominant cello steps into the picture, paving the way to a languid male chorus. A sudden change of pace as the full band comes in. The acoustic guitar, flute and violin take the lead. A short violin solo makes the transition for the band's first attempt at rock, featuring a drum kit and an electric guitar - still, it's the violin and cello that have prominence, along with one of several instruments unknown to me. The track then returns to its opening eeriness and languid chorus. The next track, Despique, is another take on traditional themes. It begins with the delicate sound of tuning, before another unusual instrument opens the song (Stylophone?). It features the funny vocals of António Pinho accompanied by the violin. The drums are once more modern sounding, adding flavour to this amusing folk rant. The delicate voice of Gabriela Schaaf opens the next track, País: Portugal accompanied only by the acoustic guitar. The drums soon kick in, as well as the wild saxophone solo by Rão Kyao. In a strategy so common to Banda do Casaco, the famale vocals give way to the male, and vice-versa. The fast pace of this song is complemented by the drums, violin and a subtle electric guitar. Alvorada, Tio Lérias! begins in a spacey mood, clearly dominated by bass, that quickly turns into a thrilling strings track, very similar to chamber music, with the cello and violin dominating, subtly complemented by the electric guitar. A sudden change in pace in rhythm give way into an almost martial beat, with the adufes, drums and wild flutes being heard. A paraphernalia of small traditional percussion instruments then bring this excellent track to a close. Geringonça is the first track by the band to features that ultimate prog instrument, the mellotron. The celestial choir of the keyboard open this spacey song, soon enriched by a sweet flute, delicate electric guitar chords and the lovely voice of Gabriela Schaaf. After the first sung section, the drums, strings and unidentified electric instrument make their appearance. A delicate, yet powerful track, spacey in sound and theme (an alien sighting), featuring, as usual, great arrangements and an unusual (but highly welcome) mellotron and electric guitar. Dez-Onze-Doze is another take on the sounds of Portuguese folk, featuring an impressive array of traditional instruments, in a very celtic sounding track, whose percussion and strings provide it with a very fast pace, here and there broken by the melancholic chorus. The guitars introduce the vigorous lead male vocals, complemented by a full band chorus. Of special relevance in this track are the guitar and harmonica solos. A spacey female chorus brings the song to its end. Ont'à Noite is a traditional ballad, with a piano, harp and violin driven opening, dominated by the stunning angelical vocals of Mena Amaro and the soothing tone of Nuno Rodrigues. The piano, harp and violin are replaced, in a second section, by acoustic and jazzy electric guitars, flute and bass, before the delicate, jazzy fade-out. Água de Rosas is an instrumental closer - a short, bucolic track, driven almost exclusively by the string instruments (violins, cello, guitars), also featuring flute and another unusual appearance, the oboe. A delicate finish to an exciting album. Overall, it is an extremely varied record in terms in musicality, even if folk is the dominant trend. Here and there you can hear hints of chamber music, the space-rock of bands like Eloy, jazz- fusion in the vein of Miles, and the kind of ethnic music and chorus one could find among Oldfield's finest works, all delivered with a technical proficiency hard to find these days in a rock band. The female vocals reach the heights of Maddy Prior and Annie Haslam (sometimes surpassing them), while the male vocals vary from soothing to vibrant. It is truly an orgy of sounds, with plenty to explore.
Hoje Há Conquilhas, Amanhã Não Sabemos is an extremely influential work. Few albums have been quoted as an influence by groups and artists so diverse in musical background - it is featured in the preferences of contemporary jazz, rock, pop, folk, punk, classic and minimalist composers in Portugal. It is also a common presence in every list of greatest Portuguese albums regardless of genre. I am no exception to that - the album is placed high on my all-time favourites list. The degree of experimentation, technical ability, and quality of composition in terms of progressiveness is still high, even if it's already 1977. So, while late, it is indeed a masterpiece of progressive-folk, well-deserving of the five eggs. Stars, I mean.
João Cotrim
Very Good! And not only for FolkProg fans!
I must say that Folkprog isn´t my favourite sub-genre but Portuguese Prog definitly is! Therefore i started (not long ago) exploring what was done (progressively speaking) in my country in the late seventies. (yes,late 70´s because it was impossible to do so before '74 due to political reasons,we had a dictatorship!)
...and so i discovered Banda do Casaco! ("band of the jacket" ,or "the jacket band" ,or something like that...) It is a band that mixes Jazz and Rock influences with tradicional portuguese music and the outcome is awesome! Their lyrics are mostly political yet simple, always ironic and sometimes even funny.
Their music is surprisingly pleasant, it never gets you very high but it never lets you down either,anyway i´ve only listened to this album some 20 times or so and i believe i´m going to apreciate it even more. it´s been building up on me and i truly believe it will give me even more satisfaction than it already does! (and i´m not even into folkprog...yet! Maybe i will after this,who knows!?)
"Hoje há conquilhas, amanhã não sabemos"
I read somewhere that this is their best effort...i can´t comment on that because it´s the only BDC album i know,but i can hardly wait to get some more...
My favourite tracks are:
- 3- País: Portugal!
- 5- Geringonça
- 6- Dez-Onze-Doze
A special highlight to Gabriela Schaaf´s voice on tracks 3 and 5 and Rão Kiao´s Tenor Sax on track 3.
So, even if you´re not a huge Folkprog fan (like me) this will still be an excellent addition to your prog music collection!
Check it out! 4/5 stars.
Leandro

Un disco maravilloso que vale la pena comprar, no sé dónde, pero valdía la pena. Otro disco recomendadísimo del blog cabezón, espero que sepan agradecerle a Pedro que además tiene más cosas para presentarles.
Y ni se les ocurra perdérselo!