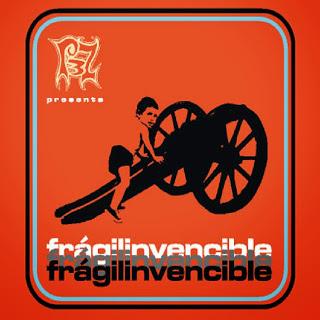 Artista: Pez
Álbum: Frágilinvencible
Año: 2000
Género: Rock progresivo / Punk-progresivo / Rock garage
Duración: 38:05
Nacionalidad: Argentina
Lista de Temas:
1. Telarañas
2. Phantom Power
3. Creo Que Amamos El Dolor
4. La Gota
5. La Estética Del Resentimiento
6. Hondo II
7. Espíritu Inquieto
8. Haciendo Real El Sueño Imposible
9. Domando Tormentas
10. Malas Noticias
11. Supersupersticioso
12. Campos De Inconsciencia
13. Gala

Alineación:
- Ariel Minimal / voz, guitarra, piano
- Iris Gabriela Auteri / bajo
- Franco Salvador / batería
Invitados:
Pablo Puntoriero / flauta traversa, saxo tenor
Mario Siperman / teclados
Mariano Esain / armónica
Gerardo Rotblat / tambores udu


Y hoy por hoy el blog cabezón no sería el mismo sin la cantidad de aportes de nuestros amigos que vienen y comparten sus cosas. Desde el staff, agradecidos. Personalmente, era uno de los objetivos del blog: brindar la posibilidad de que todos puedan compartir sus joyas sonoras, y alentarlo. Un poco como noción política de la solidaridad, en contraposición de tanto individualismo y tanta mezquindad de nuestra sociedad de consumo.
Por ello me es una alegría anunciar al El Optimista del Gol nos comparte este disco... y veo sus comentarios en el chat justo antes de compartir otra cosa que dejaré para mañana, así cumplo raudo y presuroso a completar este posteo.
Dejo un par de comentarios del disco, vamos a ver qué es lo que dicen de él nuestros amigos:


Para su cuarto trabajo discográfico, pasaría algo no muy frecuente hasta entonces en Pez: se repetiría la misma formación del grupo (se repetiría para quedarse de esa forma). El Power trío conformado por Minimal/Garcia/Salvador formaría su propio sello independiente (Azione Artigianale) para publicar Frágilinvencible.
Lo que caracterizaría a este nuevo disco fue su exploración en nuevos territorios, anclando su influencia principalmente en bandas de los setenta. Y para ello se puede apreciar la incorporación de nuevos instrumentos. Este toque distintivo aparecería gracias a la colaboración de los miembros Cadillac Pablo Puntoriero (flauta traversa y saxo), Mario Siperman (teclados) y Gerardo Rotblat (percusión).
Como resultado Frágilinvencible es un álbum muy diverso. Salta del punk con toques jazzeros ("Creo que amamos el dolor"), al heavy blues ("La estética del resentimiento"), a la sensibilidad del piano ("Hondo II"), a los arrebatos metaleros ("Espíritu inquieto"), al hard rock inverosímil y más como si nada.
Es un álbum con sus idas y vueltas, sus buenos y muy buenos momentos que no te dan descanso por lo ciclotímico de los estilos que abordan.
Persy
Mientras Minimal era protagonista de (sin dudas) los mejores tiempos de Los Fabulosos Cadillacs, sacaba el cuarto disco (primero con el sello Azione-Artigianale) con su proyecto paralelo, el cual se trataba (ni más ni menos que) de Pez, en donde encontraba una vía más de expresión y canalización de sus inquietudes artísticas.
Pienso que no tiene mucho sentido recomendar a alguien un disco para empezar a escuchar Pez, ya que al haber tanta diversidad de trabajos puede que dicha recomendación no haya sido la más apropiada para el sujeto en cuestión. A su vez sería igual de inútil sugerirle que los escuche cronológicamente, debido a que tampoco hay mucha lógica para encontrarle en este punto a mí parecer.
En Frágilninvencible se podría decir que Pez retoma la propuesta que en un principio había encarado en Cabeza, me refiero a esa esencia garage en su sonido, acompañada con una energía Punk que termina por conformar una fórmula tremendamente poderosa y agresiva, con la aptitud de explotar y de crear al mismo tiempo.
Por supuesto este trabajo no es igual al primero en la discografía de la banda, fundamentalmente por el simple hecho de que no se trata de los mismos músicos (a excepción de Minimal), quienes también aportan sus singularidades musicales para la conformación del todo. Incluso me parece que este trabajo va más allá aún al incorporar diferentes tipos de sonidos a partir de diferentes instrumentos a lo largo del mismo, los cuales le aportan muchos contrastes de texturas.
Este álbum tiene cierta semejanza estructural con Quemado si tenemos en cuenta algunos cortes abruptos y desconcertantes que se encuentran entre una canción y otra. Por ejemplo en La estética del resentimiento nos encontramos en un clima musical desesperante, donde Minimal canta (o mejor dicho, escupe gritos y vomita palabras) de forma desgarradora y penetrante, luego llega Hondo II en donde Ariel toca el piano y canta como si estuviera en el living de su casa. Juegan con el dualismo de los momentos turbulentos, de estallidos de furia y los pasajes calmos, casi nostálgicos.
¿Influencias? Este punto casi siempre consiste simplemente en un juego de especulaciones, sin embargo además de las influencias punkys de Ariel (más claramente detectables en Creo que amamos el dolor), también hay algunas cositas zeppelianas y deep-purpleanas (?) que vienen por el lado del garage que comentaba al principio, pero particularmente lo que yo percibí fueron algunas influencias de Aquelarre en el riff que aparece al final de Espíritu inquieto, a su vez también encontré algunas pequeñas huellas spinetteanas en la intro de Domando tormentas. En fin, uno puedo jugar a ser geólogo musical con bandas como Pez.
El humo esta en el foco

Como he dicho en otros posteos, considero a Pez como una banda demasiado arraigada como para alguien que no sea argentino, haya mamado todo el eclecticismo alocado de nuestra cultura (no solo rockera) pueda entender esta ensalada psicodélica - progresiva - punk - garagera - cancionera. Entonces nos encontramos con comentarios de tipos que no les gustó nada el disco, ni ninguno de los de la banda de Minimal:


A true prog opening track for this fourth album. But "Telarañas" lasts only for twenty-nine seconds? To be honest with this band whom I was never friendly with so far (not my fault though), is that "Phantom Power" is a delicate and moving tune which sounds very different from their usual hard-punkish fever.
Unfortunately, this is what can be experienced during the noisy "Creo Que Amamos El Dolor" (I think we like pain!). Some sort of a weak punk attitude which is followed by the super dreadful "La Gota".
I guess that their "progressiveness" will see the light later on in their career. Still, this is their fourth album, and so far it is extremely difficult to find one which features the music praised on this site?
This album is better though. It features some additional musicians (sax, keys and flute) who are more than welcome to add some depth to the basic heavy-punk music developed by the core trio.
Some psyche mood can even be experienced during "La Estética?". But on the heavy side. Not too bad though even if the closing part is quite indigestible.
My fave by far is the sweet "Hondo II": excellent fluting (yes I love flute) and quite passionate vocals. This could show a fine orientation for the band. While they are performing like this, no doubt that they are inspired. But it has been too scarce so far in their recordings. Another one of that kind is the nice "Campos De Inconsciencia".
The proof is in the pudding while "Espíritu Inquieto" starts. A very, very heavy rock tune. Argentinean doom. Do we really need this? It might be thrilling but I don't share this passion.
As usual the songs are on the very short edge here and while the basic trio is performing, little is to be expected in terms of their ability to convey some prog feeling. "Malas Noticias" is another example. For your information, this means "Bad News" in Spanish. I didn't write the lyrics?
As I have said, this album is not their worst. I rate it two stars for their solid rocking angle and the (too scarce) addition of guests.
Daniel

Y a ver si vamos terminando de completar algunas discografías. Entre ellas la de Pez. Le agradezco infinitamente al Optimista del Gol por el aporte...