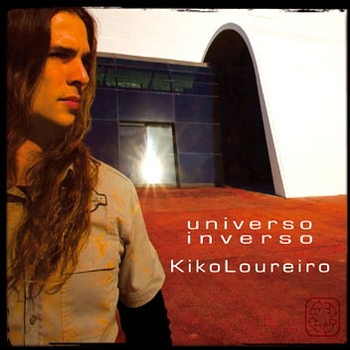 Seguimos con los buenos discos brasileros. Otro disquito resubido por Sandy, el violero de Angra haciendo un delicioso jazz rock muy enérgico y descontracturado.

Artista: Kiko Loureiro
Álbum: Universo Inverso
Año: 2006
Género: Jazz-rock
Duración: 55:33
Nacionalidad: Brasil
Lista de Temas:
1. Feijao De Corda
2. Ojos Verdes
3. Havana
4. Anastacia
5. Monday Mourning
6. Arcos Da Lapa
7. Samba Da Elisa
8. Camino A Casa
9. Realidade Paralela
10. Recuerdos
11. Hidden Track

Alineación:
- Kiko Loureiro / guitars
- Yaniel Matos / piano
- Cuca Teixeira / drums
- Carlinhos Noronha / bass


Si decimos ese nombre primero pensaremos en este:


Pero, dijimos que estaríamos dandole vueltas a
Angra
y acá estamos, con su guitarrista... aunque les aclaro que este disco no es necesariamente para los amigos metaleros, aunque provenga del guitarrista de esa banda de power metal. Sigan leyendo y les explico.
Éste es un álbum totalmente alejado del metal y del rock tradicional, alejado por ejemplo al estilo de
Angra
, Loureiro ha decidido experimentar en otros ámbitos con influencias de blues y jazz, como ya lo hemos escuchado en otros discos publicados en este blog. Aunque para mi gusto, y si bien Kiko es un guitarrista sumamente virtuoso, lo que había escuchado de él estaba bueno pero le falta algo de emotividad a mi gusto. Técnico y pulcro, pero bastante soso.
Yo digo eso mientras Kiko me mira y me dice: - Bueno, entonces tocá vos!... ¿a ver? ¡No me simpatizas!
Aún así el álbum está cargado de talento. Kiko es uno de los grandes y en "Universo Inverso" lo vuelve a demostrar. Aquí se balancea en un jazz-rock muy Latin Jazz bien brasilero, particularmente gratificante y en los pasos de guitarristas como
Al Di Meola
, y en menor medida,
Carlos Santana
. Buenas canciones traen momentos de rara belleza, haciendo de "Universo Inverso" un disco necesario para los amantes de la buena música. Esto no es metal, solamente es un muy buen disco, a secas. Y esta vez Kiko logra tocar los hilos de la sensibilidad, al menos en algunos pasajes muy bien logrados. Que sea un muy buen guitarrista no es sorprendente, ya que con
Angra
siempre ha acostumbrado a las estructuras y las ejecuciones técnicamente atrevidas, realizados con suma soltura y eficacia. Pero estoy pensando si acaso su creatividad, dentro de la banda madre, no ha sido "eclipsado" ya sea por lo otros músicos o simplemente por la propia estructura impuesta por el estilo; el power metal, por más progresivo que sea, no tiene tantas libertades compositivas (o imaginativas) como el punto al que llega este muchacho en este disco.
Sea como sea, escúchenlo...
Y vamos con los comentarios del discos, todos en inglés, eso sí:
After a very standard debut, this second record is a big event for guitarists. The record is highly original, "original" not meaning strange in this case.
Kiko focuses on Latin/Brazilian music and makes up this interesting instrumental, jazzier than his previous release, with some hard rock bits, some improvising here and there where he shows his technical ability. In my opinion it´s very well balanced and I think he achieved what he was looking for.
The first four tracks are incredible one after the other. I hope he comes back with another awesome record like this.
reeagbo
Kiko Loureiro's second album Universo Inverso, is an amazing jazz and samba album. This album is magnificent, well only to those that enjoy a more warm jazz sound in their music. Don't get me wrong this album is full of shredding and speed, but the tonality in all instruments hold it to be very solid while keeping its pureness in smooth layered progression. This album starts of with Feijao De Corda, from the beginning of this song you can hear the jazz influence in the guitars and keys, and the Brazilian samba in the percussion and low ends of the bass.
The album continues with Ojos Verdes, another transition of jazz progression, but you can notice that Kiko is not only following the jazz elements of guitar but adding his own style, thus making his playing and the ambiance of the tracks one of a kind. As for the following tracks up until Samba da Elisa they are more oriented jazz , that like of Alex Skolnick but they still hold a name of their own. Samba da Elisa is my favorite track, Kiko's guitar tone is relaxing and his accenting on notes make it grasp holding. The next track Camino a Casa this starts of with an amazing bass line, you can find many bass gems all through out the album.
With that said this album gets slower paced but I wouldn't say that it's a bad thing, but that being in the ear of the one listening to it. I recommend this album to anyone who enjoys jazz, samba, Latin influenced music, cynic or atheist. This whole album was worth it. As for my opinion "Samba Briza" on Atheist Elements album made me pursue to listen to jazz and samba and I found that all in this album. If you can get a hold of this album get it, you wont be disappointed. To those that don't find the same passion in jazz or progressive instrumental albums, skip it you might find it boring.
Vargnatt16
The Brazilian artist Kiko LOUREIRO is arguably among the best known guitarists in his native country. Invited to join highly popular and acclaimed metal act Angra at the age of 19, his reputation has been rising alongside that of the band for the last 20 years. In 2005 he decided to establish himself as a solo artist, which so far has resulted in three CDs: "Full Gravity" from 2005, "Universo Inverso" from 2006 and "Fullblast" from 2009. The first two have spawned several reissues, and amongst them is this 2007 edition of "Universo Inverso", released by the US label Boosweet Records in 2007.
Instrumental jazz rock isn't a style of music most will associate with Kiko Loureiro, I'd imagine, but with "Universo Inverso" he has documented that this type of music is one he excels at just as much as the metal he's more renowned for. If Latin-tinged rhythms, guitar soloing and a firm jazz-oriented backbone in an instrumental guise sounds like something you'd like to become familiar with, this is a disc you'll want to check out, in particular if gentle, smooth high-quality music enriched with subtle details suits your personal taste.
Olav Martin Bjørnsen
Just a few words on this one. Way different from the previous and the next album.This delivers a mixture of jazz, latin, brazilian melodies along with hard and edgy fusion/jazz rock. Some are fast guitar oriented tunes which then slow a bit to become more brazilian oriented with piano solos from Yanel Matos who in this case is simply OUTSTANDING!Some are slow more contemporary jazz/brazilian jazz. Also the Bass player Carlinhos Noronha shines through this one but you might have to listen a little bit deeper to be able to comprehend what he is giving to this album.It is rare for me to say such good words for a bass player. Cuca Teixeira's playing might remind you of Dennis Chambers or Billy Cobham.And that is because his style is aggresive and very dynamic. As for Kiko himself no words. Those of you who take time to read these reviews know what he is all about.
For a jazz/fusion fan this is Highly recommended!
Kostas
Y tenemos más coletazos de
Angra
para el día de hoy! Mientras tanto, disfruten este disquito!