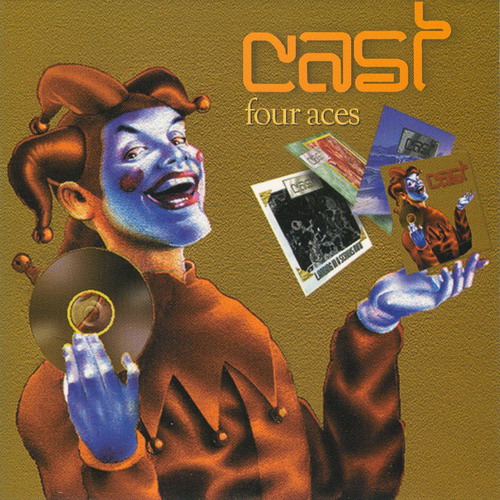 Siguiendo con el festival de resubidas de buen rock mexicano, Sandy resube otro disco de Cast, acá vamos con su cuatro disco de estudio. Y tampoco ésto termina acá.

Artista: Cast
Álbum: Four Aces
Año: 1995
Género: Rock sinfónico
Duración: 62:40
Nacionalidad: México
Lista de Temas:
1. In the Light of Darkness
2. Introverture (Instrumental)
3. Last Will
4. Galeno (Instrumental)
5. Echoes
- 1. Echoes (From a House by the Forest)
- 2. So Close but So Far
- 3. No inspiration
6. SPVM
7. Time to Time
8. Winter
9. Scenery

Alineación:
- Dino Brassea / vocal
- Francisco Hernandez / guitar and vocal
- Alfonso Vidales / teclados
- Anthonio Bringas Caire / drums
- Rodolfo Gonzalez / banjo


Hace tiempo me habían pedido todos los discos de los mexicanos sinfónicos Cast, cosa que había prometido que trataría de cumplir principalmente porque tengo varias cosas de ellos. Como estaba en deuda, tengo un montón de discos de los dinosaurios progresivos mexicanos para publicar... Empezamos con este "Four Aces" de 1995, y continuamos con la idea de tratar de publicar toda su extensa discografía, y les recordamos que ya tenemos varios discos aquí, en el blog cabezón.
A ver, más información sobre el disco:


Álbum oficial de estudio #4 de CAST, grupo mexicano alineado en esta realización por Luis Alfonso VIDALES (teclados), Dino Carlo BRASSEA (canto), Francisco HERNÁNDEZ REYES (guitarra, canto), Jose Antonio BRINGAS (batería, percusiones) y Rodolfo GONZÁLEZ QUIROZ (bajo) [...] "1995 también marcaría la salida al mercado de dos álbumes. "Four Aces" continuó en la línea del rescate de material anterior, pues 'In the light of darkness', 'Introverture', 'Last will of a friendly man', 'Scenery', y la suite 'Echoes' fueron temas claves del listado de canciones que se ejecutaron a mediados de los ochentas. Además se adicionó 'Eyes in the darkness' con Enrique SLIM y Javier ROSALES que había sido grabado en "Grabaciones Baja California" en 1986"
Manticornio

Por supuesto, este es un disco bien sinfónico y con toques de neo progresivo. Para quienes no conozcan a la banda, les dejo un comentario sobre su carrera musical:


Cast es una de las bandas más destacadas del rock progresivo de México, quienes en largos años de trayectoria han desarrollado una particular y elegante forma de enfocar el estilo, influenciados por los grandes grupos del sinfónico clásico como Emerson, Lake & Palmer, Genesis, Jethro Tull y Yes. Además de tener más de una decena de discos publicados, en su trayectoria, la banda ha tenido la importancia crucial de ser la organizadora del festival de rock progresivo internacional Baja Prog, vitrina fundamental para las bandas consagradas y emergentes del movimiento.
La historia de Cast se remonta a 1979 a la ciudad de Mexicali, Baja California, cuando el tecladista Alfonso Vidales, junto a otros músicos de la zona creo Cast, cuyo significado quiere decir Reparto o Elenco. Así, la banda comenzó su travesía musical con la realización de su primer disco conceptual, inspirada en el libro del escritor Irlandés Jonathan Swift, "Viajes de Gulliver". La agrupación fortaleció su propuesta al pasar de los años con la publicación de variados demos hasta que lanzaron su disco "Complot". Finalmente en 1993 consolidaron su formación con el ya mencionado Vidales, el bajista Rodolfo González, el baterista Antonio Bringas, el guitarrista y vocalista Francisco Hernández y el flautista, guitarrista y vocalista Dino Brassea. Ese mismo año montaron un moderno estudio de grabación, que les permitió iniciar su prolífica producción discográfica.
Ya con este respaldo la banda editó entre 1994 y 1995 los discos "Landing In A Serious Land" , "Third Call", con grabaciones hechas entre 1989 y 1994, "Sound of Imagination", que recopila material de 1985, 1990, 1994 y 1995, "Four Aces" y "Endless Signs". A partir de 1996 Cast empezó a girar constantemente por el mundo visitando países como Inglaterra, España, Holanda, Canadá, Estados Unidos, Argentina, Finlandia, Suecia e Italia. En 1996 editaron su primer elepé en vivo "A View Of Cast", en 1997 "Angels and Demons" y en 1998 "Imaginary Window" y el en vivo, "CAST-A Live Experience", que fue el primero en ser publicado bajo el alero del importante sello francés Musea.
Desde 1999, el en un principio pequeño festival Baja Prog, se convirtió en uno de los más importantes para el rock progresivo mundial, participando en él algunos de los grupos más importantes de la era clásica de la corriente, además de las más destacadas agrupaciones emergentes del rock progresivo mundial. En el 2000 la banda editó el excelente disco doble conceptual "Laguna de Volcanes" y el en vivo "Castalia". En el 2001, con el reemplazo de Dino Brassea por el guitarrista Carlos Humarán y el traspaso de Francisco Hernández a la voz principal, la banda liderada por Alfonso Vidales graba "Infinity".
Rockaxis

Esa fue la primera parte de la historia de Cast, luego continuó, pero ya es otra historia. Este álbum, siendo el cuarto de su carrera, forma parte de la primera parte de su carrera musical. Sobre e disco en sì, vamos con un comentario sobre él:


Este notable álbum fue lanzado en abril de 1995 y es, en nuestra opinión, una obra completa brillante de principio a fin. Desde su inicio con la potencia de "In the Light of Darkness", el virtuosismo instrumental de "Introverture", el dramatismo y belleza de "Last Will", con un desarrollo que se compara fácilmente a las mejores obras de Genesis con Peter Gabriel, y la maestría de "Echoes", en sus tres secciones que desafían cualquier obra progresiva clásica de los 70's u 80's por las armonías que se desarrollan y las secciones solo de teclados y guitarra eléctrica, en sus 17 minutos de duración. También en este álbum se encuentra una de las secciones de piano más bellas compuestas por Alfonso y con una vocalización plena de emotividad y profundidad a cargo de Francisco en el tema "Winter", que deja con un nudo en la garganta a cualquiera…
Ya 1995 también marcaría la salida al mercado de dos álbumes. "Four Aces" continuo en la línea del rescate de material anterior, pues "In the Light of Darkness", "Introverture", "Last Will of a Friendly Man", "Scenery", y la suite "Echoes" fueron temas claves del listado de canciones que se ejecutaron a mediados de los ochentas. Ademas se adiciono "Eyes in the Darkness" con Enrique Slim y Javier Rosales que había sido grabado en "Grabaciones Baja California" en 1986. Hubo la inclusión de "Galeon" que yo interprete en su totalidad como parte de incursiones en solitario además de siempre mantener la presencia de material sinfónico-formal-clásico. Raúl Sánchez Dion nos apoyo con la obra central de portada que presenta al bufón con cuatro cartas emulando el titulo del álbum.
Sangrepesada

Y, como siempre que podemos, también con otros comentarios en inglés... y varios, como en este caso:


I listened already to a couple of albums of their later period, which are much better what they are presenting here. Though songs are sounding all nice and disregarding the vocals, which are rather awful, the musicians's performance is really great, I'm still hesitating to rate this album as a good one, since there are much better ones of them, especially their last two. Something is missing on this one, probably because it's just an arbitrary compilation of recordings. It's nice music, usually mellow songs with piano and keyboard, murmuring somehow in the back but there is not anything catching my attention. More rocking ones like "Scenery" are sounding quite terrible like the worst 80's NeoProg. I'd really like to advice anyone, who does not know any records of this band, to start with their latest releases, these are fantastic.
Dieter Fischer
When I was informed by my prog colleagues about CAST, I ordered about 10 albums of the band and 2 solo projects of the keyboardist and guitarist (it's a great solo album!). When my CDs arrived, "Angels and Demons" blew me! "Four Aces" got an unfair chance for spinning it at my CD player because it did not attract me right away. When I got a chance to have another spin I realized that it's actually not a bad album.
The real strengths of this Mexican (not UK) band are on their complex and tight music composition, and the musicianship of Luis Alfonso Vidales (keyboards), Francisco Hernandez Reyes (guitars) and Antonio Bringas Caire. The album sometimes presents a bit complex arrangement overlaid at main structure that sounds sometime does not fit with the music as whole. As this album comprises some tracks from their late 80s recording this one had shown improvement. I have to admit that on musicianship, CAST is really good. Some tracks like "In The Light of Darkness", "Introverture", "Echoes" are good and they all share the same good quality of composition. The only problem I have with the band is on sonic quality of the CD which is poor. Provided with excellent sonic quality, this might be a very good album to have.
Gatot Widayanto
This album contains re-recorded tracks of songs originally recorded 1989, together with three original recordings from 1989 and 1991. "Four Aces" is also a big step forward from their previous three albums, maybe with the exception of "Sounds Of Imagination". The sound is much better, the songs and the musical performances. Best tracks: "In The Light of Darkness" and "Echoes".
Greger Rönnqvist
This Mexican band will produce some good albums throughout their long career. Actually, they spent a long time together before releasing any stusdio album. This might explain their very prolific production of the mid-nineties.
The musicianship is very good, but some times the songwritting is just a bit short. On, this album, we'll get a bit of both worlds.
"In The Light of Darkness" opens the album brilliantly. Good melody, strong rhythm. Middle-East influence for the middle and instrumental part (a bit heavy). The finale is again very melodic. It is bizarrely followed with "Introverture". With such a title, I guess that this track should have been the opener. It is quite complex, with no real theme. Lots of different themes make it a bit difficult to follow. Almost Crimsonesque mood. Not too bad after a few spins.
"Last Will" is an most elaborate track. A very symphonic number actually featuring a nice opening (piano and vocals) which will evolve into a somptuous intrumental section (Cast strong point). At times again, it sounds as ELP but Cast adds sufficient own flavour to be original. The closing section is very emotional.
"Galeno" is a short (to Cast standards) and very pleasant instrumental piece. A very strong and inspired guitar has the leading role here. An incredible sound, really. Remisniscent of Carlos but more powerful. Very interesting.
The central piece of this album, is the epic "Echoes" (nothing to do with the other one). It starts brilliantly. Sensational rhythm with a powerful bass play and vigorous keyboards. No time to breathe during the first five minutes. Only after this very strong intro, a subtle and Genesis-esque part will follow. Dino Brassea, sounding very nice in this slower part.
The second half of this number sounds a bit too repetitive. This feeling is especially during the instrumental section (from 10' to 12'30"). A bit pompous, I must admit (did I say ELP ?). It might have been cut down a bit to keep the interest of the listener at the same level. Fortunately, the closing part (over five minutes) is again very nice. Same light and sweet vocal part with very pleasant piano. I am missing a bombastic finale but all in all this track is well balanced and will please the ears of lots of prog fans.
"SPVM" is a intrumental and classical interlude. I wonder why Cast felt the use of listing such a number here. The album lenght (as usual for Cast) is long enough (over sixty- three minutes) to avoid it. Anyway, the next number reminds me PFM. Probably due to the vocals. Genesis is not too far either. I quite like the drum play in this number. A very pleasant song even if definitely PFM is almost carbon-copied.
Talking of borrowing styles, the intro of "Winter" might be a tribute to Keith Emerson. This piano intro sounds so much as the master does. The whole piece is full of sweetness : from vocals to the famous piano. A nice moment indeed. "Scenery" closes the album quite beautifully. One of the few poppish Cast number : a catchy melody that makes you appreciate it at the first listening (not too often the case with Cast).
Cast's music is generally somewhat complex and needs several spins to really allow the listener to enter into their work. I would say that their music is a mix between symph and neo-prog. As for other Cast albums, some of you might feel that they are a bit lacking in personality by getting their inspiration from some mighty bands of the seventies.
This effort is not their best one, but not their weakest either.
ZowieZiggy
I believe it is with this release you can find Cast's signature sound beginning to gel. They seem tighter, less meandering than previous releases. Opening track, "In the Light of Darkness" is a strong, uplifting piece, with inspiring lyrics and an awesome set of instrumental refrains. "Introverture" follows, a swirling, instrumental piece. A touching memorial to a friend passed on, is "Last Will." An awesome Hackett/Genesis guitar lead builds tension with Vidales' keys adding a wall of emotion backed by ferocious drums and bass. Brassea's voice wails strong and ever so endlessly expressive. Another strong instrumental, "Galeno," follows with raw guitar power and inventive keys. This piece is as jazz fusiony/ prog rocking as I you will ever find Cast performing. An extended trilogy movement follows that hints at Cast's growing penchant for their thematic albums. One thing about Cast is clear-they can make many songs quite cohesive. Cast is the epitome of symphonic prog. As always in the album's remaining pieces, whether in didactic lyric or swelling neoclassical keys, or driving neo-prog, Cast has very good things for all to hear.
John W. Patterson

Y les avisé, esto marca el comienzo de la publicación de una serie de discos de esta banda, así que van a tener Cast para rato. En principio les dejo esto para que lo disfruten en el fin de semana.