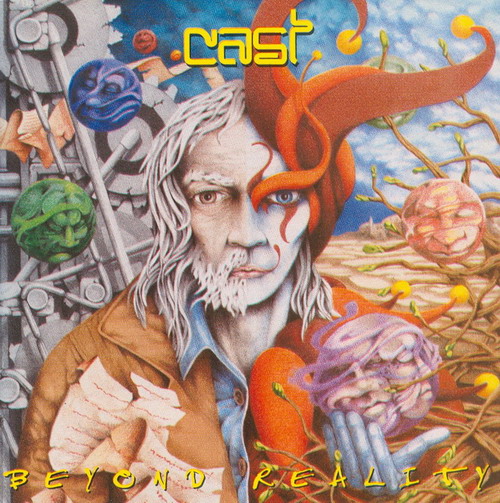 Y acá va el último disco de Cast que nos quedaba pendiente. Tenemos además el que sacaron el año pasado que en cualquier momento será publicado, como para tener la discografía completa.

Artista: Cast
Álbum: Beyond Reality
Año: 1996
Género: Rock sinfónico
Duración: 62:09
Nacionalidad: México
Lista de Temas:
1. The Rescue
- a. Introduction
- b. To the 7th House of Huitzilopochtli
- c. The Rescue
2. The North
- a. Northern Place
- b. All The Way From Nowhere
3. The Mirror's House
- a. Marcato
- b. The Mirror's House (Convex Fun)
4. Transparent Symbols
5. Another Night

Alineación:
- Dino Carlo Brassea / flauta, voz
- Jose Antono Bringas Caire / batería, percusión
- Alfonso Vidales / teclados
- Francisco Hernandez / guitarras, voz
- Rodolfo Gonzalez Quiroz / bajo


Ya dijimos la semana pasada que trataremos de completar la extensa discografía de los dinosaurios progresivos mexicanos Cast, éste es el sexto álbum oficial de estudio. Grabado en 1996 es sin duda un álbum muy completo y que proyectó a la banda a otro nivel, o al menos eso es lo que dicen los comentarios generales...


In "Beyond Reality" the harlequin is combined with an "Aqualung" styled character representing the day-to-day of human existence. While new possibilities are budding on one side, the scroll of human wisdom is being mangled in the worn, chipped gears of ill-conceived mechinations on the other.

En el disco están algunos de los mejores momentos de la banda, mientras que para una mejor comprensión de que les espera en este disco, aquí está el comentario de nuestro columnista invitado involuntario de siempre, nuestro querido César Inca, veamos que es lo que nos dice sobre este disco:


Hace ya muchísimos años, "Beyond Reality" conformó mi primera experiencia con el mundo musical de Cast, y ciertamente lo puedo recomendar como punto de partida ideal para cualquier neófito curioso en investigar en la oferta prog sinfónica cultivada por este ensamble mexicano. Cast tiene como rasgos esenciales y puntos fuertes las expansiones melódicas basadas en el rol protagónico de los teclados y el sonido abiertamente pomposo que el grupo cultiva con oficio incuestionable. Siempre tentando al riesgo de la saturación, este disco en particular no cae en ello del mismo modo que en algunos discos posteriores (p.e., "Angels and Demons" o "Imaginary Window", los cuales, aun así, me parecen muy bien hechos).
Los tres primeros temas son sendas extensas suites que juntas ocupan un tiempo total de 54 minutos. La primera suite es la más explícitamente bombástica, siendo así que las porciones instrumentales de las secciones b y c son mis momentos favoritos de la misma: aquí tenemos los usuales ingredientes de las ambiciosas orquestaciones y solos de Vidales en los teclados (recibiendo las influencias simultáneas de Wakeman y Banks), los fraseos de guitarra muy a lo Hackett y los adornos de flauta que realzan de manera grácil las ostentosas bases melódicas de los motivos. Es cierto que las secciones específicas de cada suite tienen una definición propia, pero es de reconocer que la ilación y la continuidad de 'The Rescue' son las que están más logradas. Con esto no quiero desestimar las otras dos suites: de hecho, las respectivas secciones segundas de 'The North' y 'The Mirror's House' constituyen dos de los temas más sobresalientes del disco, EMHO. El ambiente de intensidad y la sucesión de efectivos motivos melódicos resultan bien amalgamados a través de las sólidas interacciones entre los instrumentistas. Una mención especial debe ir para 'Marcato', que da inicio a 'The Mirror's House' con una aureola clasicista bien trabajada. 'Transparent Symbols' es una pieza más corta, y en cierto sentido, más convencional dentro de la faceta intimista del sinfonismo. El cover de Camel 'Another Night' tiene el mérito de que las porciones instrumentales tienen bastante originalidad: tal vez debieron ser usadas para una pieza propia de Cast... En fin, "Beyond Reality" es un disco imperdible para los acérrimos amantes del sinfonismo moderno sensible a la herencia fastuosa de los 70s (Genesis, Camel, Yes): de hecho, se puede muy bien decir que este disco contiene en sí una muestra fiel de la visión musical que Cast propone para la escena progresiva actual.
César Inca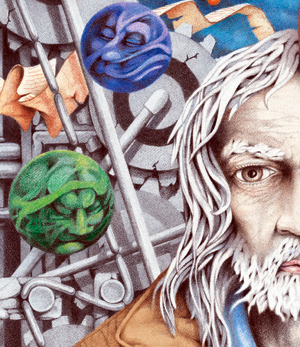 Y muchos otros comentarios en castellano no encontré, salvo éste que copio a continuación:


Grabado en 1996 es sin duda un álbum muy completo y que proyectó a la banda a otro nivel. "The Rescue" en todas sus facetas, significó mostrar realmente la calidad interpretativa, ejecutante y energética que "Cast" tenía guardada para sus presentaciones. La parte central de ese tema se remonta a 1986 en que ya, la banda lo mantenía en el listado de temas en concierto y se le adicionaron muchas secciones para su grabación. Francisco creo la letra que era muy elocuente y expresiva. "All The Way from Nowhere" fue un tema que se transporto de 1984 a ese momento conservándose en su integridad. "Mirrors House" fue un tema épico que se mantuvo como bandera en presentaciones. La obra gráfica fue de Michael Bennett reflejando la mitad que cada uno conserva en su vida que son, su sus sueños y su trabajo. Fue nombrado el mejor álbum para "La Llave Oculta", programa radiofónico de Argentina. Marcó la primera vez y única hasta el momento que se incluyó un tema de otra banda en una producción del grupo. Tal es el caso de "Another Night" de "Camel" que para la producción de un tributo a esa banda, "Cast" fue invitada
Mich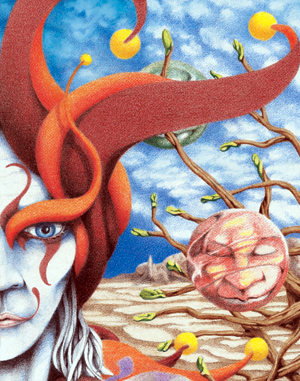 Ahora, vamos con los comentarios en inglés, que son varios y variados:


This is probably my absolute favorite album by CAST, combining the old CAST sound with the new. This album is a true masterpiece in the neo-prog genre, and should have gained a lot more attention than it has. When you hear this album you can't understand why CAST isn't up there with all the other "big" neo-prog bands such as MARILLION and PENDRAGON. Although I loved their previous album "Endless Signs", I think that this is a giant step forward compared to that album. Here they are stretching their musical boundaries a step further, with complex compositions and outstanding musicianship. Keyboard player Alfonso Vidales is better than ever, so are the guitarist Francisco Hernandez and drummer Jose Antonio Bringas Caire. But most of all, the vocals have never been this good before as they became on this album. The album has got four long tracks composed by Alfonso Vidales, and as a bonus track, a CAMEL cover: "Another Night". Best track: "Transparent Symbols". This is one of my favorite releases of 1996, and it has got their best cover painting up to date. This is a band that Mexicans can be proud of. Highly Recommended.
Greger Rönnqvist
I heard so much about this band on progressive forums that I decided to get one to see for myself. I must say I was disappointed. So I thought it might "grow on me"... but it still doesn't. This is neo-progressive with that typical guitar sound you get with Pendragon albums but also lush keyboards accompanied by melodious flute playing. The songs give you a feeling that they've been stretched and that they don't really have a structure. They do, but there's too much repetition. Cast have decided to sing in English for our American friends (or should I say market). Unfortunately, the singer has problems of pronunciation which is underlined by imperfect English (on a grammatical sense)... Why can't bands just simply stick to their native language which they master ? I might buy another Cast album if they decide to sing in Spanish... As for you, well, you can have a try if mispronunciation and poor English doesn't upset you. I've heard they've changed their lead singer recently.
anglagard05
I can no longer fully ignore the horrible and mispronounced lyrics, but they serve as brief interludes between the instrumental sections, which are good. Keyboard parts are always good with these and there are some nice flute parts here too.
blingdomepiece
Well you could also add or erase an half star: in fact this jazzy prog rock album by the Mexican ensemble (dated 1996), despite of being probably their most inspiring album, nevertheless is characterized by some uneven breaks through (think of "The North", a bit garish in the second part) and as usual with the "aggravating" circumstances regarding prominently a few prolix parts too, making the whole work a controversial album. After several issues it seems They always want to show their skill:ok their technique is remarkable (sometimes beyond their own limits), but the indulgent gratification with themselves is always hidden behind the corner...I like the flute by Carlo Brassea in the last suite "The Mirror's House", otherwise not as much as the accented and imperfect English from their Country-Mexico, regarding the lyrics...well it's the same defect as within for instance the best album by Deyss -"Vision in the Dark"- or in a few tunes by After Crying, sung in English. However, apart from all these notes, I like to remark the positive features inside: first of all the interesting rhytmical section, which is perfectly inserted into their varied music puzzle, created by fourth suites; secondly their fine track "The Rescue", which is characterized by an instrumental thrilling number, in spite of the weak vocalism (a bit better within "Transparent symbols"...), but this latter doesn't compromise the final output.
Very interesting work, even though They are self indulgent with themselves when They show their most technical passages...nevertheless the present issue can be regarded as the best example of the derivative style inside the Mexican New Prog scene!!
Lorenzo
I heard so much about this band on progressive forums that I decided to get one to see for myself. I must say I was disappointed. So I thought it might "grow on me"... but it still doesn't. This is neo-progressive with that typical guitar sound you get with Pendragon albums but also lush keyboards accompanied by melodious flute playing. The songs give you a feeling that they've been stretched and that they don't really have a structure. They do, but there's too much repetition. Cast have decided to sing in English for our American friends (or should I say market). Unfortunately, the singer has problems of pronunciation which is underlined by imperfect English (on a grammatical sense)... Why can't bands just simply stick to their native language which they master ? I might buy another Cast album if they decide to sing in Spanish... As for you, well, you can have a try if mispronunciation and poor English doesn't upset you. I've heard they've changed their lead singer recently.
Jean-Francois Cousin
This is Cast fifth album already since they started to record as such (in 1994). But since they were playing for a very long time together, lots of material was ready for release and it was without any difficulty that Cast produced their first seven records in just over three years. I must add, to be honest that not all of these recordings will be great ones.
This album is mainly made of three songs, each one being divided into several pieces.
"The Rescue" is made of "Introduction" which is a pleasant instrumental displaying the virtuosity of the musicians. A complex structure a la Crimson for most of it. Still, a nice piano break as Emerson could have imagined will follow to close and lead the way for the next movement "Seventh House Of Huitzilopochtli". This is a pure jewel of a track. Full of harmony, of beautiful music. It has more to do with symph prog than with neo- prog IMO. But this is true as well for lots of Cast songs.
This section is VERY similar to a PFM production from the early days, which is a sign of quality of course. This is my favourite portion of this album. A fantastic and poetic one. It could have been a never ending number...
The tempo of the third movement "The Rescue" is quite different. The wild intro featuring a crazy guitar, makes me think instantly to Yes and the so typical Howe's play. Actually, the whole track will be of this vein. Again, there are worse references...The last section (three minutes) will again feature similar vocals to the ones of Franco Mussida on the two PFM "English" period : "The World..." and "Chocolate Kings".
This very long epic (over twenty one minute) is really a jewel of a song. Probably the most achieved one of the band so far.
I have the same feeling for the first part of the song "The North". The section "Northern Place" is a continuation of the previous track (at least in the philosophy and influence).
The second movement is rather chaotic : "All The Way From Nowhere" starts very nicely : lots of tempo changes from pure symph prog to classic music. But all of this is so melodic, so sweet. It will suddenly become a bit loose while attempting to experience some funky mood.
By then, it seems that Cast has completely lost control. It sounds as a semi-organized cacophony, but the track is basically going absolutely nowhere. It turns to be complicated for the purpose of making it complicated. It is a real pity that Cast did not stick to the magnificent first two minutes of this section and expanded on that base.
Instead, they have made a fine mess of it ! It partially screwed this second track which had started very promisingly.
The third track, "The Mirrors House" opens with "Marcato"which is a pure classical part. It sounds as a midle-age madrigal. Not a single second can please me. Horrific, really and completely lost here.
The second part titled "The Mirrors House" is the longest piece of music of the whole album. It will take a while to really kick off. Over four minute of a dull intro (instrumental as well as vocal). Fortunately, it will get far much better after this. Cast is made of very skilled musicians, and they will all have the chance to prove it here. Be the rhythmic section, be the great and aerial keys, be the nice flute. The guitar will be on the forefront for just a little while at the end of this long intrumental break (almost four minutes).
But when the vocal part will come in again, it will partially ruin the effort of the whole band. I am not usually too harsh with Dino, but in this particular piece he mostly sound real bad.
But even if I should put this aspect aside, I find that the track is lacking of depth and harmony. It shows maestria, I agree but it sounds more as if each member is trying to supersede his colleagues. Each at his turn. It also sound very strange that a track lasting for more than thirteen minutes ends so abruptedly. It sounds like if it were a demo session.
"Transparent Cymbals", is pretty much "Gentle Giant" oriented. Especially the vocals. Not really my cup of tea.
The closing number is a tribute to Camel. A cover from "Another Night" coming out their good album "Moonmadness". Not too bad.
Cast has some times the same defect as other bands who seem to believe that it is absolutely necessary to produce very long albums (or even double albums). I have this feeling with Mostly Autumn and The Flower Kings as well. I rather prefer a fifty minutes long work which is very rich in its content than rounding up an album to over seventy minutes (sixty in this case) of which twenty are fillers.
I consider this album as almost a tribute to PFM during the most interesting part of the album. So, if you are into PFM as well, you might love "the Rescue". But this album is not consistent enough (especially the second half of it).
ZowieZiggy
This is the only Cast album I own, and it does not whet my appetite for other acquisitions. The group consists of very talented players who seem to really want to produce quality music with feeling, but most of "Beyond Reality" collapses under the weight of excess instrumentation and emotional burnout. Almost the whole recording is "up". The concept of contrast and subtlety is practiced only briefly within songs, other than the beautiful "The Mirror's House: Mercato" and the heartfelt ballad "Transparent Symbols". It's a shame because singer Francisco Hernandez has a very strong voice that is not properly showcased, and some good melodies are wasted.
This album by Cast would have benefited from a trimming down, and application of the concept that sometimes, nay, often, less is more.
Keneth Levine
Cast is one of the most prolific and why not intresting symphonic/neo prog band Mexico ever had in last 20 years. Releasing almost every year an album since 1994, even 2 albums a year Cast proves that they know from the start how to make good music and offering some very worthy albums. I considered Cast to me little under rated, really thay participat to the revive of prog rock music in the'90's and with all that they had only moderate succes world wide. One of their better albums from the catalogue and since I've first spin it one of my fav from them is Beyond reality from 1996. From the excellent cover art to the music Cast did a great job here. The instrumental sections are great, symphonic prog very well melted with some neo momenets here and there. I like a lot the vintage sound of the album, how keybords were constructed in combination with the rest of the instruments, no weak parts for me here. I'm not bothered by the voice like others said, ok the vocal passages are not the main attraction here, but are well sung and has it's moments of beauty. Now the instrumental pieces and instrumental sections are truly great, each musician offers his best moves just to be checked the opening track Introduction, what a nice and intresting little pieces with lots of keybords, inventive drums and brilliant guitars. The album goes in this direction from start to finish, plenty of memorable moments, musicianship is top notch so no complains from me. They did also a Camel cover Another Night who sounds pretty ok in this context. So 4 pieces only divided in smaller parts, but worthy every second. I was very pleasent surprised about Cast music, even I know them for quite some years only now I had the time to make a proper review of this excellent band. 4 stars easy in same league with their next album aswell very good Angels and demons. They need more recognition, much better them many well know bands from this realm.
Bogdan Olariu
I agree with prog veteran last review. I don't understand why CAST is so under estimate, maybe the reason be the low record quality in some of your work (perhaps Four Aces is the bigger example). However, this problem is easy to solve with good equalizer. Return to the main object of this review, the sound of Cast is in the most accurate sense of the word; Magnificent !!! In Beyond Reality you can feel cleary this magnificence as soon as the music start, first track grow in a upward curve lead the audience in a symphonic prog in the vein of the masters of 70"s (YES,GENESIS. E.L & P etc...). The sound acquire a new approach with the use of new technology of istruments. From this point in front a mix of keyboards and guitars textures and a vigorous rythm section building a wall of sounds wich shows in a moment a children choir who remindsme angels !!! The music follow in great style in all of tracks. Due this appreciation my evaluation is a 5 stars record !
Maryes
This is for me the best album of Cast. I really like this band but if i have to tell something against them, i must say they are not a basical difference between an album and each other one. But this one is the real exception. Here the band sounds really inspirated. The spirit behind the music is once tragical, epical, sentimental, nostalgious, sad... A lot of emotions. And i respect any other opinion (i read before the rate of someone who didn´t like the album) but i would like to recommend "Beyond Reality" to every fan of progressive rock. At least, try to hear it.
Rodolfo
Why CAST is not so recognized like the F. K. ? One answer is studio sonic and engineering limitations to capture and record such grandiose CAST outputs. I'll dream : " oh, if CAST had a Swedish studio and Mr. Alan Parsons to be the director band, producing, cutting excesses, retaining only the most grabbing material making shorter and less CD's". Remind part of Pink Floyd "Dark side of the moon" huge success is attributed to Alan Parsons production.
Once musicianship is stellar, I want to believe if the above dream was materialized, CAST would be considered as one of the best CD era bands. So few reviews for CAST brings me to mind the 3rd track refrain from TEMPUS FUGIT "Chessboard" cd : "We live in an unfair world?..". Ah-ah; oh no, the Murphy law has no fun.
My CAST discovery history in curious. Around 1996 I was in RARITY store (yes, the one that reissued BACAMARTE "depois do fim") My Brazilian friends told me CAST was great; on RARITY shelf among lots of prog Cd's and vinyls, there were 5 CAST cd's. I had to risk on one, randomly I picked up "Four Aces". I see it gets in P.A. the lower rating (today is 15/08/2009) among more than 16 CAST cds ;-) ! But I consider "Four Aces" a cool record (***), principally if you consider that in 1995 it didn't exist nowadays 70's professional cloners enormous number of records.
The some neo prog that appeared in "Four Aces" had gone in my next purchase "Beyond Reality". At the time, 1996, my prog head friends in general considered this record as a masterpiece; in P.A. it gets 11 ratings with 3.25 stars (in 15/08/2009). "Beyond Reality" demonstrates CAST feeling very proud to put out an ambitious, conceptual, symphonic, epic, emotional driven, bombastic, complex music. The music could be described shortly as a PFM (latin richness prog)/Genesis/own style formula. The Rescue runs in total 21:20 divided in 3 parts : 1. introduction ? Massive instrumental ala PFM/Genesis/own style; 2.to the 7th house ? fantastic polyphonic vocals, wonderful melodies from heaven beauty; 3. the rescue ? too much symphonic emotions.
The track "The North" runs almost 14 minutes including track 4 ? surprise this is also majestic with a bit of Mexican troubadours going to typical CAST powerful prog; track 5 the same PFM/Genesis/own style massive attack. Track 6 a medieval with Mexican flavor sympho rest moment.
"Beyond Reality" already till track 6 with 40 minutes ran, perhaps could finish here (hum, ok plus track 8) as I feel blown away. But there's more : track 7 is great but I feel tired of the massive formula; track 8 is beautiful good to relax; the last Camel cover track is dispensable. I'll keep 5 stars to "Beyond Reality" as some CAST cd's are underrated and only the most recent work "originalis" gets the more than 4 stars status in P.A. so far. My highest honor to ALFONSO VIDALES (composer) and friends.
Mario

En esta semana seguiremos tratando de conformar toda la discografía, mientras tanto, aquí tienen un muy buenb disco para que no se aburren mientras esperan el resto de los discos.