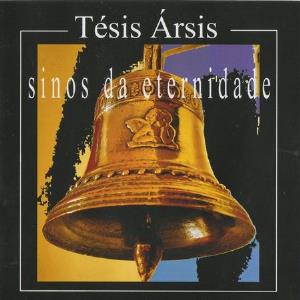 Progresivo sinfónico brasilero para empezar el día. Sandy resube un buen disco de rock sinfónico clásico para el que le guste el estilo...
Artista: Tesis Arsis
Álbum: Sinos da Eternidade
Año: 2011
Género: Progresivo sinfónico
Duración: 74:21
Nacionalidad: Brasil

Lista de Temas:
1. Eu Acredito
2. Lágrimas
3. Homem Vencedor
4. Extremo Sentimento
5. Hipocrisia
6. Sinos da Eternidade


Alineación:
- Anderson Rodrigues / keyboards & electric guitars, basses & drums programming


... Brasil, ¿porqué no seguir allí? de paso nos imaginamos en sus playas... y ni hablar que se viene el mundial. En fin.
Cierta vez había definido los discos de este proyecto como "progresivo para principiantes" por ser un sinfónico instrumental agradable al oído (como les gusta naturalmente a los brasileros) y melodías fáciles de digerir y escuchar. Toda una orquesta llevada adelante por un sólo hombre: Anderson Rodrigues, quien además es el compositor de todos los temas, y además seguidor de este blog (lo he visto por uno de los cuadraditos de las redes sociales). Pero no por ser de fácil escucha deja de ser de menos calidad, si te gusta el rock sinfónico llevate este disco sin dudar, yo sé lo que te digo, tiene muy buenos temas, una rica gama de sonidos y texturas, una ambientación adecuada, pomposidad, muy buenas melodías, siendo un disco muy entretenido y que no aburre.


2011 album from Brasillian neo-progressive rock combo, like CAST and GENTLE GIANT.
Born on May 1958, Anderson Rodrigues (Rio de Janeiro, Brasil), grown up in a family with mother and grandmother playing the piano and he used to go to sleep listening to classical music. At 10 years old his uncle presented him with his first acoustic guitar and he started to play his first accords, learning by himself how to play it. At the age of 12, he starts to play the drums in a cover group, performing presentations in small local clubs. In July 1972 his family moved to another city (Brasilia, Brasil). At the age of 16, he begun to compose his first musics. From this moment on he starts to dedicate himself to the acoustic guitar again and enters the Brasilia Music School, studying classical guitar. Back to the city of Rio de Janeiro (Brasil) in the 1980. In this decade he continues to intensively compose musics, varying from prog rock, hard rock, new age and even pop/folk ballads and enters the Villa-Lobos Music School, studying classical piano, musical theory and harmony. The period of 1989 and great part of the 90's was important due to the close contact with friends and good music fans. This is also the time Anderson buys his first electric guitar and his brother Gelson his drums.
errny

Como resumen, le puedo decir que todo aquel que guste del sinfónico clásico, este disco les caerá de muy buena manera, porque en la onda que apunta está muy pero muy bien. Y estamos en la búsqueda de su otro disco, llamado "Sinos da Eternidade" que data del 2011. Si alguien sabe de su paradero, que avise!



Un disco recomendado sobretodo para los que gustan del rock sinfónico clásico, pero que no defraudará a nadie, muy buena instrumentación, teclados maravillosos, en definitiva, un disco que chorrea buen gusto por donde se lo mire. Yo les recomendaría que no se lo pierdan.

www.myspace.com/tesisarsis