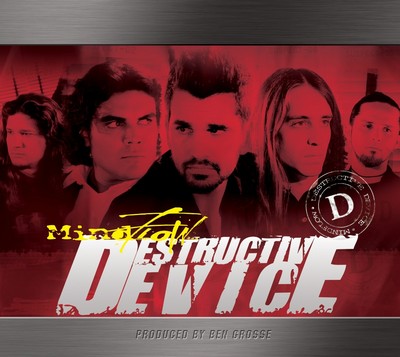 Nuevamente metal progresivo brasilero para nuestros amigos metaleros, cantado en inglés y con buena producción, Sandy nos resube un disco que le ha gustado.

Artista: Mindflow
Álbum: Destructive Device
Año: 2008
Género: Metal progresivo
Duración: 70:36
Nacionalidad: Brasil
Lista de Temas:
1. Destructive Device
2. Lethal
3. Breakthrough
4. Under An Alias
5. Inevitable Nightfall
6. Said & Done
7. Fragile State Of Peace
8. Not Free Enough
9. Inapt World
10. First Things First
11. Shocking Death Bed Confession
12. The Screwdriver Effect


Alineación:
- Danilo Herbert / vocals
- Rodrigo Hidalgo / guitars
- Ricardo Winandy / bass
- Rafael Pensado / drums
- Miguel Spada / keyboards


Bueno, ya he presentado a esta banda brasilera que cantan en inglés y parece yanki, son buenos aunque no originales, y hacen un estilo que no me llma la atención, pero bué, están ahí, y a cualquiera que le guste el metal progresivo le puede interesar porque están bien centrados en ese estilo.
Siempre tendremos algún cabezón que guste de estas cosas.

Vamos a un par de comentarios y al disco, ¿para qué perder tiempo?


Having bombarded myself with many symphonic prog albums recently, it's time to break with metal related album like this one by Brazilian Mindflow. Well, I had actually been listening to this album previously before I was shocked by the beauty of Simon Says music couple of weeks ago when I wrote pretty long review about it. But now it's time returning back to Mindflow so that I can skip to other review.
One thing, for sure, that hooks me to this album is the melody of almost all songs it contains that fits with my taste - and this is probably very objective as people having different taste when it comes to melody. This is not the first time I experience this feeling as it happened also with my case when I listened to Dali's Dilemma for the first time. I am not saying that the other elements of the music not good - they in fact compliment one another. Take the harmony side of the composition, I find it very interesting as the combination of musical riffs resulting from guitar or combined with bass guitar and keyboard is very good, I think. In terms of complexity, this is actually not that complex but it runs in typically fast speed like metal music - you can see how the double bass drums sound like any other power metal music. There are relatively many changes of style in the songs and the transition pieces work smoothly so that they don't sound disconnect from one segment to another. The album has a solid structural integrity in each song as well as an album as a whole - it sounds like a concept album.
The melody and the harmonies are excellent ...
If you ask me which songs are the best cuts, it's hard for me to recommend but I really enjoy listening this album from start to end. The opening track 'Destructive Device' (6:44) which starts with an ambient mode, moves beautifully when all the instruments start to blast and bring the music in an energetic way. The momentum is well maintained when the album moves to the second track 'Lethal' (5:29) and it then breaks into slower mode with 'Breakthrough' (5:09). For my personal taste I do really love the fourth track 'Under An Alias' (4:05) and two things: the beautiful opening which actually the riffs and the chorus line especially when the growling vocals enhanced the music. It's really nice!
'Inevitable Nightfall' (5:40) brings the music in heavy mode with guitar riffs. Again, I like the chorus line especially when it's combined with guitar riffs. 'Said & Done' (5:19) is another track with excellent heavy riffs, growling vocal and nice melody. 'Fragile State Of Peace' (6:05) starts with catchy piano intro combined with synthesizer follwed with dynamic music. While 'Not Free Enough' (7:09) puts keyboard as main rhythm section followed with musical riffs as a result of guitar and bass guitar. The song moves dynamically with some staccato segments. 'Inapt World' has nice keyboard work. 'Shocking Death Bed Confession' (11:50) sounds like an epic with narration on the intro part - an interesting and enjoyable track, really. The album concludes with a narration 'The Screwdriver Effect' (3:06).
Overall, this is an excellent album. It has nice melody and balanced harmonies combining great keyboard work and guitar riffs. For those of you who like progressive metal, this is one of my recommendations. Keep on proggin' ...!
Gatot Widayanto
Destructive Device was produced by Ben Grosse (Marilyn Mason, Slipknot, Disturbed, Breaking Benjamin, Sevendust) and was recorded and mixed both in Brazil and Los Angeles (The Mix Room).
Destructive Device, the new album from the Brazilian band MINDFLOW, is more than just an album packed with socially critical ideology. It is a project boiling over with aggressive lyrics and themes. The device is one of the clues, the piece of a puzzle that lead to the discovery of an intricately woven web of intrigue.
MTV demo

Como dije antes, a mi el metal progresivo no me va... y este está cantado en inglés, tiene mucho cliché, y suena más o menos como cualquier banda gringa del género. Pero, lo que hacen, lo hacen bien.

https://myspace.com/letyourmindflow
www.mindflow.com.br