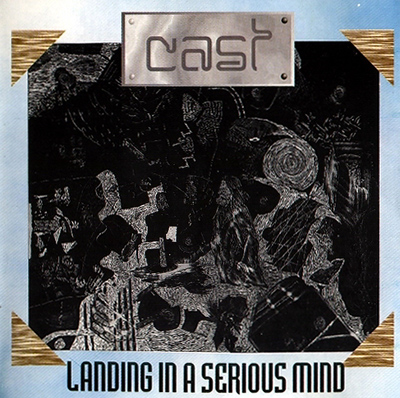 Artista: Cast
Álbum: Landing in a Serious Mind
Año: 1994
Género: Rock sinfónico
Duración: 66:11
Nacionalidad: México

Lista de Temas:
1. The Magic Is Gone
2. Rest In Your Nest
3. I Just Wanna Be
4. At Last Alone
5. Not Sleeping
6. Just Another Way
7. Do What You Like
8. Athens
9. Reunion
10. Chris Col


Alineación:
- Dino Carlo Brassea / lead vocals
- Francisco Hernandez Reyes / guitars, lead vocals on "Just Another Way"
- Luis Alfonso Vidales / keyboards
- Jose Antonio Bringas / drums and percussion
- Rodolfo Gonzalez Quiroz / guitar on "I Just Wanna Be"

No recuerdo quien, pero alguno de nuestros amigos (entre otros... Bruce quizás?) nos habia pedido que resubamos la discografía de Cast. Tuvimos que esperar a que se destape Sandy para darles la alegría. Así que a la pila de discos que este buen hombre resubió sin cesar, se le suman varios de los discos de la banda mexicana. Así que ahora volvemos a tener mucho Cast para el que lo quiera...

Este fue el álbum debut de CAST, la prolífica y reconocida banda mexicana. Un álbum sencillo y sin pretensiones, embrionario, pero con una visión interesante y concibiendo ya un estilo que sería reconocido como propio a lo largo de su historia, por ejemplo, ya tenían esa maldita costumbre de cantar en inglés, cosa que aborrezco salvo en muiy pocos casos que hacen valer el dejar de lado su lengua natal. Incluso, creo que este álbum sería mucho más interesante si fuese cantado en castellano, pero a esta banda siempre le gustó cantar en inglés.
El álbum no es descollante pero tampoco está mal, no tiene sorpresas pero tiene algunas lindas melodías bastante típicas y relajadas. Vidales ya se perfilaba (o era, no lo sé) como el lider de la banda y presentaba ese toque de virtuosismo en las teclas, al menos de vez en cuando. Muy buen trabajo de guitarra que de a momentos tiene un estilo y un sonidoque va entre Hackett / Howe pero está en una roca popular y formato de rollo mayor parte del tiempo. A su vez, desarrollan un sonido que va entre Genesis y Kansas con buenas ideas pero una evidente búsqueda de personaliad que luego encontrarían a lo largo de su largo camino, pero aquí trazan de manera muy bien definida la senda que tomarían en el futuro.
Varias canciones tienen interesantes introducciones, desarrollos o finales, pero en general las canciones carecen de ese fuego que estremecen y nos hace recordar un álbum por mucho al mismo tiempo que queremos volverlo a escuchar,



Como siempre sería en los futuros álbums de esta banda, los momentos instrumentales son los mejores, pero no porque tenga pobres desarrollos melódicos, por lo menos en esta placa es como que falta algo de fuego en canciones que están llenas de combustible pero como le falta esa llaman necesaria para encender la fogata. Sin embargo, no me malentiendan, tiene buenos momentos y es una muy bonita música como para dejar de fondo mientras uno hace algo. El problema que tiene el álbum es que le falta algún ingrediente como para que sea más picante, es ciertamente algo rico pero medio falto de gusto, como para ponerlo de manera gráfica y gastronómica.
Pero claro, fue solamente la opera prima, el punto de partida, y tenemos que tomar eso en cuenta.


Álbum oficial de estudio #1 de CAST, grupo mexicano alineado en esta realización por Luis Alfonso VIDALES (teclados), Dino Carlo BRASSEA (canto), Francisco HERNÁNDEZ REYES (guitarras, canto en 'Just another way') y Jose Antonio BRINGAS (batería, percusiones), más Rodolfo GONZÁLEZ QUIROZ (guitarra en 'I just wanna be') […] "Esto fue el primer álbum oficial del grupo en 1994. Grabado totalmente en "Castudio I" en donde César CÁRDENAS instaló y operó con ayudas de asesoría de Román ROMERO" (1).
Manticornio

Ahora, si me perdonan, pasamos a algunos comentarios de personal externo al blog cabezón, pero siempre sirve para que uno no pierda tanto tiempo escribiendo algo que otros ya tipearon:


Este fue el primer álbum oficial del grupo en 1994. Grabado totalmente en "Castudio I" en donde Cesar Cardenas instaló y operó con ayuda de asesoria de Román Romero. Fueron diez temas que dieron nacimiento a esta obra y que también reconocemos que se puso a prueba el equipo en donde aun había que aprender. Todos los temas fueron de reciente creación, lo que hizo muy atractivo al álbum. Participaron Dino Brassea, Francisco Hernandez, Rodolfo González, Antonio Bringas y Alfonso Vidales, teniendo como invitado a Javier Rosales en un tema. Creo que el grupo vio el potencial que se tenía en ese momento y que en grabacion tambien demostraba mucho. El Trabajo Grafico en interiores fue de Enrique Slim y la Portada fue de Gaston Goldsmith de "Los Sueños del Viejo". El título fue idea de Francisco Hernandez. De allí "Chris Col" se convirtió en un tema de concierto y su titulo obedece a la palabra Cristóbal Colon abreviada en inglés. Todos ya contábamos con experiencias en grabación lo que facilito todo el trabajo. Landing in a Serious Mind fue remezclado y remasterizado en el 2005 por Julio Camacho, además se rediseñó la imagen, con ilustraciones de Enrique Slim.
Sangrepesada
CAST first CD was released under their own label in early 1994, and features CAST's current band member lineup. Most notables are the Steve HACKETT influenced guitarist Francisco Hernandez Reyes, the singer Dino Brassea and the talented Alfonso Vidales on keyboards. This album is rather average, and not one of their best releases, although in contains some classic CAST tracks. Best pick: "Not sleeping", "Just another way" and "Athens" (the albums best track).
Greger Rönnqvist
Cast is one of the few prog-rock bands from Mexico. And a good one, I must say. The main reason for which I was first interested in the band was that they had pretty good reviews on PA, and that my wife being Mexican, I have also had a special feeling about what will become my second home in some future.
Cast will be a rather prolific band, releasing almost one album during each year of their career (still running to-date). Especially during their first years. Since they played together well before their first release, they probably had lots of material available (six albums, and long ones) in a mere two years !
They will decide to sing in English, for obvious reasons. Big Brother is just North, and to sing in Spanish would have cut them from a huge potential. Still, I do not know how well there are doing in terms of sales since this band is rather discreet : little information on their web-site, little touring in Europe. They are almost unknown over here. Even on this site, very few reviews are posted. Maybe that their lack of commercial success will make them change their minds since they revert to Spanish lyrics later on in their career.
"At Last Alone" is an intrumental number that sounds more like ELP in its introduction. It turns out to be a very light and subtle piece of music int the second part (with some flamenco guitar sounds). It turns out almost like an Italian prog band. Maybe the Latin influence ? One of my fave on this album (but there won't be much).
ELP is also close for "Not Sleeping" : a jazzy intrumental number with good bass and percussion, some marimba (this is a Mexican band, right ?) but emotionless.
The longest piece is "Just Another Way" : it opens on a long (over three minutes) and uniform (dull) church organ intro. The vocal part that follows is nice but a bit boring and monotonous. Some flamenco guitar sound are welcome to bring a bit of diversity but the finale is quite hectic, structureless and flat. I'm afraid that so far this album is not really convincing.
"Reunion" is more appealing : aerial at start, good background piano and a nice bombastic finale (again a la ELP).
This first album is average : it does not contain lots of outstanding numbers (although the opening number is rather nice, with subtle keys in the intro and very inspired vocal part). No bad ones either. The poppy closing number "Chris Col" brings some fresh air in this work.A bit childish maybe.
The architecture of their songs is sometimes complex but the best of their work will be achieved later on.
The main source of inspiration might well be Renaissance and its classical approach but with a male vocalist. Genesis from the "Wind & Wuthering" era as well . But only for a few numbers ("Rest Your Nest" and maybe "Athens") and ELP as I have already mentioned.
This band surely deserves a try but this album is probably not the one I would recommend to discover their work. As I am almost Mexican (half, actually), I will round up this effort to three stars.
ZowieZiggy
When I read some reviews about CAST'S debut album, I thought that it was mediocre at the best, but still by insistence of a Mexican friend, dared to buy a copy of "Landing on a Serious Mind", something I will never regret, because the album is delightful, the vocals are good, but the instrumental breaks are outstanding.
The excellent interplay between the talented Luis Alfonso Vidales on the keyboards and Francisco Hernández Reyes on the guitars is elaborated with undeniable skills and technique. The Mexican elements in the music and the acoustic guitars with Flamenco reminiscences are delicate and introduced in the right moments avoiding abuse, in other words composition and arrangements are absolutely capable.
The album starts with "The Magic is gone" something that I believe is a contradiction with the opener, because the magic is just starting. After a delicate and very original introduction based mostly on keyboards and piano Dario Carlos Brassea in the vocals and Francisco Hernández Reyes add a passage clearly reminiscent of PENDRAGON'S "The Masquerade Overture" (Between Paintbox and The Shadow), but then evolves in something different and absolutely fluid, as the song advances, the vocals keep getting better and better and the aggressive guitar makes a perfect complement.
"Rest in Your Nest" starts more or less in Waltz tempo, but as the track advances keeps getting closer to some sort of Pompous Symphonic with echoes of Europe, with Brassea sounding very close (in vocal range and despite the strong accent) to Nick Barrett. Another solid number.
"I Just Wanna Be" brings us back into Neo territory again close to PENDRAGON, but this time to their softer side with sudden and surprising vocal explosions, the drumming by José Antonio Bringas collisions with the heavy guitar by the bassist Rodolfo Gonzalez Quiroz and Latin styled keyboards, not as solid as the previous two tracks, but still very good.
"At Last Alone" is a radical change, begins pompous and melancholic simultaneously, the acoustic guitar on the background playing in the vein of Flamenco musicians adds a wonderful touch. After a few seconds the song turns into a powerful ballad with elements borrowed from "A Trick of the Tail", just to change again into an "ALAN PARSONS PROJECT" inspired piece of music with more complexity.. "At Last Alone" changes over and over proving us that this guys know what Progressive Rock means, specially each time Luis Alfonso Vidales uses the Moog with great dexterity.
"Not Sleeping" presents us a different sound, this time they irrupt into Jazz/Fusion territory with some elements of "JEAN LUC PONTY" but with a Latin touch, the drumming by José Antonio Bringas is simply spectacular, a frantic violin (probably synthesized because it's not credited) blends perfectly.
"Just Another Way" the longest song in the album, is a pure Symphonic piece of music in which Luis Alfonso Vidales plays an extremely beautiful piano, that blends perfectly with the vocals creating a dramatic and melancholic song with some ELP reminiscences and a lot of CAST make of this song a real pleasure to listen.
"Do What you Like", "Athens", "Reunion" and "Chris de Col" have a lot in common, a clear Symphonic sound. with huge Classical influence and a touch of King Crimson, four tracks that seem taken from another album, to the point that I believe are from a different era of the band, being that CAST story begins in 1978, but this album was only released in 1994, an excellent way to close "Landing on a Serious Mind".
Most reviews I read, describe CAST'S debut as a mediocre album, something with what I totally disagree, maybe their later albums are even better, but "Landing on a Serious Mind" is a strong album from start to end with no weak moments, and that in my opinion deserves no less than four very solid stars.
Iván Melgar
CAST are a mexican band and maybe the most creative one as they have released so far 16 studio albums in fourteen years (!!!) between 1994 and 2008...Creative?Well,listening to the their debut I doubt if this is the right word...It's like a band which wants to play prog but don't know how...The only things that worth in this album is the instrumental ''Athens'' (don't get excited,just an average symphonic prog instrumental track) and a couple of interesting guitar solos and keyboard/piano passages...As for the rest of the album,this is full of cheesy and dull ballad-like tracks and too weak vocals very much in the pop/AOR vein,that I can't listen to them over 3 times...
It's obvious that the band is influenced among others by GENESIS and neo prog in general but they don't know how to create symphonic arrangements...A couple of keyboard or guitar solos mean nothing to me,that ain't prog...Apart from the pop/rock sound this album suffers from really horrible production that makes the whole listening even more painful!...I really can't recommend this album to anyone,even for collectors of the band,as this one has not that much to do with good progressive rock,should be categorized perfectly as a AOR/melodic rock album
apps79
Due to the lack of support from the Governments who see art as a way to get more taxes or private industry who prefer to invest in foreign acts, and the difficulties to reach the USA or British markets, it's unusual for a Latin American band to have a long and prolific career, but 31 years and 15 studio albums make of CAST from Mexico, one of the exceptions to this rule.
The story of CAST begins in 1978 when the first golden era of Progressive Rock was agonizing, when the Keyboardist Alfonso Vidales had the idea of creating a Rock band that blended Symphonic passages in order to keep his beloved Prog alive.
Very little information can be found about the first 16 years of their existence, until 1994 when "Landing in a Serious Mind" is self released, an album that presents us a serious Symphonic band with an original sound, maybe the only problem is the strong accent when singing in English.
1994 and 1995 are years of great activity for CAST, the band releases 5 albums, the already mentioned, "Sound of Imagination", "Third Call", "Endless Sounds" and "Four Aces", what makes me think this material was recorded during the previous years.
After two more albums and three years, the band signs with Musea for the release of "Imaginary Window" in 1999, an album that shows us a band that leaves behind the few Neo Prog leanings to embrace fully the Symphonic genre
The years keep passing and still in 2009, the band is preparing a new album that will be called "Cast Arte" and knowing the band is, we have CAST for several years more.
Being such a prolific band, it's hard to define a unique style, because the have evolved through the decades, performing Baroque, Medieval, Ethnic, Fusion, etc, but always keeping the unique sound in which we can here references from ELP, GENESIS and several more bands, but to be precise, I believe it's more the sound of the 70's rather than a direct influence from any band.
No Prog collection is complete without a least three or four albums of this Mexican band who defied time and won
The Savory

En definitiva, un buen álbum que no creo que defraude a nadie pero que no es de lo mejor aunque tiene buenos intentos. Especialmente indicado para los fanáticos de CAST y los hacérrimos del progresivo sinfónico... y también para el curioso que quiera conocerlos, esto viene de México con amor...