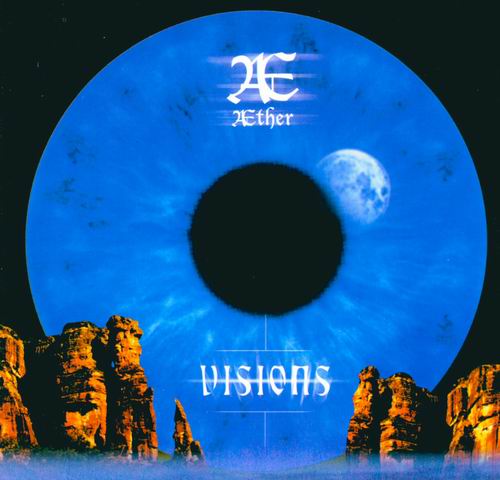 Artista: Aether (Æther)
Álbum: Visions
Año: 2000
Género: Rock sinfónico
Duración: 53:48
Nacionalidad: Brasil

Lista de Temas:
1. Millennium
2. Autumn
3. Whales
4. A Bright New Day
5. Trinidade Island
6. Kings & Knights
7. November
8. Altenburg Suite -The Arrival at the Castle
9. Altenburg Suite - Voices from the Past
10. Altenburg Suite - The Birth of a Morning
11. Altenburg Suite - The Sun of the Tower
12. Altenburg Suite - The Lake
13. Altenburg Suite - Essence of Freedom
14. The Woods
15. The Ocean


Alineación:
- Alberto Curi / keyboards & vocals
- Vinicius Brazil / acoustic, electric & synth guitars
- Fernando Carvalho / electric & synth basses
- Brandon Ramos / drums
Special Guest Musicians:
Eduardo Campos / piano solo and organ on "Essence Of Freedom"
Glauco Fernandes / violin solo on "The Lake" and "The Woods"

Y la maratón sandinista en Brasil continúa, bueno, recién empieza... Sandy empezó, ordenado como siempre (nada que ver conmigo, ovbio), lafabéticamente, y va recién por la "A"... bueno, en este caso por la "Æ"...

A esta banda la presenté ayer, éste fue su álbum debut, realmente con muy buenas críticas por parte del público y la crítica, como siempre copio algunos reviews para que no solamente se queden con mis palabras. Rock sinfónico con aire setentero y toques de Neo-progresivo es lo que les espera aquí. Para este debut la banda tuvo que llegar a los 20 años de existencia, en este caso esto no es negativo, y por ello podemos comprender lo que se refiere a algunos sonidos (especialmente esa guitarra tan llorona, a veces al estilo Hackett) y arreglos sinfónicos donde se respira el espíritu de los años dorados del prog. También aquí se escuchan los sonidos a los Camel y los aires a Pink Floyd aunque ahora también descubro algún sonido al estilo Oldfield,la serenidad y la melodía de Andy Latimer está en varias y reconocibles secciones. Pero, además, el Neo-Prog no es dejado de lado y sirve de puente a los pasajes más sinfónicos o clásicos.
En fin, aquí viven armoniosamente una banda de rock con las guitarras acústicas, tambores, suaves flautas, conmovedores violines, melodías con un estado de ánimo siempre positivo, relajado y cálido, quizás en un álbum un poco largo que casi casi empieza a aburrir cuando justo termina, dando como resultado un álbum que quizás no sea para escucharlo en todo momento pero que es especial para aquellos amantes de los sonidos más putos y cristalinos. Las letras también son en inglés y también está enfocado básicamente al estilo europeo de hacer progresivo.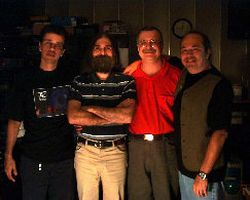 A ver, no tengo mucho tiempo de escribir, dejo un comentario en inglés (cada vez nos visitan más desde fuera de Argentina, yo los tengo en cuenta) y otro en castellano:


Aether are one of the standout Brazilian progressive bands, influenced primarily by early Camel and Steve Hackett. Like both, instrumental content takes precedence over the vocals, which are in English and bear some similarity to Camel's melancholy vocals circa Moonmadness. On their 1999 debut Visions, they add some elements not typical of Camel, such as violin on two tracks courtesy of Glauco Fernandes and some very beautiful, serene pieces
Kinesis CD
Ese post me costo un poco, porque no conozco casí nada del movimiento progresivo brasileño. En general, lo que conozco y es digno de este blog, no califica dentro del genero. Gracias a unas recomendaciones, llegue a estos 2 grupos, los cuales son excelentes; lo que no me gusta de ellos es que perfectamente pudieron ser originarios de Europa y nadie habría notado el cambio, dado que reflajan (por lo que logré escuchar) cero influencia de la rica tradición músical de Brasil. Esto, que para mi es malo, para otros puede ser muy bueno, dependiendo del gusto. El primer grupo, llamado Aether es un grupo con una fuertisima influencia de grupos progresivos clasicos, principalmente Camel; de hecho, el disco es tan bueno que perfectamente podría pertenecer a la discografía de este último y a nadie le parecería extraño. Es casi en su totalidad instrumental y las secciones con letras están cantadas en ingles y el tono vocal es muy parecido al de Andy Latimer. Con respecto a Bacamarte, este grupo tambien es bastante bueno, con sonoridades muy interesantes y con una vocalista con un timbre de voz muy rico (como ya he mencionado, mi debilidad son las voces femeninas); el uso de la flauta es realmente destacable. Ambos discos son filete y, por dar un dato freak, están en la categoría "Masterpiece" del progarchives.
MC Chato
Out of Brazil comes a new band called AETHER. They are playing a progressive rock that is a mix between CAMEL, Classical & New Age Music, Mike OLDFIELD, PINK FLOYD, UK and Rick WAKEMAN. The musicians are good although the drum sound sometimes reminds of a drum machine. The songs are often very beautiful, dreamy and "floating". There are a lot of different sounds: children playing, ocean-waves against the shores, birds singing etc., and together with the music it creates atmospheric soundscapes. My favorite tracks are "A New Bright Day", "Kings & Knights", "November" and "The Lake". Overall it's a very beautiful and relaxing CD that I think many would enjoy if they got the chance to hear it.
Greger Rönnqvist

Canciones épicas pero no tan largas como en su segundo disco, más orientadas a la canción pero dominadas por la larga suite "Altenburg Suite", muchas secciones instrumentales bien sinfónicas que enmarcan un rock progresivo con mucho clima que alberga connotaciones casi cinematográficos, amplios intervalos liderados por los teclados o a veces por la guitarra, tejen un ambiente donde la historia se teje en pasajes melódicos o atmosféricos que conectan con finos arreglos cincelados de rock, con un buen pulso para mantener la tensión de la historia que se cuenta canción por canción. Perdonen pero no investigué sobre la trama que aquí se cuenta, simplemente se nota que existe y se disfruta sin necesidad de mucho más. Si les interesa, pueden buscar por ustedes mismos.


Strange as it may seem but Visions took twenty years in the making! Musicians came and went all leaving behind a little seed which now blooms as Aether.
This Brazilian foursome mainly tries to create an atmosphere. This is mainly reserved to the lush, bombastic keyboards of Alberto Curi. Once the guitar is introduced it almost takes the drums in it's slipstream. "Whales" almost sounds like a classical fanfare yet the drums sound very synthetic which is a shame as it's a real drummer here and not a drum machine. I also don't like the fact the guitar is so distorted. That distortion seems like a trademark for Vincinius Brazil because it's also over the vocal track "A New Bright Day." All of the other material is strictly instrumental except for the poor narration in "Kings & Knights," a laidback song with Solution references. "November" sounds like Richard Clayderman on guitar; in other words: pure muzak. The following six songs are grouped as "Altenburg Suite" a very atmospheric piece and certainly the highlight on this album. The piece sports some nice arrangements as in "The Sun On The Tower," a wonderful violin solo in "The Lake" and some nice church organ and piano in "Essence Of Freedom."
There are some nice touches on Vision yet it is totally unacceptable that a band with a real drummer records its drums as if they were coming out of the cheapest drum machine. As a follow-up they certainly should be more daring. MUCH more daring !
John "Bobo" Bollenberg
Excellent Brazillian classic symphonic progressive rock with rich melodies and great instrumentation throughout. "Visions" is apparently an album made up of songs dating back over 20 years from AETHER's past all newly recorded and for the first time available on CD! Although the vast majority of the album is instrumental in nature, a couple of tracks do contain the excellent vocals of Alberto Curi. Songs are well written and played with a high degree of professionalism with some real nice guitar and keyboard performances. Although "Visions" is made up of shorter numbers in the 5 minute range, it includes a mini epic 6 part suite called the "Altenburg Suite" which is the center piece of the album. This number would make a great movie soundtrack in my opinion being so full or orchestration. In fact the album is really divided in 2 with the first half being slightly more electric and the second half much more orchestral. "Visions" is very well recorded sounding simply delicious with a wide dynamic sound and is clearly destined to be a classic
James Unger
AETHER (Greek) - Is the real quintessence of all possible energy; the Uneversal Agent which is possible for all energy manifestations of the material, psychic and spiritual worlds. One of it properties is the Sound.
This is basically a "best of AETHER" album of songs they have recorded over the last 20 years. Therefore it has become a superb album. Most songs are merely instrumental pieces, but there are magnificent vocals of ALBERTO CURI on "A Bright New Day" and "Kings & Knights". AETHER is also known as the "Brazilan Camel". Not hard to make this comparison once you've heard their music. If you like CAMEL and PINK FLOYD there's a big chance you will like AETHER as well. I see this album as a great introduction into Brazilian Prog- and symphonic rock!
Some other great Brazilian bands in the prog-rock scene worth checking out are: INDEX, TARKUS, SOLIS and TEMPUS FUGIT.
Martijn Martens
This is a collection of songs this band has done over the previous twenty years. Yet there is a surprising unity in this record. The band says "Each song represents a musical vision of an image, a moment or a situation".
There is the "Altenburg Suite" consisting of songs 8-13, which is a symphonic vision of one of Germany's old castles. There are also two trilogies."Whales", "Trinidad Island" and "Ocean" make up one, the other is "Autumn", "November" and "Woods". This is primarily an instrumental album save for two tracks. And one of them "A Bright New Day" really sounds like the MOODY BLUES to me. One of the guys plays a synth guitar which sounds pretty cool on "Trinidad Island" and "November". There are some orchesteral movements and some sampling(like birds and children playing) on this record, as well as some amazing piano and organ on "The Lake".
What i find interesting and rewarding, is listening to this album with the title of the song in mind, and trying to see what you hear.
John Davie
Nice surprise when this first reached our ears , being hotly recommended by the local prog store, who unbiasedly lives in Brazil 4 months of the year. The prog tradition there is very reminiscent of their attitude , a blend of creativity, passion and relaxation . Most Brazilians are so laid back , no wonder they have only soccer and sex on their minds. Aether features the uniquely melodious guitar stylings of Vinicius Brazil, whose Hackett/Latimer/Falsini style is even more aquatic , very upfront and cascades boldly through some very Camelesque material. The bassist is also a great player (very common to most bands from this country) and both keyboards and drums complement the arrangements well. But the "Guitarra" really steals the show, worth checking out , as this is a pretty original take on the genre. There is also an abundance of atmospherics of all types , very soundtrackish (generally a very good omen of quality)and a deliberate interest in creating astounding sounds and gorgeous melodies. The material has a hard to describe warm Halloweenish/gothic feel , as if a group of Celts and the girl from Ipanema decided to unite their talents !!! In ending, its the originality of their style and their sound that truly deserves praise. Definitely a band to watch. 4 cariocas!
Thomas Szirmay
The brazilian Camel has finally arrived!
Usually, when you talk about the major progressive rock acts from the 70's, some bands just seem to be, somehow, forgotten by people, just because they didn't have a flying piano during their live performances or because they didn't sold millions and millions of album or because they didn't have hundreds of copycats back in the days. Camel is one of those bands.
Although that may be true around the world, at least in this part of the Equator Camel is a fairly popular band among progheads and had surely been influential in this sunny land, as Aether can attest with their releases so far. In their debut, the band Aether shows us that they are heavily influenced my Camel's music in many aspects, from being mostly instrumental, to the type of singing (almost monophonic) and to the ethereal guitars and synthesizers. Also, in some degree, they seem to have some Floydian influence as well. However, unlike other modern bands who look to the 70's prog acts for inspiration, their music do not sound derivative.
There is, however, one big problem with this album: some songs sound way too generic. Don't get me wrong, the album is, overall, great, but some songs just sound like the generic 90's prog, like the songs Whales and November. Maybe that happened because they intended to make a broad approach, experimenting and trying the different aspects of their music instead of focusing in just some chosen few. That may be it, because this debut lack some focus, it seems to be everywhere.
The highlights go to: Millenium, Autumn, Kings & Knights, The Altenburg Suite and The Woods.
Grade and Final Thoughts
Being one of many prog bands that came to life in the 90's in Brazil, Aether was able to deliver a solid debut with great overall quality, but still a bit raw and lacking focus. That would be fixed in their next release, but that is another story. For a very good release like this one, i think 4 stars is a fitting grade.

Caio "Dot" César

Especialmente indicado si querés escuchar una linda música de fondo mientras hacés algo, o cuando simplemente se tienen ganas de escuchar música relajada, "Visions" tiene menos momentos pomposos que el que sería su próximo disco, es por ello que a veces puede resultar algo pesado para escuchar de lado a lado, como yo siempre hago (e imagino que muchos de los que visitan este espacio también), pero no por eso deja de ser un álbum muy interesante y bien realizado e ideado.

www.aether.com.br