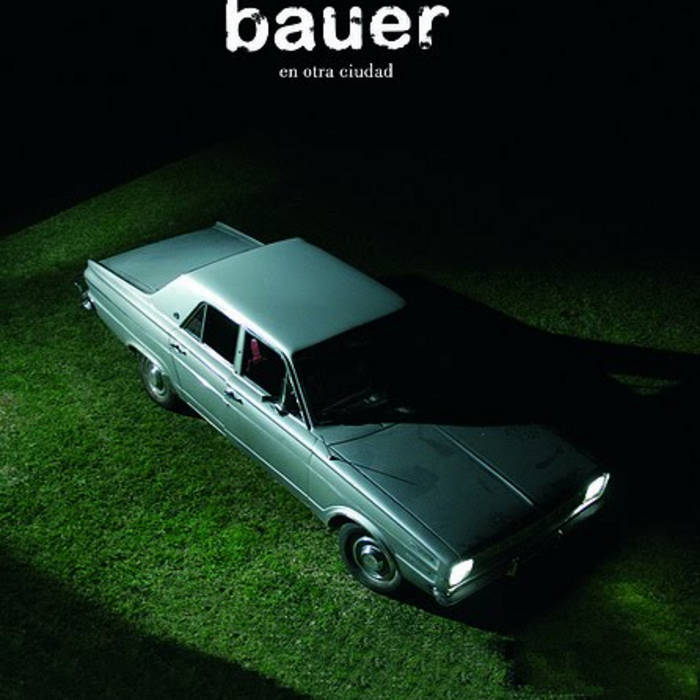 Otro disco que me habían pedido hace tiempo, una banda que hace poco se junto nuevamente para alegría de sus seguidores, en uno de sus discos. Yo tenemos activo "Astronauta Olvidado" y ahora "En Otra Ciudad" gracias a Sandy, con todo su estilo que los hizo únicos e irremplazables en el tiempo que estuvieron saparados. Que lo disfruten.

Artista: Bauer
Álbum: En Otra Ciudad
Año: 2006
Género: Post rock / Space rock
Duración: 49:55
Nacionalidad: Argentina

Lista de Temas:
1. Dock Surf
2. Un auto para Lynn
3. El mismo lugar
4. El hombre de blanco
5. Camino a Oxnard
6. Un día, todo el verano
7. Dios quiere mi chocolate
8. El valle
9. La entrevista
10. Avanza
11. Mas lejos de casa


Alineación:
- Gabriel Ardanaz - vocals; guitar
- Martin Mykietiw - piano, organ
- Ezequiel Esposito - bass
- Federico Perez - drums
- Julian Paz - guitars


No sé si conocieron a Bauer, banda argenta con un montón de referencias al space rock de antaño, al post-rock, al indie, a Radiohead, Gong o Pink Floyd, música retro con un toque pop, que saltaron de Lanús al mundo y más allá con su primer álbum "Astronauta olvidado". Y digo que saltaron al mundo porque, si bien no fue un gran salto en ventas ni aún en difusión, sirvió para que la banda se plante con un particular estilo que buscó una renovación (yendo al pasado) del post-rock (género trillado y falto de ideas como pocos) con un álbum de post-rock diferente.


Si metes en una licuadora algo de post-rock, pizcas de psicodelia, partes ambientales y una porcionsita de ET sabras lo que hace Bauer. Esta banda argentina iniciada en el 2003 sólo ha lanzado 2 discos, pero va por buen camino, espero que su música llegue más lejos y se pueda encontrar mas información sobre ellos. El sonido de Bauer se acerca decididamente al Radiohead de Ok Computer y The Bends, pero no es una influencia que se intente tapar. Es muy evidente que estos muchachos de Lanús están muy contentos de haber escuchado todos los discos de Yorke y compañía.
Lamentablemente "En Otra Ciudad" es lo ultimo que edito Bauer, luego de terminar de grabar, la banda se separo. Actualmente el cantante, Gabriel, termino de grabar su disco solista y esta proximo a editarse. Pueden escuchar algunos temas en su myspace http://www.myspace.com/gabrielardanaz Un disco que esperamos tener muy pronto en este blog.
supercarlillo

Por momentos relajado e intenso al mismo tiempo, aunque esto suene incoherente, el álbum mantiene la tensión en todo momento, aún en las partes aparentemente calmas, en un álbum nostálgico y meditativo, los climas se mantienen en todo el disco y quizás se les pueda reprochar que no intentan cambiar la onda en ningún momento, pero convengamos que lo que ofrecen es un producto coherente y pulido en su estilo, mientras que mantienen su propuesta franca y fresca.


Desde hace ya algunos años, el nombre de Bauer resuena en el indie. Su ecuación "canciones cargadas de climas + discos que giren alrededor de un concepto + shows apoyados en recursos audiovisuales" dio resultado progresivamente y es así como pasaron de ser una banda de amigos a uno de los platos fuertes de la sección Soundsystem de este último Festival Internacional de Cine de Mar del Plata.
Cuando el proyecto apenas comenzaba a tomar forma, su nombre era Polaroid, pero una inesperada demanda de parte de la conocida empresa de cámaras fotográficas obligó a sus integrantes a replantear varios ítems. "Bauer fue el arranque serio del proyecto", explica el guitarrista Julián Paz, mientras el baterista Federico Pérez Losada acota "Fue también una consecuencia, podíamos haber ignorado el reclamo y no hacer nada más que tocar para amigos y no grabar nunca".
Superado ya el traspié judicial, el grupo (que se completa con Ezequiel Espósito, Gabriel Ardanaz y Martín Mykietiw) dedicó buena parte de su tiempo a darle forma a su álbum debut. "Astronauta olvidado", editado por el sello independiente Nadar solo discos, se sostiene con pasajes instrumentales densos y, como su nombre lo indica, chispazos de space rock, reminiscencias de la obra de Ray Bradbury y apoyados en vivo con proyecciones de "2001: Odisea del Espacio", de Stanley Kubrick. Así fue como se inició justamente la propuesta de acompañar sus presentaciones con un complemento visual. "Hacíamos shows con la película", narra Paz, "pero editándola de una manera diferente para cada recital, que no fuera solamente que estuviera de fondo. Después empezamos a hacer animaciones nosotros y luego con clásicos del cine de los años '40 y '50".
Tras casi tres años de postergar la aparición de nuevo material, hoy Bauer cuenta con su segundo disco en la calle. Lo que en "Astronauta olvidado" era un fanatismo por la ciencia ficción, en "En otra ciudad" se lee, como ellos mismos señalan, más cercano a la literatura de Jack Kerouac, Bret Eastion Ellis y William Burroughs. El cambio musical también sobresale: a las sugerentes ambientaciones que imperaban en aquel debut se sobreponen algunos pasajes instrumentales viscerales que más que contrastar chocan con la propuesta del disco previo. "En 'Astronauta olvidado' el primer tema dura ocho minutos. En este, en cambio, dura dos minutos porque muchas de las cosas del disco apelan a cambiar. Antes todas las canciones tenían un mismo esquema, con un clima introductorio y después terminaban explotando. La idea era escuchar un tema y decir 'el que viene es diferente'", define Paz mientras, con envidiable poder de síntesis, Pérez Losada lo complementa: "Era la manera de decir "esto es otra cosa"'.
Otro fantasma que sobrevuela "En otra ciudad" es la obra del cineasta norteamericano David Lynch, y en vivo los Bauer rinden homenaje al director de "Blue Velvet". "Estamos haciendo una edición con casi todas sus películas. Lo que hacemos es por tema elegimos imágenes y armamos un clip con una historia que empieza y termina", desarrolla Pérez Losada. Como particularidad, además, cada tema será representado por una sola película, evitando repetir imágenes entre canciones y ensamblando a la perfección esa mezcla de aires oníricos y pesadillescos propios de Lynch.
VuenosAirez.com

Y así vemos como los álbum de Bauer son a la vez un concepto y una estética particular que se define en sí misma. Lástima que la banda se separó, sería interesante ver como habrían evolucionado.


Es difícil imaginarse un disco como Sgt Pepper de The Beatles con otro arte de tapa. Y eso sucede no sólo porque, obviamente, esa fue la tapa sino porque comunica lo mismo que la música del disco. En el caso del segundo disco del quinteto Bauer, sucede algo similar. El auto viejo del arte de tapa (¿es un Valiant?...no sé mucho de autos), en medio de la oscuridad, que da la impresión de estar estacionado esperando (o no) y parece recién salido de La autopista perdida de David Lynch, refleja a la perfección lo que suena en las once canciones que dan vida a este disco. Climas nocturnos, ominosos e intensos que hablan de derivas, "viajar sin tiempos ni lugar" y círculos, "es correr y estar en el mismo lugar" marcan el tono general de En otra ciudad.
Hace dos años Bauer editó su disco debut, Astronauta perdido, pero las intenciones de la banda quedaban diluidas no sólo por la presencia de ciertos clichés sonoros "post Jaime sin Tierra" sino por la pátina de conflictos y angustias de chicos de clase media; las buenas intenciones pasaban a un segundo plano. Parece que los años de experiencia han dado sus frutos. Bauer sigue transitando el camino del rock de cadencias lentas, emotivamente épico, nocturno y carente de gestos ampulosos. Pero ha habido un cambio, un cambio positivo, un crecimiento. Atrás quedan los postres de Radiohead, ahora es el momento de las texturas que construye Mogwai.
El espíritu adolescente ha dado paso a una madurez sonora que atrapa en cada canción. Es cierto, en primeras escuchas En otra ciudad puede tornarse una monótona sucesión de canciones similares… pero a medida que uno se adentra en cada una de las canciones se van descubriendo matices y pequeños rincones deliciosos. Las instrumentaciones, con una delicada impronta preciosista, se toman su tiempo para resolver tensiones y crear climas que se acercan a la revalorizada música progresiva, pero nunca sin perder de vista los límites de la canción. Bases krautrock, pinceladas psicodélicas, guitarras a go gó, moogs hipnóticos son recursos de los que se vale el quinteto para hilvanar un disco emotivo pero no sensiblero, nocturno pero con pequeñas señales luminosas, con autoridad pero con mas dudas que certezas.
Los que crean que Bauer es otra banda más de ese género tan popular en Buenos Aires, el indie sufrido de chicos de clase media tristes, se equivocan; "no me mires mal, ya no hay nada", parecen contestar desde Avanza. Bauer los sorprenderá con un disco maduro, personal y de alta sensibilidad que no cae en lugares comunes y que va atrapando lentamente; "la noche terminó... avanza".
Leonardo Aguirre

En fin, un disco con una impronta muy personal, quizás a algunos no les guste demasiado, incluso para mí es un disco para escuchar ocasionalmente, pero convengamos que esta no es una banda que se defina a si misma como "progresiva", terminan haciendo algo que se puede englobar y encarrar (más o menos) en el estilo porque tienen un eterno sentido de búsqueda que los emparenta a los grupos progresivos en la actitud, creo que algo similar les pasa a los Radiohead ¿no?. Pero transitar por el álbum es de por sí interesante, bucólicamente interesante, mientras nos lanzamos hacia el futuro navegando por los sonidos del pasado en una muestra del talento creativo que indudablemente tenía la banda.


En otra ciudad es un título simple. De hecho es tan simple que describe perfectamente el estado de ánimo que envuelve al disco de principio a fin. En otra ciudad está constantemente cubierto por un clima de alienación, consistente con los anteriores trabajos de la banda, donde solían abundar temas de seis minutos y viajes de todo tipo al mejor estilo OK Computer y lo más reciente de Jaime sin Tierra. En este segundo trabajo, que este quinteto de Lanús edita luego de dos años, los viajes son más cortos, aunque igualmente fructíferos. Las melodías no sobresalen más que cualquier otro riff que entra y sale de escena, como cualquier otro instrumento, con el agregado de que las letras son tan cortas como efectivas,Altamente recomendable, sobre todo para aquellos que en pleno verano tiene nostalgia del invierno. Este disco recorre paisajes más oscuros, alejando a la banda de su etapa más bucólica y conduciéndola, con un sonido más crudo, por el camino del Trip-Rock.
Meet You
Construct a triangle with elastic walls. At one point, place Shadowy Men on a Shadowy Planet, at another Le Orme. At the third point set Tool or some similar sort. It is important that this third point be inclined to a slightly higher elevation in relation to preceding points so that, once set in motion, the slightly oblate ball – which represents Bauer – will less frequently reach that end of the triangle. The floor of the triangle should include several small depressions that equal surf punk inflections, lounge inflections, spaghetti western inflections, and so on.
Assuming friction to be zero, set the oblate ball – which represents Bauer – in motion. Here it is important to note that the corners of the triangle should be too small to ever allow the oblate ball – which represents Bauer – to ever directly contact a stylistically "pure" point.
Once in motion, the ball will emit music as it hits any point of any wall or boundary. For example, the closer it comes to the Shadowy Men on a Shadowy Planet point along the Shadowy Men on a Shadowy Planet / Le Orme boundary, the more it will sound like Shadowy Men on a Shadowy Planet proportionately affected by the music of Le Orme. Striking midway between the wall anchored by Le Orme at one end and Tool at the other, the resulting music will reflect components equal to both. Average time it takes the oblate ball – which represents Bauer – to traverse the inclined plane of the triangle's floor should be between four and five minutes. If the oblate ball representing Bauer traverses any of the style depressions en route to a boundary impact, the music will show signs of that particular style – say the sudden appearance of a surf-punk inflected passage during a Le-Orme/Tool white-out. Greater variety may be generated via the "lasagna effect" – that is to unevenly ripple the boundary walls.
You now have a working model of the music of En otra cuidad.
Needless to add, this CD is a stylistic hash that is sometimes entertaining, sometimes disconcerting. Retro sentiments abound with frequent use of a Farfisa, Mellotron, Moogy glissandos and other hallmarks from the late 1960s which now and again violently collide with massive slabs of guitar and drums. There's clearly an ambitious undertow to all this genre swapping, but it has yet to gel into anything very meaningful. It will be interesting to hear what collisions come next.
Kerry Leimer

Y a ver, alguna referencia más antes de que escriba mi comentario final:


rgentina's BAUER are back with their new output, "En Otra Ciudad", which is created by the same five musicians who two years ago launched, well, their debut album, "Astronauto Olvidado".
Upon the first spin I had the impression that this Bauer's second album follows strictly in the footsteps of "Astronauta Olvidado", since much of the music here is both unhurried and reflective too. However, already my next listening experience has shown that, while there is indeed certain common ground between the recordings, "En Otra Ciudad" definitely represents a step forward, compared to its predecessor. The similarity between Bauer and their primary benefactor Pink Floyd is still in evidence, but the influence is much less striking this time around, whereas the quantity of the group's own musical discoveries has grown, the disc's eleven tracks all without exception possessing qualities that are already peculiar exclusively to their makers. Nonetheless it is so far rather early to assert their music is imbued with what could in total be regarded as their signature style. The band is really in their element still only when playing post-Space Rock, deploying elements belonging to other genres not as actively as I would like them to. I won't touch on the said style anymore, meaning when describing the tracks, as it is crucial to the sound of each. Two of the three vocal-free pieces, Dock Surf and La Entrevista, both vary in pace and theme alike, as also does the largely instrumental concluding track Mas Lejos de Casa, all these additionally standing out for some psychedelic features. The music is quite original, only episodically bringing to mind Pink Floyd, the latter remark being relevant regarding all the-yet-to-be-named tracks too, especially since the other bands, whose echoes are heard on the recording, all tasted the legacy of that mighty English ensemble as well. The two songs revealing Doom Metal-like movements in places, El Hombre de Blanco and Camino a Oxnard, both remind me to some degree of a cross between The Ar from Tiamat's "Wildhoney" and The Sleep of No Dreaming from "Signify" by Porcupine Tree, though the atmospheric finale of the latter is also reminiscent of Planets, also from "Wildhoney". The largely instrumental Un Auto Para Lynn concludes the line of the disc's highlights which in this particular case include the compositions that are notable for any distinct transitions. Again, Porcupine Tree and Tiamat both can serve as a relative reference here too, just with the deduction of the tune's mid-section where almost everything reminds me of Eloy, which in turn is what the remaining vocal-free piece, the airy Dios Quiere Mi Chocolate, suggests throughout. Okay, the one with programmed drums and the sounds of congas, El Mismo Lugar, shifts in both pace and theme too, but nevertheless comes across as a ballad overall, while the remaining three tracks, Un Dia Todo el Veterano, El Valle and Avanza, are all ballad-like throughout, each as much resembling (a highly modified, yet still with a retro feeling) Pink Floyd as A Pocket Size Sun by, once again, Tiamat.
Conclusion: While not something groundbreakingly progressive, Bauer's "En Otra Ciudad" is in all senses a good effort, a set of well-conceived compositions, none of which is a makeweight, some possessing an irresistible charm that is in the end certainly nothing other than musical magic. Quite frankly, I like the hero of this occasion better than any of the other CDs with the same rating that I have reviewed for this update.
Progressor

¿Que puede haber más triste, como imagen, que un "astronauta olvidado"?, en esa primera muestra de este grupo que dió la muestra de su estilo pausado y reflexivo, álbum que creo que no se ha publicado en este espacio todavía (me falta muuuucho para completar algo más o menos completo, y ustedes siguen con la cuestión de resubir y resubir mientras yo quiero presentar nuevos trabajos). Ese estilo impreso en su ópera prima continúa aquí, pero definiendo una experiencia auditiva que representa un paso adelante en comparación con su predecesor. La influencia que grupos como Pink Floyd y Radiohead tienen sobre Bauer es mucho menos sorprendente esta vez, mientras que creció la cantidad de descubrimientos musicales propios del grupo, el disco posee 11 temas bien definidos en su estilo personal y cada uno posee cualidades peculiares y exclusivas, mientras la banda se busca a sí misma montada en ese antiguo auto, navegando entre su post-space rock (nunca escuché ese término ¿estará bien?, es que me suena bastante apropiado) con algunas características psicodélicas.
Aunque también debemos decir que si comparamos este disco con la mayoría de grupos que hay publicados en este blog (donde muchos se la pasan saltando alocadamente entre estilos completamente disímiles de una manera completamente natural), si tomamos en cuenta eso podemos decir que la música de este álbum es bastante original, pero no tiene grandes variaciones ni de estilos ni de "texturas" o climas, aunque no parece que los músicos lo hayan buscado. Simplemente este es el estilo Bauer, una banda que claudicó mientras estaba desarrollando un nuevo camino en lo que es el "post-algo" (post-rock, post-space rock, post-psicodélico o lo que sea que se llame).
En todo caso, "En Otra Ciudad" es un buen esfuerzo, buenas composiciones que enciarran una actitus y un estilo aún sin terminar de definir completamente, y con un cierto encanto que en momentos se torna irresistible y que a veces flaquea y pierde la magia (cuando se terminan re-encontrando en sus propios lugares comunes) pero terminan cerrando un álbum francamente honesto, claro y definido. Lo que me deja pensando en que sería de esta banda si todavía estarían tocando...

Para escuchar el disco entero:
http://sadness.bandcamp.com/album/en-otra-ciudad-bauer

http://www.myspace.com/bauernet