Artista: Sonus Umbra
Álbum: Digging For Zeros
Año: 2005
Género: Rock sinfónico / Crossover prog
Duración: 61:18
Nacionalidad: México

Lista de Temas:
1. Zero
2. Scream
3. Sleepwalkers
4. Children Of Cain
5. The Laughter Of The Dead
6. Foreshadows
7. Invisible World
8. Serial Grounds
9. Infestation
10. Spleen
11. Bloodstains In Paradise
12. Meme Puppet Waltz
13. Dead Numbers
14. Devil's Promise
15. Aleph
16. The Great Fall Inwards
17. The Music Of The Primes
18. From The Ashes
19. Pariah
20. Infinity


Alineación:
- Luis Nasser / bass, acoustic & crunch guitars, keyboards, backing vocals
- Ricardo Gomez / electric & acoustic guitars
- Jeff Laramee / percussion, vocals
- Pablo Garcia / keyboards & vocals
- Andy Tillotson / acoustic & electric guitars, backing vocals
- Lisa Francis / vocals
Invitado:
Adam Zygmunt / French horn

Y viene otro disco de Sonus Umbra para que disfruten a lo grande. Vamos a dejarles varias cosas para que se entretengan mucho en el fin dfe semana. Y todo gracias a nuestro gran Sandy, nuestra estrellita del blog cabezón.

Banda interesante liderada por su bajista Luis Nasser, ya hemos presentado a Sonus Umbra con sus dos discos anteriores, ahora le toca el turno a su última producción, fechada en el 2005, mientras se prepara la salida de un nuevo álbum llamado "Winter Soulstice" que tengo entendido debería haber salido a la venta a finales del 2011 pero se ha retrasado por motivos varios. En todo caso esperamos poder escucharlo cuanto antes.
En realidad, creo que este no es el mejor álbum de la banda, no está mal, pero sus dos álbums anteriores me gustan más, pero a lo largo de 20 temas la banda repasa su propio estilo mientras se lanza hacia el futuro a pesar de los cambios de integrantes y otros pormenores que, obviamente, marcaron un cambio de sonido:


Los profundos cambios que han ocurrido en la formación de la banda con la salida del cantante Andrés Aullet, y sustituido por Lisa Francis que pasa de ser invitada al de asumir el papel de vocalista principal junto con el baterista Jeff Laramée. También se une al grupo el tecladista Pablo García y el guitarrista Andy Tillitson. La música en su mayoría es compuesta por el bajista Luis Nasser. De esta forma, en diciembre de 2005, lanzan Digging for Zeros un álbum conceptual aclamado por la crítica que se divide en 20 temas.
Gueor

La cuestión es que es un disco muy muy agradable, quizás con algún altibajo, pero con momentos muy altos y casi memorables. Creo que lo mismo pasa con sus discos anteriores, pero aquí se nota más.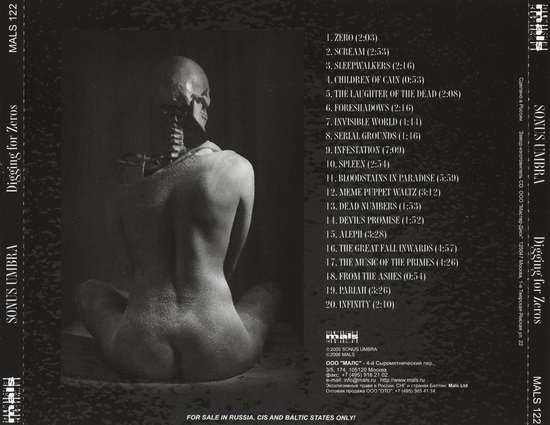 Otra vez, estamos ante una banda enfocada principalmente al sonido gringo y a entrar de lleno en el mercado europeo, y no solo por el sonido sino también por su lírica en inglés (lástima), pero no por ello falto de imaginación ni estilo. Prácticamente desconocido por estas tierras, no deja de ser un interesantísimo proyecto que retoma y renueva con su propia impronta ese sub-estilo al que se lo denomina neo-progresivo, si bien tiene mucho de sinfónico, el grupo presenta su personal enfoque de una música que rememora al viejo Marillion pero a veces se hacerca a un estilo Uriah Heep o despliegues a lo Arena pero con una solidez similar a la del los últimos trabajos de Pendragon, solo por citar algunas bandas que me parece que toman como parámetro pero el estilo de Sonus Umbra es más sinfónico.


Sonus Umbra is back with another winner. This band has yet to disappoint me. Whatever they release turns out to be an instant favourite of mine, and Digging for Zeros is no exception. Despite the departure of their unique vocalist Andres Aullet, which this album is dedicated to, they continue to write and record solid music. The band has enlisted the services of drummer Jeff Laramee who does a great job with a powerful delivery. Laramee shares the vocal duties with female vocalist Lisa Francis of Kurgan's Bane. Their roles in Sonus Umbra are quite different though, as Digging for Zeros embarks upon a dark progressive rock sound, punctuated with delicate acoustic arpeggios, daunting synth work, flickering electric guitar leads, and Luis Nasser's outstanding work of rhythm on bass. 2005 has been a great year for Nasser, as he first appeared on Might Could's instrumental album earlier in the summer, then on the new Kurgan's Bane record, and now his main band Sonus Umbra. Luis Nasser, besides being the main songwriter, is the absolute master of beat and pulse. His bass sound is always audible, throbbing loudly and generating dense sounds throughout.
Digging for Zeros was originally conceived as a single piece of music, but the rest of the band didn't really want it to be a Mei sort of thing, so they finally broke the music down into twenty tracks, for easier navigation purposes. However, the songs are all closely tied together as they seamlessly flow into each other, and unless you check your stereo, you may never know what track you're listening to. I really like the fluidity of this album, much like the new Sieges Even disc or perhaps Fates Warning's A Pleasant Shade of Gray. According Luis Nasser, Digging for Zeros is a dark concept album "about a mathematician who spends way too much time alone, and begins to hear and see things calling from a mirror in his room". As with the previous Sonus Umbra releases, this album is also quite intense lyrically. The protagonist's state of mind is perfectly conjured up on "Foreshadows", a cinematic track where you hear the footsteps of someone aimlessly walking in the streets and a distant heart beat that creates tension. Similarly the sound effects and muttered spoken vocals on "Serial Grounds" enrich the concept of the album. Musically, this could be their finest achievement as well. With all due respect to Andres Aullet, Lisa Francis and Jeff Laramee have come up with some of the most amazing vocal melodies ever. After a slow and haunting intro, "Scream" sets the tone of the album, with its ghostly acoustic guitar strokes, grey synth lines, and heavy bass bottom underpinned by a symphonic backdrop. The brooding tune then launches into a mesmerizing chorus sung by Laramee and the song reaches its climax with the arrival of a fantastic guitar solo courtesy of Ricardo Gomez whose tone and expression really matches Lisa Francis' voice on the following piece "Sleepwalkers".
There are also heavier, rocking tracks like the melodic and catchy "Children of Cain", the despondent "The Laughter of the Dead" brimming with emotional power and mind-belting bass work and rhythm guitar in the end, as well as "Aleph" with fierce keyboard and guitar duels, rhythmic explosions, and an assertive vocal performance. Laramee and Francis also sing together on some songs like "Devil's Promise" and "Pariah", lending the album a fitting sense of contrast. Much like "Scream", the vocal harmonies on "Spleen" are also gold and could easily compete with the most amazing melodies written by the likes of Neal Morse or Steven Wilson. The album also features two brief instrumentals: "Meme Puppet Waltz" is an acoustic-driven composition marked by subtle harmonic and rhythmic developments, whilst "Infinity" is the album finale graced by an ominous piano melody and churning English horn motif. Together with Eyestrings' recent output Consumption, this album is among the best American prog rock releases of the year and will definitely be in my favourites list of 2005.
Murat Batmaz
"Digging for Zeros" is the third album by the Mexicano American band SONUS UMBRA, following "A Spiritual Vertigo" (2003) and "Snapshot from Limbo" (2000). Some changes have touched the group's personnel, which was stable until now. Original vocalist Andres Aullet has quit. Jeff Laramee appears now as drummer and lead singer rolled into one. Female singer Lisa Francis has become a staff member. In addition, there are two novices in the lineup (which, thus, has transformed from a quartet into a sextet): Pablo Garcia on keyboards and Andy Tillotson, who now shares the duties of lead guitar player with Ricardo Gomez. As ever, bassist / multi-instrumentalist Luis Nasser has penned most of the music and lyrics for the new album, too. Kindred band: Kurgan's Bane. Relatively related band: Might Could.
Analysis. Here is one more concept suite-like album (third in this review series), coming with no pauses between its 20 tracks. Stylistically, there are not many differences between "Digging for Zeros" and Sonus Umbra's previous two output, but nevertheless, "Snapshot from Limbo" and "A Spiritual Vertigo" have more common ground between themselves than with the new album. While bass, electric and acoustic guitars still retain their lead positions in the arrangements, as ever, the overall sound has acquired a more pronounced symphonic sense, which is certainly due to the appearance of a free keyboardist. But since Garcia gives more preference to piano than to synthesizers, the trademark Sonus Umbra sound, representing a well-balanced combination of beauty and intricacy with an amazing sense of fragility, remains prevalent and is especially striking in the sections built without the use of big guns, e.g. guitar riffs and harsh textures in general. The acoustic guitar and piano-laden Sleepwalkers, Children of Cain (both with Lisa behind the microphone), Meme Puppet Waltz and Infinity, the latter two being instrumental pieces, are fully devoid of heaviness, referring to the purely Art-Rock sector of the band's overall style. The Great Fall Inwards, Bloodstains in Paradise The Music of the Primes and Pariah, sung either by Lisa alone or together with Jeff (on the latter two), are structurally similar, but there also are distinct elements of heavy Prog in places. Still Lisa's, The Laughter of the Dead and Dead Numbers are mainly intense, the music moving back and forth between symphonic Art-Rock and Cathedral Metal. Some episodes of that very fragile beauty can also be found on each of the remaining five tracks belonging to Sonus Umbra's traditional stylistic spectrum. Overall however, these (Scream, Invisible World, Infestation, Spleen and Aleph) are the heaviest tracks on the album. Sung by Jeff, they reveal the most aggressive intonations of his pretty flexible vocals. Four more tracks still need to be described: Devil's Promise, Zero, Serial Grounds and Foreshadows, the latter three being instrumentals. The music is very atypical for Sonus Umbra and is either Space Rock resembling to The Alan Parsons Project, as on the first two, or just space music, Foreshadows consisting mainly of various naturalistic effects (steps, beating the glass, etc) and people's voices.
From album to album, Sonus Umbra slowly, yet, steadily improves the quality of their musical production, and I am certain that their latest is their best effort to date. Highly recommended. If the two space music-related instrumental sketches weren't included in the CD, I would have rated it as a complete masterpiece, with the addition of an exclamation mark.
Progressor
What a wonderful album! After a first audition of this trully amazing album,all I can say is that I discovered indeed something exceptional and so well done that I am more than impressed! This album is the third of this so talented band and I must confess that I didn't had for a long time such a musical revelation!It's definitelly intelligent music,intelligent texts and amazingly well performed!Wonderful musicians, great vocal parts and a shadow of RUSH is around and sometimes PINK FLOYD moments with noisy interludes,in the sense thet some water are flowing...coins are making their specific noise and so on!Impressive musicianship and well contured musical ideas on this album!Marvelous piano parts assembled with inspired guitar riffs ,very clever use of synthesizers ,modern keyboards sounds too and 2 beautiful voices- LISA FRANCIS is perfect as always -and the shadow of KURGAN'S BANE is very present and PETE LARAMEE-not only a fabulous drummer but a very likeble vocalist too! DIGGING FOR ZEROS is a strong concept album and has all the ingredients for a very exciting audition,all serious prog rock lovers will be plenty satisfied!The whole album is catchy and full of wonderful musical ideas,rich in it's expression and message ,varied and attractive from the very first to the last note!I repeat,the first word that it cames in my mind to appreciate this album is intellligent!A strong release from the talented musician LUIS NASSER-the true masterimid behind the concept, and we hope it isn't the last one,because this band has a huge potential-absolutelly huge!4.5 STARS without any discussion!
Ovidiu Dumitrescu
Sonus Umbra is a Mexican six piece band (with additional guest musicians) that has released their third album late 2005. The running time is at about one hour and this CD contains 20 melodic, tasteful and very varied compositions: an electronic atmosphere with wonderful interplay by acoustic - and electric guitar along pleasant sounding keyboards in Zero, lots of shifting moods (from dreamy with twanging guitars to mid-tempo with a fat guitar riff or sultry with swinging piano) in Invisible World, first propulsive, then mellow and in the end fiery guitar with howling licks in Infestation, prog metal with raw vocals and biting guitar in Aleph and dreamy with piano arpeggio's and ... English horn in Infinity. My highlight is The Great Fall Inwards: first dreamy, then a mid-tempo with fiery guitar and flashy synthesizer flights and a final part featuring a bombastic climate with propulsive drums. If you are up to varied and melodic prog, this album is fine one to checkout.
Erik Neuteboom
This is SONUS UMBRA's third studio recording,and like the last one it is a concept album. Their vocalist has left so Lisa from KURGAN'S BANE has gone form a guest on the last album to a full time member. The male vocals are performed by the new drummer Jeff laramee. This album is more dynamic than the last one with more highs,but also more lows. Tough to pick a favourite between the two. There are 20 tracks over the 61 minutes of music but some of them blend into one another.
"Zero" opens with atmosphere as the guitar comes in sounding great. A beat follows then vocals come and go. It blends into "Scream" and kicks into gear. "Sleepwalkers" features a guitar melody and female vocals. It's fuller when it blends into "Children Of Cain". "The Laughter Of The Dead" opens with bass and marching styled drums. Synths then female vocals follow. It's heavier 2 minutes in. "Foreshadows" is filled with some cool samples. "Invisible World" opens with acoustic guitar as vocals join in. Great sound when it kicks in. Contrasts continue. "Serial Grounds" is atmospheric with spoken words. "Infestation" is a big low for me. Don't like this one at all especially the chorus. "Spleen" has a beat with guitar and reserved vocals. It does get fuller.
"Bloodstains In Paradise" opens with female vocals,drums and atmosphere. Guitar 1 1/2 minutes in. The tempo picks up after 3 minutes. It blends into "Meme Puppet Waltz" has lots of drums and acoustic guitar. "Dead Numbers" has female vocals and piano early. Synths,drums and male vocals follow as it blends into "Devil's Promise". "Aleph" has a nice heavy sound as vocals join in. Chunky bass too. "The Great Fall Inwards" has female vocals,acoustic guitar and is quite mellow before it kicks in. "The Music Of The Palms" opens with bass as vocals and acoustic guitar join in. It blends into "From The Ashes". "Pariah" features dual vocals and it gets heavier. "Infinity" opens with piano and builds slightly.
3.5 stars. I really think this band is worth taking a chance on.
John Davie
I have always admired Luis Nasser's basework with several bands. But here he really shows off his songwriting skills with his main project Sonus Umbra. Get the CD to enjoy the lyrical story in the booklet.
Jeff Laramee and now Lisa Francis are an improvement in vocalists. Garcia's use of occasional piano than usual synths give more of a contrast to the pounding bass and souring electric guitars. Great use of acoustic guitars that mesh with Francis's vocals.
Kathleen Orrson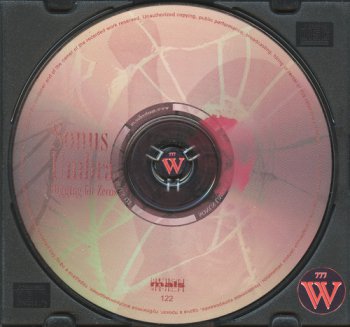 Los invito a escucharlos si no conocen la banda, y a disfrutarlos si ya los conocen y les gustan sus álbums anteriores. Otro disco recomendado para nuestro catálogo. Creo que Sonus Umbra, sin ser una maravilla técnica, es una muy buena banda que realiza grandes composiciones basado en la emotividad y el corazón, otra muy buena banda para descubrir.