Sandy comparte un discazo de otra terrible banda brasilera llamada Caliz, que personalmente me gusta mucho, siendo de una musicalidad fuera de serie pero además siendo original dentro del rock progresivo brasilero (bueno, una evidencia de ello es que cantan en portugués ¡por fin!). Un álbum que es, para mí, imperdible... juzguen ustedes... Y como para muestra basta un botón, escuchenlos en vivo...

Artista: Calix
Álbum: A Roda
Año: 2002
Género: Prog Folk
Duración: 50:36
Nacionalidad: Brasil

Lista de Temas:
1. Deserto
2. Prá não mais voltar
3. Depois da guerra
4. Homens-pedra
5. Sey dom
6. Looking Back
7. Lenda do mar
8. A Roda
9. Fora do mundo
10. Em pedaços
11. Dois rios
12. Acordei devagar


Alineación:
- Renato Savassi / voz, flauta, viola de 6 e 12 cordas, bandolim y harmonio
- Sânzio Brandão / guitarra, viola de 6 e 12 cordas y guitarra slide
- André Godoy / batería, percusión, caja de biscoito y moringa
- Marcelo Cioglia / bajo, bajo fretless y vocales
- Rufino Silvério / piano, teclados, harmonio y vocales
Músicos invitados:
Orquesta de Cámara Sesiminas


Otro grupo latinoamericano maravilloso que traemos para que los conozcan y disfruten, y para que se sorprendan de la calidad desconocida que tenemos por este lado del plameta.
Ahora traemos otra banda independente brasilera, desconocida en estas tierras pero con más de 10 años de carrera y miles de cds vendidos en su país. Tengo entendido que algunos de sus músicos tienen mucho que ver con la muy buena banda Cartoon que hace tiempo ya presentamos en este blog ¿qué, se lo perdieron?, jódanse por llegar tarde!.
Sólo he de decir que Cálix me pareció excepcional desde la primera vez que los escuché. Presentan canciones que si bien no son extremadamente complejas son ricas en detalles y arreglos, música inteligente, muy bien tocada, de un estilo que va variando entre Jethro Tull (principalmente, aunque no tanto por el estilo agresivo de tocar la flauta de Ian Anderson, aquí ese instrumento es tocado con delicadeza, pero sí por su cantidad de elementos folk que incluyen en sus canciones), Beatles y Camel, entre otros, pero siempre desplegando un aire y estilo propio.
Buena música brasilera que no precisa salir radios para demostrar su calidad, por favor vean los videos y escuchen su música. Quizás ésta sea una de los mejores exponentes brasileros de progresivo no sinfónico (recordemos que las bandas de Brasil tienen, en general, un estilo muy sinfónico bien definido).
Con muy buena producción, es de destacar porque el grupo es completamente independiente (lo que explica su falta de difusión fuera de Brasil) y a la vez muy profesionales, es realmente reconfortante saber que existe música con ese nivel creada solamente por el gusto de hacer buena música.



Aclaro que los videos que aquí incluyo son parte del DVD "Ventos De Outono - Ao Vivo" del 2007. Lástima que no lo tengo, tenemos que conformarnos con estos videos de YouTube.









"A Roda" is a very nice album. I took some time to get used to it, because it's quite different from the first one, "Canções de Beurin". This one is not as folk as the first, neither much progressive too, but it has some great songs, like "Deserto", "Homens- Pedra", and ballads, like "Seu Dom" and "Dois Rios". It's not a masterpiece, but it's worth to listen.
Rockfella

Bueno, y voy anunciando que tengo varias buenas bandas cariocas para ir compartiendo en este espacio. Y vayan preparando un lugarcito en su disco rígido porque una está mejor que otra.


Minas Gerais... Porque este estado oferece ao nosso páis tanta música de qualidade? Qualidade é o que não falta ao segundo disco da banda Cálix, que se chama "A Roda". Produção nota 10, gravação nota 10, músicas e instrumentação nota 10. O disco não é 100% progressivo (padrão britânico), mas é um disco de rock progressivo 100% nacional. Não há como não se deixar levar pelas melodias de Deserto, Looking Back e Lendas do Mar e também pelas flautas, violinos e violoncelos que preenchem o CD. Um disco perfeito para uma banda de músicos afiados e que sabem o que estão fazendo. Altamente recomendado e certamente entre os 5 melhores discos de rock nacional de 2002.
Rock Progresivo
Nice band! Very good vocals, simple but right for the style of music and, the better, singing in portuguese. Beautiful flute solos and creative instrumental, using different instruments sometimes. Amazing orchestral arrangements. I find "Deserto", "Homens-pedra", "Lenda do mar" and "Acordei devagar" the most greatest musics of the album.
Jose Joesting
CÁLIX is an excellent Brasilian group that plays some very interesting prog with a variety of influences, although their music is mostly progressive folk-rock oriented. Musically the band uses at least a dozen different instruments including the flute, harmonica, violin, piano and what I presume are some traditional Brazilian folk instruments. That's why they are referred to as the South-American JETHRO TULL. This is their 2nd release, "A Roda", which can be described as a fairly straight mix of later-day TULL and CAMEL. A bit of blues, a bit of rock and quite a bit of folk.
Record Heaven
Calix is a progressive band from Brazil who do Not have a Symphonic sound common from South America but more of an Italian and English prog sound. More than any other band they sound like Jethro Tull. The use of flute is an obvious reason for this comparison, but so too are whay they implement their instumental and time/temp breaks in the songs. There are excellent flute passages, of course, but also outstanding guitar and keyboard passages. The drums and bass don't fall much below excellent either.
What is real nice is how much the compositions and the performances sound like a fully blended band who considered their unified sound in making this album. Calix sound like they are a group and their songs integrate their individual qualities seemlessly. Many songs are filled with unexpected (but not radical) turns and changes. In many ways they are not a prog band yet when you factor in the time/tempo changes, vocal styles, and interesting instrumentation, they are clearly progressive and no other genre could serve as a better home for this outstanding CD - one of my favorites to be released in 2000.
Here I highlight six of the songs - but not intending to suggest (except where indicated) that these are the best on this CD.s:
Dança com Devas gives a very nice introduction to the entire album and is very Tull-like in structure and delivery.
Song No More Whispers is probably the weakest song here - - starting out as a straight rocker sung in English (the other songs are not) but even on this song there are harmony and instrumental sections that impress and the instrumental section gives it a prog/blues flavor.
Kian has a slight Santana-like feel and the guitars are very cool playing electric under and along with the vocal and instrumental passages. A nice guitar solo and duet with the flute fill the middle parts of this song - stretching it out and giving it beauty.
Canções de Beurin has a wonderful acoustic guitar intro and is a very pretty song. Think Simon & Garfunkle meet Jethro Tull with this song. As the song opens up, a very sensitive electric guitar takes hold - Camelesque in it's style. This is the best song on the CD and a great place to start if you are sampling the waters to see if you will like this band. Towards the end of the song, emotions build and the song gains some serious power that will remind you at once of Dave Gilmore and the song Ice by Camel. This is a very satisfying song.
Águas The second best song on the CD -- a blend of a lot of styles and the bass is driving the show here nicely. This song feels like A Passion Play in many respects.
O Fortuna The very same from the classical piece Carmina Buran a stunning and surprising (and very very short) interpretation.
Conclusion: Calix is different from other prog that you have heard. While having strong leanings to the Jethro Tull sound in some songs, they play with enough variation and originality to be something else entirely - and producing an album of supurb musicianship that when taken as a whole - sounds like no other I have heard.
DBSilver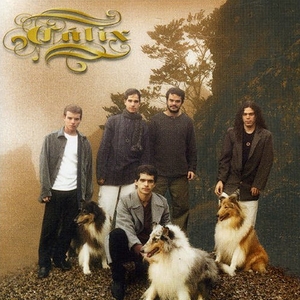 Vocais, bateria, flauta, teclado, guitarra, baixo, violões, bandolim, música que faz sonhar, sentir o som na pele, sentir o som percorrendo o corpo, viajar. Poesia. Assim é o Cálix. Música de excelente qualidade que conquista jovens almas, rejuvenesce almas, resgata a sonoridade, pela canção, pela melodia.
Com 10 anos de carreira, o Calix é uma das bandas independentes de maior importância do nosso país, tendo vendido mais de 10 mil cópias de seus de seus 2 cds: "Canções de Beurin", lançado em 2000 e "A Roda", lançado em 2002. Considerado um grupo de rock progressivo, o Calix recebeu importantes prêmios relacionados a esse gênero (como o de banda revelação, melhor cd e melhor show nacional de 2000), tendo tocado ao lado do Focus, uma das bandas mais significativas na história do rock progressivo mundial e no Rio Art Rock Festival (Rio de Janeiro), ao lado do grupo italiano "Il Baleto Di Bronzo". A banda tem se destacado também no cenário da música mais comercial, sendo a todo momento requisitada para tocar em eventos de grande porte, ao lado de artistas nacionais consagrados. Além disso, o grupo curiosamente ficou entre os 24 classificados entre 2893 inscritos (de todo o Brasil) para o prêmio Visa MPB Compositores, realizado no primeiro semestre de 2003, comprovando a sua versatilidade.
A banda vive agora seu melhor momento, com o lançamento do DVD "Cálix Ao Vivo". Gravado em outubro de 2006, no Grande Teatro do Palácio das Artes, o show contou com a participação da percussionista Daniela Ramos e de uma orquestra especialmente formada para o evento, regida por Rodrigo Garcia.
Nesse material audio visual de altíssima qualidade é possível constatar como a banda consegue levar o público ao delírio com sua música mágica que resgata a qualidade das harmonias e melodias de tempos mais fecundos, através de um instrumental rico e variado (flauta, violões, bandolim, guitarra, baixo, bateria, piano) e um vocal de alto nível. As 1700 pessoas que lotaram o teatro, cantam a plenos pulmões as músicas do grupo, que já recebeu também reconhecimento internacional, com cds distribuidos na Europa, Ásia, America Latina, Estados Unidos.
O DVD "Cálix Ao Vivo", lançado em junho de 2007, foi produzido por Ivan Caiafa e dirigido por Daniel Veloso e Eduardo Zunza.
É um material que promete abalar o cenário da nossa Música Brasileira!
Glumim

Un disco perfecto para una banda de músicos sólidos y que saben lo que están haciendo. Otro disco muy recomendado, por favor no se pierdan esta belleza.
Y músicos de Cálix, obrigado por essas músicas! ¡maravilha!!!

www.calix.com.br