Otro disco que estábamos debiendo desde hacía ya mucho tiempo. Sandy resube y comparte la buena música de los mexicanos Sonus Umbra, que si no los escucharon ahora lo pueden solucionar fácilmente.

Artista: Sonus Umbra
Álbum: Snapshots from Limbo
Año: 2000
Género: Rock sinfónico / Crossover prog
Duración: 61:31
Nacionalidad: México

Lista de Temas:
1. Ghosts From the Past
2. Doppelganger
3. Seven Masks
4. Demons
5. Soul Dusk
6. The Eagle Has Landed
7. Erich Zann
8. A Season in Hell
9. Homo Homini Lupus
10. The Watcher
11. Metamorphosis
12. Imago


Alineación:
- Andres Aullet / vocals, Korg Trinity
- Ricardo Gomez / electric and acoustic guitars
- Jeff Laramee / drums, percussion, vocals
- Luis Nasser / bass, Korg 01W, acoustic guitar, vocals
With:
Lisa Francis / vocals
John Grant / electric, 12-string guitars
Tapabrata Pal / tablas

Una resubida que debíamos desde hace años, los mexicanos de Sonus Umbra con un progresivo fácil de digerir y de escuchar... a ver si nos terminamos de ponerl al día con alguns cosas...

Ya presentamos a Sonus Umbra (el sonido de la sombra), banda de México y que surgió del grupo de corta vida llamado "Radio Silencio" en los 90's. Bajo ese nombre editan el demo "Risa en la oscuridad", que posteriormente y que con nueva formación del grupo mediante, les serviría de caballito de batalla para presentar su arte, mientras elegían cambiar su nombre. Para entonces se habían mudado a Philadelphia, Estados Unidos. Era el año 1998. En el año 2000 lanzan su primer álbum "Instantáneas del Limbo" que presentamos aquí.
Su rock progresivo es bien melódico y se expresa con voces en inglés de ambos sexos. mientras que resulta un trabajo que si bien comienza de primera, tiene algunos puntos flacos a medida que va pasando el disco, aunque con sonido original y buenas ideas en base a raíces clásicas casi sinfónicas y sonido moderno.

Sobre el disco, vamos a algunos comentarios que les podrá dar una idea de que va esto:


The melodic neo-progressive and symphonic hard rock band SONUS UMBRA was formed out of the band RADIO SILENCE. They have both female and male vocals. The songs have great melodies with an overall beautiful, calm, dark and melancholic mood. The music is a mix between ALAN PARSONS, CAMEL, FISH, KURGAN'S BANE, MARILLION and PINK FLOYD with a 70's progressive sound with lots of acoustic guitars and some complex moments. Some of the songs are brilliant while some are middle-of-the-road stuff. The highlight are the opening "Ghosts From The Past", the complex instrumental RUSH-influenced "Doppelganger", "Demons", "The Eagle Has Landed", " Homo Homini Lupus" and the instrumental "Erich Zann". Some of the songs are a little bit to calm and uninteresting, but overall this is a nice album with great musicians. The Moonchild label are unfortunately no longer in existence, but the band has been signed to the Musea label so eventually they will get a worldwide distribution.

Greger Rönnqvist
Sonus Umbra (formerly Radio Silence) is Ricardo Gomez (electric & acoustic guitars), Luis Nasser (bass, Korg 01W, acoustic guitar, vocals), Jeff Laramee (drums, percussion, vocals), Andres Aullet (lead vocals) and special guests Lisa Francis (vocals), John Grant (electric & 12 string acoustic guitars), and Tapabrat Pal (tabla).
This is the kind of music that continually intrigues and challenges you to find more in each song with each listen. The first thing that starts a thought process is the fascinating cover. Many folks may say it is weird; yes it is different...but doesn't it make you wonder what it stands for? Progressive rock has always had colorful artwork on the cover of their recordings (thank you Yes and Roger Dean) with a science fiction or mystical spaced out theme.
All of these songs are filled with the beauty and savagery of the music. To me that is the very essence of prog rock, the ability to combine both of those factors and successfully project images interpreted by each artists through their own thoughts and feelings throughout the music. Sonus Umbra's Snapshots From Limbo is a consistently strong album from start to finish. "Doppleganger" and "Seven Masks" are each over seven minute compositions that are filled with lush and striking magnificence. The guitar is gorgeous and attractive then it changes quickly to a hammer of the gods that shakes and moves you like thunder and lightning, thus the difference between the acoustic and electric guitars. The keyboards of Luis Nasser are what the music is built upon, and the main instrument that thrust the other instruments into a cascade of picturesque musical splendor. Nasser also plays a commanding bass to sync the rhythm section with the odd time signatures that are the norm in prog rock. Wake up and smell the coffee all of you music lovers, progressive rock is in the middle of fabulous growth period that is a complete joy to partake in. Join me now.

Keith Hannaleck

Aunque, si el inglés no es uno de tus fuertes, también tenemos el comentario siempre acertado de nuestro amigo Gueorgui:


La banda mexicana de rock progresivo melódico Sonus Umbra se expresa con voces en inglés de ambos sexos. En el año 2000 lanzan su primer álbum Snapshots From Limbo (Instantáneas del Limbo) poniendo a la banda en la escena musical y resultando en un trabajo que te agarra de primera. Las canciones tienen muy buenas melodías, generando un estado de ánimo hermoso y tranquilo con pasajes de guitarra acústica de belleza casi perfecta, excelentes teclados, grandes solos de guitarras acústicas y una notable percusión. La cálida y tranquila voz del vocalista Andreas Aullet, es acompañada en algunos temas (a partir de Demons) por la voz femenina de Lisa Francis (como invitada), lo cual añade una interesante diversidad en las vocalizaciones creando una hermosa armonía. La música es una mezcla entre Alan Parsons, CAMEL, FISH, Kurgan'S BANE, Marillion y Pink Floyd, mucha influencia de sonido progresivo de los 70 con algunos momentos complejos. Un sonido original y de calidad. Una sorpresa muy agradable, me encantó. Que lo disfrutes...

Gueor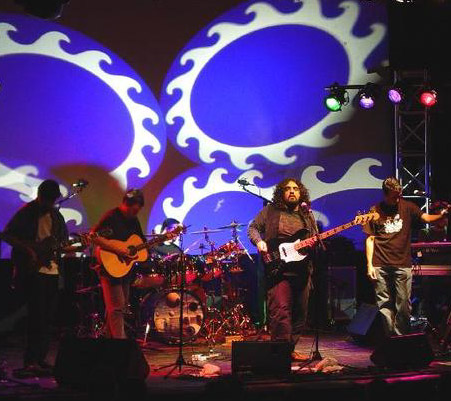 E inclusive tenemos a gente que directamente no le gusta este álbum:


Sonus Umbra is a Mexican group or should I say that they are of Mexican origin because it seems that they live in the USA nowadays. Their music can be described a mixture of symphonic and neo-progressive. However, it does have this melancholic, almost gothic, feel that is not usually prevalent with groups of the same style. It's a good thing and gives some originality. The overall feel is quite soft despite this dark atmosphere. The music is very accessible, maybe even a little too commercial for my taste.
This debut album is very average. The music isn't bad and it is clearly professional but it just doesn't grab me in any way. It could be that the partial neo-progressive sound prevents my enjoyment of this album. There is quite a few interesting bands coming from Mexico these days but I do not include Sonus Umbra in this group of bands based on this release.
Conclusion: A rather uninteresting album.

Geezer

Pero parece ser el único, todos los demás comentarios son positivos y alientan a escuchar el disco:


Back in the early 90′s, three science students from the national university in Mexico City, Andres Aullet, Ricardo Gomez and Luis Nasser got together to form a band called "Radio Silence". From 1991 to 1994, the band played on, gaining a large cult following and a reputation for intense, unpredictable live performances. Inevitably, the band broke up, but the music and the meme lingered on.
In 1997, after auditoning for Kurgan's Bane where he met the band's future drummer (Jeff Laramee); Nasser set upon the task of embellishing a demo of original material recorded on 8-track tascam tape machine for release. During the course of this project, Nasser invited Gomez and Aullet back to the fold, and the end result was a demo album called "Laughter In The Dark".
Nasser's musical chemistry with Jeff Laramee made his addition to the band as a full member in 1998 inevitable, and certain unfortunate legalities forced the band to re-name itself as Sonus Umbra, which roughly means "Shadows Made Of Sound".
Their first album under the "Sonus Umbra" moniker, "Snapshots from Limbo" is the kind of record that one can get hooked on from the very first listening. The reasons are obvious: first-rate musicianship, especially in the perfectly beautiful acoustic guitar passages (with Latin-American influences), excellent keyboard playing, great guitar solos and remarkable percussion work. Another important part of Snapshots from Limbo is the vocalist. Andreas Aullet's voice is calm, warm and sometimes dreamy. However, his relaxed style of singing does not make the music monotonous, because there is also a female vocalist, Lisa Francis (as a special guest from Kurgan's Bane), who adds diversity to the vocalizations. Together they create truly wonderful harmonies. The compositions from the album exemplify everything that progressive rock should be: long and complex structures, catchy melodies, outstanding solos. In a word, a great and original sound.

Progressiveears
As far as I know, this is the second album from Luis Nasser and Co, though their previous (debut) album was released under a different name of the band - Radio Silence. So, here is my opinion on Sonus Umbra's album titled "Snapshots From Limbo". (Umbra-Umbrella... I think, in English Sonus Umbra sounds so: The Sound of Shadow; well, let's call the band with two aforementioned albums in their discography... Radio Sonus.)
First of all I would like to thank the "Moonchild" people for their good taste in music, as the majority of albums I have received from them are at least of excellent quality. Already now, mentally comparing "Moonchild" to such established labels like UK's "Cyclops", Germany's "Inside Out" and even the biggest US prog-label "Kinesis", I see that accessibly- melodic (commercial?) bands are the most part of their stuff.
It is obvious for me that with such a strong album as "Snapshots From Limbo" Sonus Umbra became another true progressive hallmark to come out of Mexico - together with Cast. In comparison with their famous countrymen, the music by Sonus Umbra is, maybe, less intricate and theatrical, but much more original. Stylistically, the music on "Snapshot From Limbo" is a Classic (Symphonic) Art Rock, though Indian percussive man Tapabrata with his excellent work adds alot of original Latin-American motives to the overall sound.
Doppelganger and Homo Homini Lupus are excellent examples of bombastic hard-edged Symphonic Rock with many diverse arrangements and outstanding musicianship from the direction of each musician. The majority of other pieces combine within themselves large-scale acoustic parts with wonderful classical guitar passages and two bipolar vocals - quite rough from the male lead singer, colourful and melodious from Lisa Francis - with more adventurous instrumental parts performed with electric guitar, bass, keyboards, drums and percussives.
While the bandleader, Luis Nasser, is an excellent composer and lyricist, his bass themes and (lots of) virtuostic solos are even a bit more impressive. It is really hard sometimes to distinguish bass solos from the same, made on electric guitar - they're unique, speedy, and the main thing, very tasteful. This is another very important component of the exceptionally original method of composing and performing, used by Sonus Umbra on "Snapshots From Limbo", which, IMHO, is one of the best albums released this year, all in all.

Progressor
When I received this album in the mail, I looked at the package and immediately got neo-proggy vibes. So, it was a nice surprise when I popped it in and found the music to be only somewhat neo-proggy, and good neo-proggy at that. Perhaps the closest connections to this much-maligned subgenre are the occasionally plastic keyboard timbres, and the low, breathy, slightly accented vocals of Luis Nasser (I get reminded of Cast, but the vocals and lyrics here are far superior). The music, then, is a pretty interesting dark symphonic rock with influences from all the usual suspects. Yet the band's use of dynamics - the contrasts between beautiful, delicate acoustic-guitar sections and more aggressive, occasionally Crimsonish passages - is really very good, and is probably what attracts me to the music as a whole. The profuse use of acoustic guitar lends a nice texture to the whole album.
High points include "Doppelganger", the most Crimson sounding piece on the album, at least superficially; "Erich Zann", a nice instrumental spiced up by some ethnic percussion; and the masterpiece of the album, "Homo Homini Lupus", which features a great bass and acoustic guitar intro (Nasser's bass playing is fairly high, and reminds vaguely of Rush) and ends with a hot guitar solo. There are a few duff tracks that get a bit too far into keyboard-dominated neo for my tastes, but overall, this is a solid album. Those of you who enjoy accessible, melodic symphonic prog will definitely dig this release. Incidentally, Sonus Umbra are originally from Mexico but have recently relocated to the Baltimore area. This album was released on the Moonchild label, which is now defunct; the band has been signed to Musea, so we can probably expect a somewhat more high-profile release the next time around. I'm looking forward to it.

Progreviews
I was pleasantly suprised by this relatively unknown production (at least to me). The music is progressive, diverse and suble. The production is bare at times (lacking a proper background), but all in all it is a nice album, which sounds familiar from the first time you play it (since it features chords sequences and rhythms from many sympho/prog bands from the past). The main setback is that it also gets really boring towards the end, as there is hardly any climax-building.
The main musical theme on the album is that of singer-songwriter with most tracks dominated by acoustic guitar. The album opens with a rather Fish-like track, mildy folky with acoustic guitar and musical box. In terms of atmosphere, the album reminded me a bit of YokeShire.
The opening parts of the second track, the heavier Dopplerganger, reminded me a bit of Dire Straits, and even Camel/Floyd in terms of the electric guitar. As you can see, quite a different reference! Still, the subtlety of the music is not lost in this rhythmically more complex track. The middle section is a bit oversimplified, with electric guitar soloing over a too simple power-chord based drum 'n bass layer. This flows into the calm second section. This calmness is continued in Seven Masks, a bit more lushly orchestrated than the previous track. This ballad has the atmosphere of Granchesters Meadow (Pink Floyd), you know, sitting in a garden on a sunny summerday, fingering your guitar. The middle section seems ripped from the Atlantis-suite by Pallas though, soon enough followed by a Marillionesque keyboard solo (fortunately, because the album started to get too quiet by now).
Demons is a nice uptempo semi-acoustic piano/guitar track, getting progressively more electric. Here for the first time, female vocals are featured, which go quite well together with the male (slightly Latimer-like) vocals, giving it a bit of a Mostly Autumn feel.
Soul Dusk is back to the acoustic guitar and vocals trick. Again a moody, calm piece. The Eagle Has Landed is more rocky, but still delicate. This could have used a lot more force, with a much shaper mix, to transport it towards a Landmarq-like track. Now, the power is only skin-deep. The Marillionesque keyboards make up for some.
Erich Zahn [based on a ghost story by H.P. Lovecraft - Ed.] starts spooky, with a really nice keyboard melody. A rather, I don't know, War of the Worlds like track. Good one, though. A Season in Hell takes us back to prog rock. Homo Homini Lupus takes back even further to Kayak and the likes. Quite a nice track too, with the best guitar solo on the album.
Insects Part One, is a kind of lullaby, nothing special but it has a nice chord sequence. The other two parts continue the style of the rest of the album and add nothing new, sounding almost like a Piper At The Gates Of Dawn track at times. The end sounds suspiciously much like Marillion's Fugazi.
Summarizing, one can say that the album is calm and moody, based on many different prog styles, and thus sounding a bit cliché. There is not a single track on the album that is absolutely brilliant, and not a single one that is really bad. All in all, if you are looking for a prog-based album that you can play while having dinner with your parents, try to get your hands on this one. Due to the lack of diversity and dynamics, this album gets an "OK, but try harder next time".

Remco Schoenmakers

En general las canciones tienen buenas melodías, con pasajes instrumentales bien logrados. La música es una mezcla entre Marillion, Camel, Fish, mientras que al mismo tiempo tiene reminisencias del progresivo moderno del tipo Porcupine Tree, y mucha influencia de sonido progresivo de los '70 con algunos momentos complejos.

Así que Sonus Umbra es una banda para recomendar, aún si cantan en inglés aunque sean mexicanos, se los recomiendo. El otro punto en contra es ciertos altibajos, ya que si bien tiene grandes momentos, también tiene de los otros (creo que este disco tendría que tener un par de temas menos y levantaría mucho el nivel general) pero no dejen de escucharlos.

www.myspace.com/sonusumbra