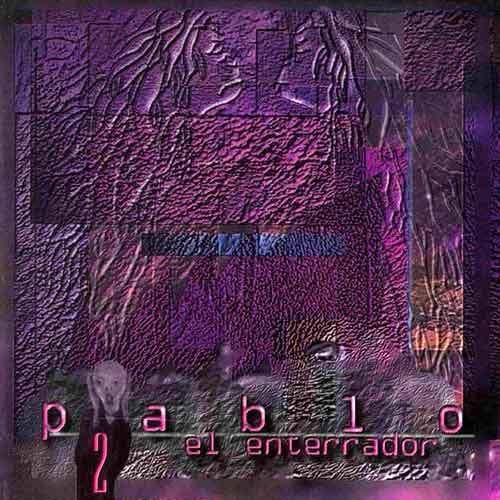 Resubimos el segundo disco del grupo rosarino por excelencia si hablamos de rock progresivo. Un trabajo de progresivo melódico, con toques de folklore contemporáneo. Nos lo habían pedido desde hace tiempo, aquí lo tienen, disfrútenlo.
Artista: Pablo El Enterrador
Álbum: 2
Año: 1998
Género: Rock sinfónico
Duración: 56:23
Nacionalidad: Argentina

Lista de Temas:
1. Nariguetas
2. La Ciudad Eterna
3. Emigrante
4. Sentido De Lucha
5. San Vicente
6. Solo Viento
7. Mitad x Mitad
8. Accionista
9. Fotografia


Alineación:
- Jose Maria Blanc / vocals, bass, guitar
- Jorge Antun / keyboards
- Omar Lopez / keyboards
- Marcelo Sali / drums


Hoy pienso traer dos de los mejores grupos que han salido de la Argentina en la década del 80. Uno, el primero es bien conocido, el segundo es una sorpresa...
Vamos entonces por el que ya todos conocemos... bueno, imagino que todos lo conocemos, pero por las dudas vamos a presentarlos igual:

Pablo El Enterrador: El gen de toda la trova rosarina... banda de los 80 , que graba en 1982 su primer disco en vinilo "PABLO EL ENTERRADOR", de muy poca difusión pero que a pesar de ello se hace conocer en todo el mundo.
En el año 2001 se produjo la re-unión del grupo sin la presencia del tecladista Omar López que abandonó la banda. el grupo quedó entonces convertido en trío, conservando sus integrantes originales, y efectúan varias presentaciones.
En el 2005 reaparece este álbum en su version CD con el agregado de unos bonus tracks de una tocada que se hizo en el teatro Olimpo en un festival llamado "Por un vaso de leche".
Este es un disco muy bueno pero donde el grupo varía su estilo a un progresivo melódico, con toques de folklore contemporáneo, manteniendo la estructura de sus composiciones en piano, voz y una sólida base de batería, con buenas canciones y la calidad musical que ya habia demostrado anteriormente. Este disco tiene matices más pop, y melódicos, pero sin dejar de lado las raices sinfónicas.



La banda tenía previsto un tercer disco llamado "Trifónico" por estos años, el cuál ya estaba listo para salir, pero la muerte del tecladista Jorge Antún truncó el proyecto. A pesar de todas estas dificultades a lo largo de su historia, la banda trascendió, son ahora una leyenda y ocupan el lugar de una de las mejores bandas de rock progresivo de Argentina, siendo reconocida en el círculo del progresivo mundial como una gran banda de este continente.


Pablo El Enterrador fue en los 80s, la banda argentina que supo mantener vigente la llama de la línea progresiva sinfónica con el nivel de esplendor añorado desde los tiempos de mayor gloria del género: sus discos dejan constancia de sus valiosos aportes. Su estilo es muchas veces comparado con el de Locanda Delle Fate pero este paralelo solo vale como aproximación inicial, pues bien pronto advertimos que hay una cadencia peculiarmente latinoamericana en el sonido de Pablo – ella los emparenta con bandas compatriotas como Serú Girán, Espíritu (de los 80s), Invisible y Spineta - Jade.
Gueor
PABLO "EL ENTERRADOR" es considerado como uno de los más bellos y sofisticados grupos de Argentina.
La aparición de este grupo a inicios de la década de los ochenta fue reconfortante. José María BLANCO (guitarra y voz), Omar LÓPEZ (teclados), Jorge ANTÚN (teclados) y Marcelo SALI (batería), se convirtieron en un grupo mítico y en uno de los pioneros en la música rock de la ciudad de Rosario. En sus inicios el grupo fue inestable y hubo de cambiar frecuentemente de integrantes, lográndose consolidar a inicios de los '80 y con esa solidez, grabar en 1983 el que sería durante muchos años su único álbum. Al parecer, PABLO "EL ENTERRADOR" recibió muy poco apoyo de la casa disquera con la que sacaron su disco epónimo y decidieron rescindir el contrato, terminando así con el trabajo obtenido tras mucho esfuerzo. Hubieron de pasar bastantes años para que, contagiados por un movimiento escandalosamente rentable para muchas bandas que se habían quedado con una única grabación, volvieran a grabar un disco, "2", que según la crítica es mucho mejor concepto que el primero.
Se habla mucho de la calidad musical de este grupo. La crítica especializada le atribuye aspectos refinados de la música clásica, con un sonido progresivo que se apoya en elementos folk, a la usanza por ejemplo del grupo español GALADRIEL. Estoy de acuerdo. Lo que no comparto es la idealización que le otorgaron muchos críticos a su trabajo musical. Es cierto que están llenos de melodías armónicas, que su progresivo es un prog-sinfónico melódico de primera línea, que tiene esencias claras de un neo progresivo clásico, pero definitivamente no es de lo mejor que he escuchado. Al menos la parte vocal es floja, y ésta resta legibilidad sonora al resto del trabajo. De cualquier manera es un buen grupo, recomendable.
Manticornio
I just can't understand why the weak reviews and comments about "Pabo el Enterrador 2" aka "Sentido de Lucha", if I hadn't seen the band playing some tracks of this album on stage, would have never bothered buying it and that would have been a shame because it's brilliant.
"2" is one of the most pure expressions of Symphonic Prog from Argentina, the beautiful and soft piano blends perfectly with the delicate vocals and the splendid guitar that makes us remember they can really rock, a perfect combination of sweetness and strength.
I understand that English speakers have a hard time with lyrics in foreign language but...Hey guys....If the rest of the world cares to search for translations of songs in English, doing the same won't kill you, specially when the translation is available in the cover of the album.
"2" starts with the piano and synth intro of "Nariguetas" that almost instantly blends with the beautiful voice of Jose María Blanc making incredible poetry (This would be lost in the translation of course), the influence of bands like Genesis with a touch of Italian Symphonic is very clear, but nobody can doubt of the originality, excellent track.
"La Ciudad Eterna" is my favorite song from "2", again starts with piano and then vocals but this time with a more Latin influence, the jazzy drum soon joins while the song goes in crescendo until the whole band takes part in a very elaborate fantasy of music only interrupted by piano and keyboard solos, even better song than the previous.
"Emigrante" is a dark ballad absolutely Symphonic and melancholic, the piano performance is dramatic and charged with passion that is provided by the guitar and bass, not as strong as the previous but still very good.
"Sentido de Lucha" is the track for which this album is better known, starts almost in the vein of "Emigrante" but with a sound that reminds some material from "SERU GIRAN" and SUI GENERIS" but Charly García could never add as much drama and personality as José María Blanc. "Sentido de Lucha" can't have more power, the final section when the symphonic keys combine with a solid guitar and bass is breathtaking, great song.
"San Vicente" is a lighter selection, after two depressive (but excellent tracks) is time to perform in a clear Latin style with a touch of Argentinean/Cuban Folk, probably inspired of such great musicians as Mercedes Sosa and Silvio Rodriguez, not only for the sound but for the lyrics that talk about South American reality, at the end a nice Moog section a la Keith Emerson followed by a ethnic sound make the perfect closing.
"Solo Viento" another melancholic song but this time the "SUI GENERIS" influence is more than obvious, but of course the synths make the difference, the lyrics are absolutely poetic.
At this point the PABLO EL ENTERRADOR change their approach, instead of the pristine Symphonic atmosphere with Argentinean sound, the bands tries different styles, "Mitad X Mitad" is very jazzy, the violin (Yes I can listen a violin but don't know if it's played with a synth) sounds a bit like Jean Luc Ponty, they tried something totally different and did it well.
They follow the change of style, with "Accionista" it's time for Rock, clear and evident Argentinean rock sound, not bad but neither a great track, I believe they were able to make something better. "2" ends with "Fotografía", now a poppy track, this time reminds of Genesis but not of the great band we love, instead of that they went closer to the Invisible Touch era, simply I can't understand why the guys from "PABLO EL ENTERRADOR" made such a dramatic change at the end of the album, seems like they ran out of material and added some weaker tracks.
If they wanted to make something different, they could have done this in the middle of the album and close it with the Symphonic "Solo Viento" or the jazzy "Mitad X Mitad", "Fotografía" is the only really weak song..
If it wasn't for the last track, I believe the album would deserve 5 stars, but having it (And the not bad but weak "Accionista") I have no alternative than limit myself to a solid 4 stars rating, something that bothers me because the first seven tracks are so good that if they stopped there or even before "Fotografía", "2" would have been as strong as their debut release and get the maximum rating.
Each and every Symphonic fan should get "2" evenif not able to understand the lyrics, the music is incredible and making a small effort with the translation, the lyrics are also enjoyable.
Ivan Melgar
This is weird, I am reviewing my second album today and both have vastly different track orders from that listed here, which throws me off more than you can imagine. It could even influence the ultimate rating, but I will try to review "Sentido de Lucha" as a collection of haphazardly thrown together tunes, ie-from a record company exec's perspective.
It's like no time had passed between the first Pablo album and its successor in terms of the style and even the instrumentation, as well as the mix of ballads and rockers. Jose Maria Blanc's vocals are as strong as ever, as are the dual keys and the marriage of Argentinian poetry and folklore to symphonic rock. That in itself puts "Sentido de Lucha" on an upper rung.
The main difference is that the ballads don't tug at the heart strings quite so much. On their debut, several tracks also bridged the rocking/ballad gap and became glimmering suites of keyboard dominated and guitar enhanced progressive rock. Nothing of the sort here. They can still write a catchy hook but it's more in the manner of Abacab era Genesis rather than assembling something new out of the best of breed, and, with the exception of the haunting and expressive "Emigrante", most tracks are good but not great. For instance, "Nariguetas" simply soars during Blanc's wordless excursions but precious little elsewhere. "Sentido de Lucha" doesn't really work until the majestic instrumental break.
Given the time lapse between the two Pablo releases, this is actually a pretty impressive followup, but it does mark a subtle yet perceptible devolution. The ingredients are there but the recipes lack that certain flair that comes with experimentation and risk taking. Still, if you loved their 1983 album, enjoying "Sentido" should not be a struggle.
Ken Levine
www.myspace.com/pabloelenterrador