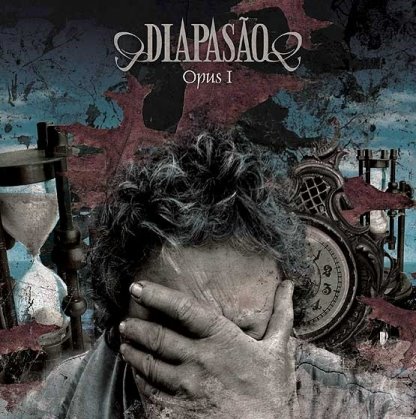 Artista: Diapasão
Álbum: Opus 1
Año: 2006
Género: Rock sinfónico
Duración: 44:09
Nacionalidad: Brasil

Lista de Temas:
1. Diapasão
2. Som do Brasil
3. Sonata
4. Do céu ao inferno
5. Fuga
6. Noite a la caipirinha
7. Rock espanhol
8. Jazz
9. Piccolo finale


Alineación:
- Rodrigo Lana / piano, keyboards
- Gustavo Amaral / bass & acoustic guitar
- Fabiano Moreira / drums

¡Un disco completamente recomendado! puro rock sinfónico brasilero del mejor, y en su idioma. Excelentes instrumentaciones dan marco a un disco lleno de buen gusto, donde se mezcla el mejor rock, la música clásica, el jazz y una leve soniridad bien brasilera que da personalidad a un proyecto de mucha calidad. No se pierdan este disco o Sandy se va a enojar con ustedes!
Trío instrumental de alto vuelo, no muy original pero sí hacen muy bien el estilo que eligieron, con músicos que al grabar el disco rondaban los 17 años. Otro grupo brasilero de rock sinfónico (casi todos los grupos brasileros tienen más o menos la misma onda y el mismo sonido ¿se dieron cuenta?) aunque éstos con más influencia de bandas como ELP, con esos interludios clásicos y de cámara guiados por el piano, con el Hammond guiando a toda la banda y el perfecto acompañamiento de todo el resto de los músicos. Sin embargo, el estilo de estos brasileros es mucho más amplio, pero siempre dentro del progresivo sinfónico, muy bien ejecutado y con la cuota de jazz que el estilo requiere. Pero tampoco se les olvida (y es otro punto que también los emparenta con otras bandas brasileras del mismo estilo) el amor por su tierra y en medio de tanta melodía clásica también hay espacio para los sonidos autóctonos como en el interludio de "Som do Brasil", en el que la presencia de los instrumentos eléctricos se reduce al mínimo y se utiliza la guitarra acústica y la percusión. En definitiva, trabajo con muchos colores y texturas sinfónicas que definen un curioso arcoiris donde no deja de estar ni el jazz, ni las improvisaciones ni la música brasilera, y hasta un pequeño vuelo neo-romántico, lo que demuestra la notable flexibilidad de pensamiento creativo de estos jóvenes músicos cariocas, ejecutando bien trabajadas composiciones con suma destreza, decorado con múltiples relieves las reglas de marcan el estilo que eligieron para sí. Una fusión sinfónica clara y potente nos deleita con muy buen nivel técnico, con algunos rompecabezas (principalmente del teclado) impecablemente hilvanados. Este álbum es una muestra de alta calidad compositiva y musicalidad, carece de inconvenientes y puntos flojos, al mismo tiempo que es un álbum optimista en sus climas, algo que dentro del progresivo no sucede con mucha frecuencia.
A young progressive band, modern without being stressed by modernism, still a bit more obscure or, sadly, hidden to a general public - doesn't this sound much too familiar, in a recent musical world of prog rock, in which some new bands make a delicious music and a classy style without catching the headlines, but others, just as new, make a spill of a music and even reach impressiveness by that? Diapasão, from Brazil, cover their ears to these bad thoughts, nonetheless, they should deserve much more attention in today's prog circles. Their satisfaction resumes to a crystalline, adventurous and sometimes lightened style of prog rock, having a quality that, remarkably, allows only one dubious question: is Opus 1 a good debut or a definitory album? Despite having in mind that such a fresh style will need to be heavily preserved, through an equally clean tradition and charming aesthetic, I would generally pick the second reflection. Diapasão has its star in Rodrigo Lana, but the music, without clings or condiments, expresses a trio's performance of good behaviors and gentle expressions, against the more and more rustling attitudes of music - being, therefore, the rhythm and the work of all three musicians. I'd dare say that a classic prog band, coming with an album so simple and serene as this one is, would have fallen in some kind of disgrace - instead, the whole album by Diapasão can serve in a way not decadent, but affective, its new period of prog. Obviously, the band covers some classic influences, out of which the style's initials belong to symphonic beauty. On second place comes the descriptive art of rock melody. Rodrigo Lana makes out of the piano a beautiful and sentimental instrument. Credits mention "piano and keyboards"; I for one tend to think that the whole set of keyboards could adapt even the purest (and most divine, subjectively added) pianistic sound, still I'm glad to hear a pianoforte style that's overly consistent. I like the moments when the similarities with Rick Wakeman's own fantasy play build up really intense, because Lana plays with much passion and harmony the kind of piano music Wakeman often found it as new-age glitter. On the other hand, I'm not enthusiastic by any association made with Keith Emerson, since that great prog pianist rarely resisted the temptations of kitsch and catchy play; R. Lana resists, even tries a spotted recipe: accuracy with artistic simplicity. The album, though "pianistic rock", will finally catch powerful aromas, because G. Amaral and F. Moreira perform compactly and heartedly, Opus 1 gaining, by that, original vibrations. The album sugars impressions of rock with classical, jazzy, romantic and a bit of hot-headed new-wave improvisations. Most of the titles are enormously sugestive, but the band doesn't fall asleep thanks to that thing either: they play with a burn, plus with a smart form in mind, and with a minimalistic fulfilled style and fruitful serenity. Till the end, the subtlety doesn't get exhausted - though it is exactly the final that is more uninteresting, the band also playing jazzy symph instead of Rock Espanyol!, blues instead of Jazz!, or falling on their heads upon the mini-outro, much too playful. The big pieces are also the best played ones, having contrasts of a complex or capricious manner. Don't wish to end this with a stinging note, but I will remark that some moments aren't perfect, and the great mishap of Diapasão is that they use expressions instead of melodies. A beautiful and inspiring album; eagerly awaiting future evolutions by Diapasão. It's true, the more artistic or experimental new or fresh prog rock will always incite more and better, but right after that, Opus 1 and its style is of a highly promising value
Ricoched Y pensar que ese Ricoched del review era "amigo" casi personal, nos intercambiábamos álbums de progresivo latinoamericano y un día desapareció, espero que en algún momento pueda volver a conectarse, lo extraño... snif sniff...
The idea behind the Brazilian act Diapasao (from Belo Horizonte) belongs to keyboardist Rodrigo Lana, who wanted to build a project where the members could come up with an instrumental music filled with both technique and feelings.He recruited bassist/guitarist Gustavo Amaral and drummer Fabiano Moreira, who completed the first Diapasao line-up.The trio recorded the debut ''Opus I'' in 2005 at Elierim Studios in Belo Horizonte and the Brazilian label Masque Records released the CD the following year. The musicianship is pretty much centered around Lana's work on keyboards and piano and the style is almost swirling around a Classical Music basis.However the tracks show much diversity, ranging from Classic Prog to Chamber Music and from Classical/Folk to Jazz.Therefore the listener is hard to keep up with the listening throughout the album due to the variety of atmospheres, but this does not lower the high quality of the music a bit.A pair of tracks have a strong keyboard-based Symphonic Rock attitude in the vein of RICK WAKEMAN with strong piano/organ/harsichord fanfares and a very grandiose atmosphere, supported by a very dynamic rhythm section.Some pieces evoke more to pure Classical Music, structured around Lana's massive work on piano and surrounded by violins and/or a light rhythm section.The shorter tracks have more of a folky vibe with acoustic guitars on the forefront and some sort of Brazilian color around.Among the pieces the listener can find a few jazzy bits, but the entirely jazzy composition ''Jazz'' seems totally misplaced and simply out of the general mood. The result is an album halfway between Classical/Folk and Progressive Rock with a very professional approach. I find 'Opus I' not to be totally conveincing to the ears of the average prog fan but is definitely an album with a high level of execution and composing, that is sure to satisfy lovers of Classical Music and Symphonic Rock.Recommended overall.
P. Sarros
After having reviewed two of the three EP's of this excellent Brazilian band, it's turn to review the full Prog album called "OPUS I", the record that caught my attention because of the excellent blend of Neo Classical, Symphonic Prog and a bit of Folk and Jazz, in my opinion one of the best recordings I heard in the past years. The album starts with "Diapasao" (Tuning Fork) and it's frantic introduction with synth, harpsichord and drums, pure Symphonic Prog, well elaborated and demonstrating from the start the band members are virtuoso musicians, but without even noticing, the music changes into a melodic Neo Classical passage and then morphs into a restless jazzy tune with a fantastic piano display by Rodrigo Lana and superb drumming by Fabiano Moreira. Pure Progressive Rock. "Som do Brasil" (Tune from Brazil) begins with an extremely beautiful piano melody and soft but elaborate percussion, while in the background Gustavo Amaral gives the Brazilian folk sound with the acoustic (probably 7 chords) guitar, a bit short but amazing. "Sonata" as it's name indicates is practically a Classical piece where again Rodrigo Lana gives a flawless performance, changing from soft and melodic to strong and vibrant, but as the track advances the band progressively moves towards a jazzier atmosphere with a strong rhythm section to support them. "Do Ceu ao Inferno" (From Heaven to Hell) begins with a heavenly melodic section where the violin has the lead, but constantly supported by the piano performance and amazingly adequate percussion. But as I suspected the song changes radically towards a Symphonic - Fusion aggressive passage that probably represents hell, again DIAPASAO hits the nail in the head. "Fuga" (Fugue) begins with a typical Brazilian tune played with acoustic guitar which soon allows the harpsichord to take the lead, an excellent Baroque atmosphere created by a band that keeps surprising with their versatility. "Noite a la Caiprinha" (Night to the Caipirinha) is hard to describe, jazzy and Symphonic simultaneously with Rodrigo Lana demonstrating his virtuosity in the piano, but as usual they have some dramatic changes to strong and pompous, back to melodic and at the end a martial closing. "Rock Espanhol" (Spanish Rock) begins with a piano solo while the drums create a march atmosphere, but when the percussion stops again another wonderful melodies and almost hypnotic performance captures the listener. At last Gustavo Amaral has the chance to open a track with a bass performance supported by percussion and later piano, even in the name of the song wasn't "Jazz", would be obvious we are in Fusion territory. But still the closure is missing and it comes with "Piccolo Finale" (Tiny Finale) which consists of 59 seconds of the band playing a frenetic 12 bar tune. After my review, it is obvious how impressed I am with "Opus I", but I believe they earned this respect, because the album is flawless, absolutely versatile and with virtuoso performances, so I have no other alternative than rate it with 5 solid stars.
Iván Melgar Otro álbum que recomiendo, sobretodo a los amantes del progresivo sinfónico en su vertiente más clásica. www.myspace.com/diapasao diapasao.tumblr.com