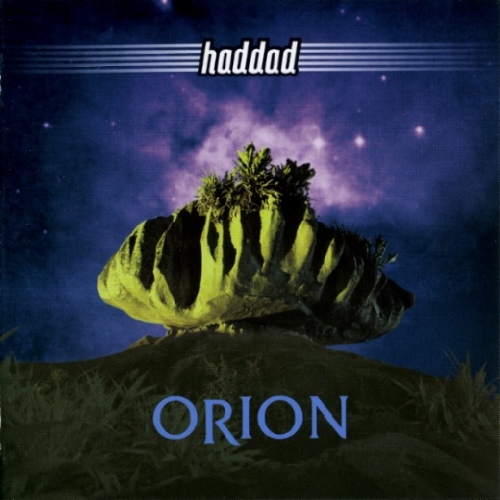 Y sigue el show de Haddad en nuestro blog, para que lo conozca quien no lo conozca, porque además será difícil que lo entuentre en otro lado. Disco muy difíciles de conseguir, por cierto. Y todo gracias a Sandy y su famosa maratón de resubidas.

Artista: Haddad
Álbum: Orion
Año: 2000
Género: Rock sinfónico
Nacionalidad: Brasil

Lista de Temas:
1. Prelúdio do ópio / Ópio da razão insuficiente
2. Desobediência kármica
3. Orion
4. Roda da história
5. Far From Home
6. Abnormal
7. Sweet, a folha seca
8. Palácio dos espelhos
9. Farewell blues
10. Onion Stone (Por onde vagam os sonhos)
11. Delirium


Alineación:
- Gustavo Haddad / voice, keyboards, programming and arrangements
- Leandro Haddad / electric and acoustic guitar, voice and arrangements
- Marcelo Maia / guitar solos


Buen álbum de progresivo sinfónico brazuca, no me pareció nada del otro mundo, aunque tampoco es malo. Busqué videos en Internet pero lo poco que encontré era inescuchable, así para el que lo desee, aquí les dejo los links.


Haddad is truly a family affair. Already a seasoned sax player with jazz and 40s/50s big bands, 83-year old Zezito Haddad joined with his two sons in the mid 80's, namely guitarist Leandro and keyboardist/vocalist Gustavo. The 'boys' then recruited a bass player, a drummer and another guitarist to form this Brazilian band that has churned out six albums since 1993. Partly vocal/instrumental, their music is very melodic, 70's style, full of lush instrumental passages in the vein of Camel. Their material is not complex, the band emphasizing melodious
compositional contents over thematic intricacies or technical prowess.
Their self-titled debut album is rather poppish but the prog quality improves with every successive release, culminating with the excellent "Blue Notes" and "Ars Vita Longa Brevis". Lyrical guitars, sophisticated melodies, lively rhythms and lush keyboards are their main features. Add to this some wonderful sax, Santana-like melodic guitar lines and a discreet, elegant Latin melancholy overall and you get music full of freshness and positive vibrations. Orion", their 3rd studio album, is really the first we can dub as progressive, and their entrance in the style was great, leaving no doubt about the way they chose to trail. Brothers Gustavo and Leandro, the "new" generation of the Haddad family are the main actors here, counting with a special guest (Marcelo Maia, guitars) and short participations from listed and non-listed buddies, including other Haddad people.The fairly discernible presence of synth sounds throughout the album is the more noticeable deed
when compared with their previous output but actually there's a flagrant sensation of some connection among the songs resulting in a kind of concept that exudates from the tracks; the atmosphere is generally sour, poignant, sorrowful, even when some passages are intended to be uplifting.
As observed previously, production is fair and the band members' musicianship is leagues above the average. As a consequence, "Orion" is a very palatable work and if one adds the already mentioned high progressive content, the result is enjoyable.
Opening and ending tracks are mini-epics dealing with the same motifs (madness, weird dreams, scatology, modern life), and carrying the same signature. Both songs, 'Prelúdio do ópio/Ópio da razão suficiente' and 'Por onde vagam os sonhos/Delirium' show a plethora of what we like most in the prog-rock scene: beautiful symphonic tunes, agreeable neo-prog interludes, some delicate folk spices, well-shaped vocals, intense flow of keyboards, nice guitar playing. Either are the best album moments.