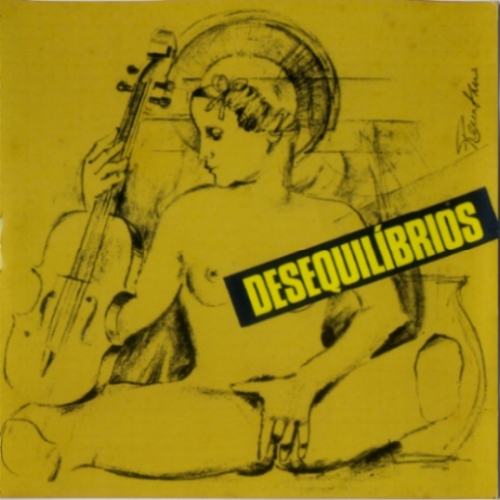 En este momento de resubidas de discos brasileros, Sandy nos deja este muy buen disco antes de seguir publicando novedades. Que lo disfruten en el fin de semana...

Artista: Desequilíbrios
Álbum: Desequilíbrios
Año: 1993
Género: Neo progresivo / Ecléctico
Nacionalidad: Brasil

Lista de Temas:
01. Na Correnteza Acida da Loucura
02. Como Se Eu Fosse o Maximo
03. Onde o Ceu Era Cinza
04. Imagens no Vale do Tempo
05. Passional Violencia
06. Ritos
07. Anonimos
08. Baile de Mascaras
09. Pra Voce


Alineación:
- Paulo Preto / vocal
- Zé Renato / guitarra
- Fábio Ribeiro / teclados
- Ronaldo Lobo / bajo
- Henrique Iafelice / batería
Guests:
Marisol Lamarca / Vocal and voice at "Imagens no Vale do Tempo"
Hugo Hori / Saxo tenor
Fábio Rodrigues / guitarra


El último trabajo de una curiosa banda carioca, donde si bien el estilo se basa en un neo-progresivo, pueden notarse las variaciones estilísticas que comentan que acostumbraba a realizar la banda en sus shows en vivo, más un espíritu aventurero y osado.


A banda flertou com vários estilos musicais, mas nunca abriu mão do experimentalismo e da ousadia. Progressivo, hard-rock, funk, punk, música latina, new-age eram alguns dos ingredientes que faziam parte do repertório eclético e experimental da banda.Com letras em português, durante toda a existência da banda, tiveram diversas gravações e registros musicais que foram executados pelas rádios paulistanas de rock garantindo apresentações ao vivo em bares, festivais e casas de show. Em 1993 a banda encerrou suas atividades lançando um estranho e ousado trabalho, com composições realizadas desde o ínicio de sua formação. O trabalho foi lançado pelo selo Progressive Rock Worldwide e ganhou repercussão internacional.
Brazilian group of musician Fábio Ribeiro (Blezqi Zatsaz, Millennium III) formed in abril/1986. Desequilíbrios band debut is in the same year winning the "Festival Nossa Música", held at the Anhembi Conventions Palace. A victory would give the band the opportunity to record their first album, a track released in the anthology released by festival organizers. Later the group goes to the label "Progressive Rock Worldwide" from São Paulo, and presents in 1993, album Desequilíbrios (Imbalance).
Album lyrics are in portuguese language.
I think that is recommended mainly for neoprog fans.