Acá traigo el maravilloso álbum debut de esta excepcional banda peruana que combina los antiguos espíritus cordilleranos con la lisérgica inspiración de la mejor psicodelia, gracias a diversos arreglos a cargo de los teclados, vientos, una guitarra muy versátil que a veces emula el sonido del charango, otras nos regala poderosos riffs. Si no los conocen, descubrirán a una banda notoriamente creativa, aventurera y sólida, que no teme seguir abriendo puertas a nuevas expresiones de la música progresiva (y ojo que estoy hablando de "música" y no solamente "rock" progresivo).

Artista: Supay
Álbum: Confusión
Año: 2004
Género: Prog folk
Nacionalidad: Perú
Duración: 41:28
Lista de Temas:
1. Pueblo Mío (5:48)
2. Avanzando (8:52)
3. Confusión (3:36)
4. La Nueva (8:56
5. En el Viento (4:53)
6. Imperio (3:36)
7. Chicago Chico (5:47)


Alineación:
- Luis Proaño / guitar, quena
- Williams León / quena, zampoña, quenacho, other Andean woodwinds, percussion
- Gustavo Valverde / keyboards
- Neto Pérez / drums
- Renzo Danuser / bass
- Alex Valenzuela / quena, zampoña and other Andean woodwinds

En definitiva, esta es una maravilla que deben conocer si es que no quieren tener la sensación de que se están perdiendo de algo. Y lo peor que se van a perder algo bueno, muy bueno.

Volvemos con folk, pero estavez Folk con rock progesivo. Supay, grupo peruano que fusiona el rock progresivo con influencia de la música andina. Supay es el nombre de un ser mitológico de las antiguas civilizaciones Inca y Aymara, una especie de Dios y Demonio.
El viento tiene un papel primordial en este disco, llevado a cabo por la flauta de pan o Zampoña, la quena y la tarka para darle ese toque folk a la mezcla.
El disco es totalmente instrumental tanto con pasajes bastante tranquilos en los que los distintos instrumentos andinos tocarán armoniosamente melodias bastante alegres a pasajes más movidos con solos de guitarra y teclado.


SUPAY es una muy interesante oferta instrumental peruana cuyo disco debut "Confusión" supuso toda una revelación dentro de la propuesta progresiva con raigambre andina: editado originalmente en 2004 a nivel exclusivamente doméstico, "Confusión" llegó a ser reeditado dos años más tarde (y con tapa distinta) por el sello chileno Mylodon. El susodicho disco exhibe un atractivo muestrario de ideas melódicas traducidas en una amalgama confluente entre el rock de orientación progresiva y los colores peculiares del folklore andino, con ciertos matices "spacey" fáciles de distinguir: algo así como un híbrido entre PINK FLOYD, JETHRO TULL, CAMEL, FOCUS, EL POLEN y LOS JAIVAS. Los instrumentos más resaltantes son la guitarra primera y los vientos andinos: la primera sostiene el componente hard del sonido SUPAY, con sus alusiones a BLACKMORE, SATRIANI y el David GILMOUR más filudo, mientras que las segundas garantizan a plenitud la vibración andina. La dupla rítmica ofrece un firme sostén para el desarrollo de dichas ideas, en paralelo con sus efectivas florituras; por su parte, las texturas y ocasionales solos de teclado completan los espacios de una manera envolvente.
El atractivo tema de inicio 'Pueblo mío' funciona como una apropiada entrada al mundo musical de SUPAY, especialmente si tenemos en cuenta que las tres siguientes piezas conforman en buena medida el núcleo central del disco. 'Pueblo Mío' establece motivos bien definidos por los vientos andinos, preparando el camino para que se dé el lucimiento especial de la guitarra y un ensalzamiento del frenesí rockero, mientras que los vientos persisten en mantener el equilibrio con le factor fusión hasta el clímax final. 'Avanzando' y 'La Nueva' son los temas más extensos del disco, siendo así que cada uno llega casi a los 9 minutos de duración – la expansión del rollo instrumental permite al grupo detenerse con ahínco en ciertas ideas musicales básicas y regocijarse en ellas en jams bien articulados. El primero de estos temas aborda una actitud preferentemente exultante, exhibiendo el que tal vez sea el esquema compositivo más ambicioso del disco: el teclista Gustavo VALVERDE tiene el suficiente oficio como para marcar los surcos estilizados por los que se desarrolla la pieza. El segundo, que comienza con una introducción marcadamente telúrica de tres vientos (además de los dos vientos habituales, el guitarrista añade una quena), tiene un cuerpo principal de actitud más meditativa, entre "floydiana" y "focusiana" – vaya una mención especial para los flotantes fraseos que constantemente vierte Luis PROAñO sobre las seis cuerdas. En medio de ambas piezas, el tema homónimo combina el colorido grácil de los dos primeros temas con el espíritu lánguido del cuarto: yo percibo que este tema merecía un desarrollo mayor al espacio de 3 ½ minutos que se le concedió finalmente. 'En el viento' e 'Imperio' son los temas más líricamente juguetones del disco, verdaderas reinterpretaciones andinas del legado de JETHRO TULL, aunque las particulares pautas estilísticas siempre salen a relucir con indudable transparencia. Ambos temas reflejan como ningún otro del disco la capacidad técnica del bajista Renzo DANUSER y la fluidez cadenciosa del baterista Neto PÉREZ. 'Chicago Chico' (apodo del distrito limeño de Surquillo, base urbana del grupo) concluye el repertorio con la matización de ciertos aires de jazz-rock en un esquema sonoro que ya reconocemos como típico.
Bueno, en fin, "Confusión" es un poderoso testimonio de la fuente de creatividad que brota cuando el rock extiende sus tentáculos para asimilar el folklore andino y enriquecerse en su interacción con ellos, creando así una propuesta progresiva de altos vuelos musicales. Ciertamente, SUPAY merece una especial atención de parte del público progresivo.
César Inca

Este disco merece que le otorguemos más de una escucha, realmente es muy heterogeneo en cuanto a ritmos y melodias. Todos los temas en general todos tienen un gran atractivo, logran una mezcla original muy melódica y variada, merece la pena ser escuchado, no sólo para los amantes de rock progresivo, de las flautas o del folcklore andino.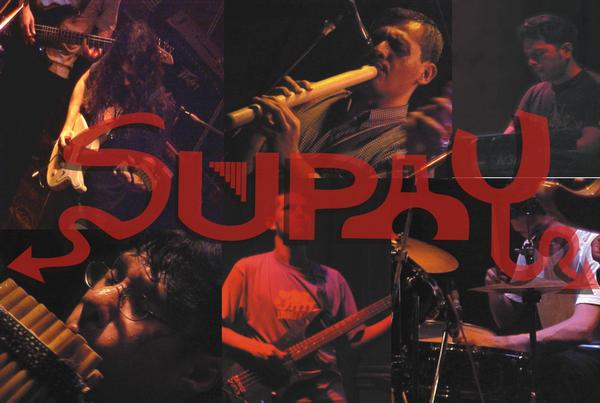 Almost every time I listen from a South American Prog Folk band, I end being partially disappointed, because instead of a real Prog Fusion between Rock and Andean sounds, I end listening some watered Folksy tunes with a lot of Rock and very little of Prog, well guys, this is not the case of SUPAY's debut album "Confusión", the Andean essence is present in every tune and the Prog component is more than evident, IMO we are talking about the most promising band to follow the steps of LOS JAIVAS, this time from Perú, the heart and center of the Inca Empire.
But again I find a big problem in the categorization of this bands in Folk Rock, people expect to listen something similar to JETHRO TULL or STRAWBS, to the point that I already have read reviews talking about the TULL connection, please guys, if you expect that, you will probably be disappointed, there's no similarity with Celtic or British Pastoral music, this is pure Andean Ethnic music, radically different even when equally beautiful.
The album starts with "Pueblo Mio" (Town of Mine), a song which from the start presents us a real Andean atmosphere, with the quenas (Peruvian ancestral pentaphonic wood flute) and Zampoñas (Peruvian pan flute) and the folk styled percussion performing a native tune magisterially blended with the guitar and keyboards. The magical contrast between the Andean tune and the radical changes show us we are before a very skillful Progressive band.
"Avanzando" (Advancing) begins with another clear Andean introduction with guitar and quena reminding us of the music from the Peruvian "serranía", but almost immediately the keyboards change the dreamy atmosphere for a Symphonic solo, which is followed by another autochthonous passage, this time faster and cheerful. The changes come one after the other proving us the versatility of the band. An excellent guitar solo follows with a sound that has a distant reminiscence with Metal, but that's not all, vocoders, jazzy sections and more indigenous music performed with piano and quena come one after the other, nine minutes of pure Progressive Rock.
"Confusión" (Confusion) marks a radical change, this ime starts with a clasuic Rock guitar, but SUPAY never forgets their roots and comes back over and over to the native music, jumping from Andean to Hard Rock with amazing skills that allow the music to flow perfectly, as if this mixture was something natural.
"La Nueva" (The New) begins with an extremely beautiful one quena introduction that is joined by a second one and later by zampoñas with the unique percussion that can only be listened in Cuzco or Puno, all the native wind instruments start a contrapuntal section that leads to a melodic piano and winds section of incredible beauty while a lonely Rock guitar in the style of Carlos Santana gives the support the song requires, but never loosing the melancholic mood, again several changes make this track unforgettable.
Is Andean Jazz possible? Well, "En el Viento" (In the Wind) answers this question with an emphatic yes, first making some sort of well structured jamming and later with a clear Rock background, but always with the winds reminding us we are before a Folk band.
"Imperio" (Empire) is a much more pompous track with strong and loud guitars, lush keyboards that morph into a Metal song and later returns to the indigenous roots, that this time come o stay, several variations on the same theme reinforce the impression that SUPAY manages Rock, Jazz and Jazz Fusion perfectly, very interesting song.
The album is close with "Chicago Chico" (Little Chicago) a reference to a district in Lima that represents the fusion of the people from the mountains and the modern part of Perú, in the same way the music is a perfect blend of the native and Rock sounds describe perfectly the creole nature of this part of the country while recapitulating previous tracks.
Last time I rated a Peruvian album and to avoid chauvinism, decided to give only four stars despite I believed it could easily reach the perfect score, but this time I won't be unfair, SUPAY'S "Confusion" deserves not less than five stars, because it's the essential and perfect expression of Andean Ethnic Progressive Rock in the 21st Century.
Ivan Melgar M.

¿Hace falta que les diga que recomiendo fervorosante a este disco y esta banda?